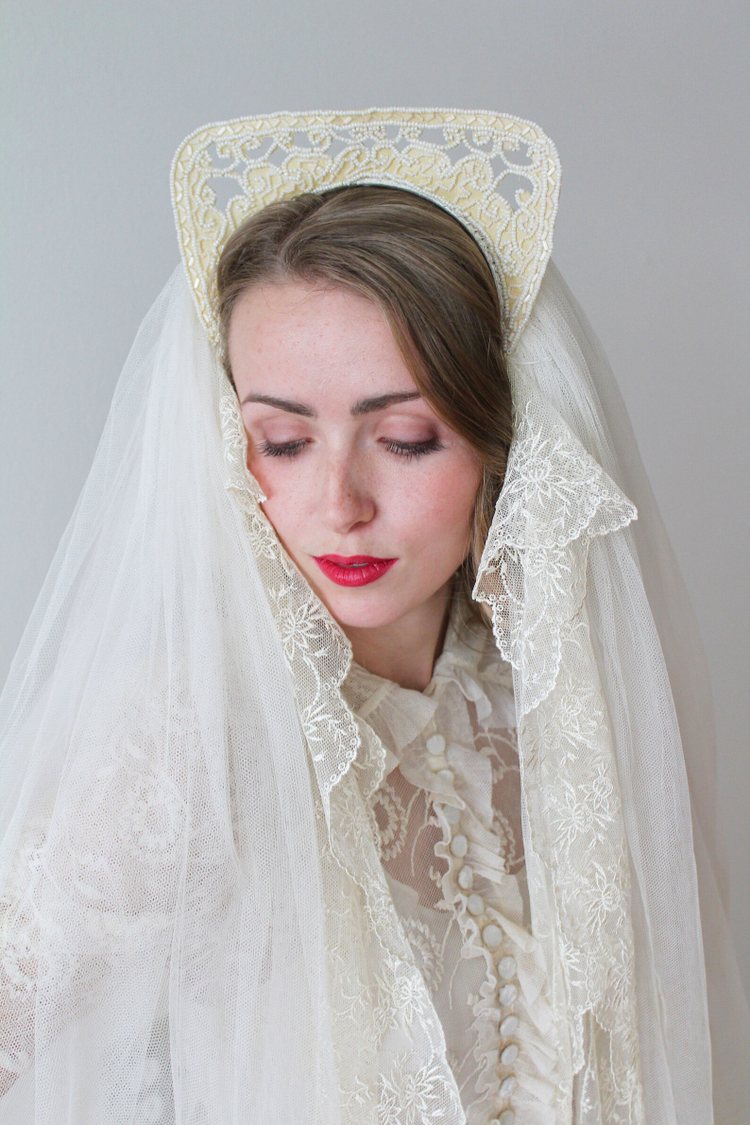 Consider choosing used for you big day. Benefits and options are countless.
With vintage, you have so many more options to choose from. Stores selling new vintage gowns are limited by trends and what is in fashion at the moment.
"The High Street shops do a marvelous job but there are far fewer styles available; it's very dependent on what is currently in fashion. Whereas with vintage, you have so many decades to choose from, and that allows you to be more of an individual, " Helena Butler of UK-based Heavenly Vintage Bride.
A unique vintage dress can really elevate the bride's look, says Clare Robinette of Lipstick Lille Vintage. "It highlights personal style – wearing vintage is a great way to stand out and wear something completely timeless."
And like vintage lovers already know, the quality of an older piece can be so much better.
"There is some exceptional pattern cutting and beautiful fabrics with vintage," Butler says.
Choosing a vintage wedding dress over a new one is also more sustainable.
"The wedding industry can often be very wasteful, so it's nice to know you are helping the environment by shopping secondhand," says Robinette.
"There is also a romantic element where you are choosing to give a pre-loved wedding dress another day out to celebrate your wedding," she continues.
"I just love the idea of things continuing and being loved again, like starting a new chapter in their history with a lovely new bride," Butler adds.
To help you find the perfect vintage wedding dress, below is a list of tips and guidelines from three experts in the field.
Create a moodboard
"Do your research on the type of look you want. Research different decades and create a mood board of eras and looks that inspire you. Try not to replicate a specific look entirely, you never want to look like you are in a costume." – Clare Robinette, Lipstick Lille Vintage
Ask questions
"The key is information and asking questions. Vintage can be very tricky when it comes to sizing, condition, and wearability, so it is always best to have the most information as possible. For example, checking a seller's history and reviews, measurements and fit (not all sellers and customers measure the same), condition, return policy, asking for additional photos, etc. From a seller standpoint, we always try our best to give as much accurate information as possible but we love when buyers ask questions prior to purchase to ensure a smooth and successful transaction." – Miranda Park, Miranda's Vintage Bridal
Discuss with sellers
"Some girls know just what they want, but very often, I guide them to what suits them. I look at their body shape, general size, and listen to how they describe their projected wedding day and their preferred way of dressing. Each decade is different, and of course, there are differences within that time span too. Brides have often done a bit of research before they approach me, and I analyze their images with them, to see what features they like and don't like about the dresses they have looked at so far," Helena Butler, Heavenly Vintage Bride
Think about your body shape
"Body shape and how you want to show off your body will also help determine which era to choose. Those with curvy figures might consider a 30s style wedding dress. Typically cut on the bias, they show off your figure beautifully. If you are a petite bride, you may want to opt for a 50s tea dress style so that you don't get overwhelmed by tons of fabric. A 60s mini dress is perfect for taller more slender figures. They always look super cute and still very elegant. The boho bride will probably want to look toward the 70s & 80s wedding dresses. They tend to be more free flowing and have softer more sheer materials. " – Clare Robinette
Check the measurements
"As well as measuring yourself, measure a dress that fits you really well and makes you feel good. Many vintage wedding dresses come up small so always be sure to ask the seller for the exact measurements of the dress." – Clare Robinette
Check the condition
"You'll need to check the conditions of a dress before you purchase it. Not so much for stains but for how durable the dress is when worn. Most stains and discolorations will come out at the hands of a good dry cleaner." – Clare Robinette
Accept small imperfections
"It's best to approach vintage with a little knowledge and understanding that there will be small imperfections." – Helena Butler
Look for plus-sizes
"There is a common misconception that you can only find vintage wedding dresses in smaller sizes. Women have changed in size over the years but since vintage covers all eras pre-Y2K, there is even a greater universe of dresses to choose from than any bridal store. While the styles of the 30s-60s dresses tend to be more fitted, the 70s-Y2K styles became more relaxed with more varied sizes. So there really is something for everyone." – Clare Robinette
Remember the vintage accessories
"For women who still struggle to find a vintage wedding dress in their size, the good news is there is a whole world of vintage accessories where size isn't a requirement to wear." – Clare Robinette
Consider alterations
"Things can be done to make the dresses bigger like adding panels into the bodice etc, but I don't advise too big a change as it is tough for the client to imagine." – Helena Butler
Remove the lining!
"Vintage dresses are often lined with thick material which can be ill-fitting. Removing these and wearing your own undergarments or slip will ensure the dress fits much better." – Clare Robinette
Do not crazy party in an antique dress
"If you are wearing a dress from the 30s or older, you'll want to make sure it's in pristine condition. An antique dress will be fine if it's just worn for the ceremony and photos but if you are expecting it to hold up during a whole night of dancing, then I would recommend an outfit change." – Clare Robinette