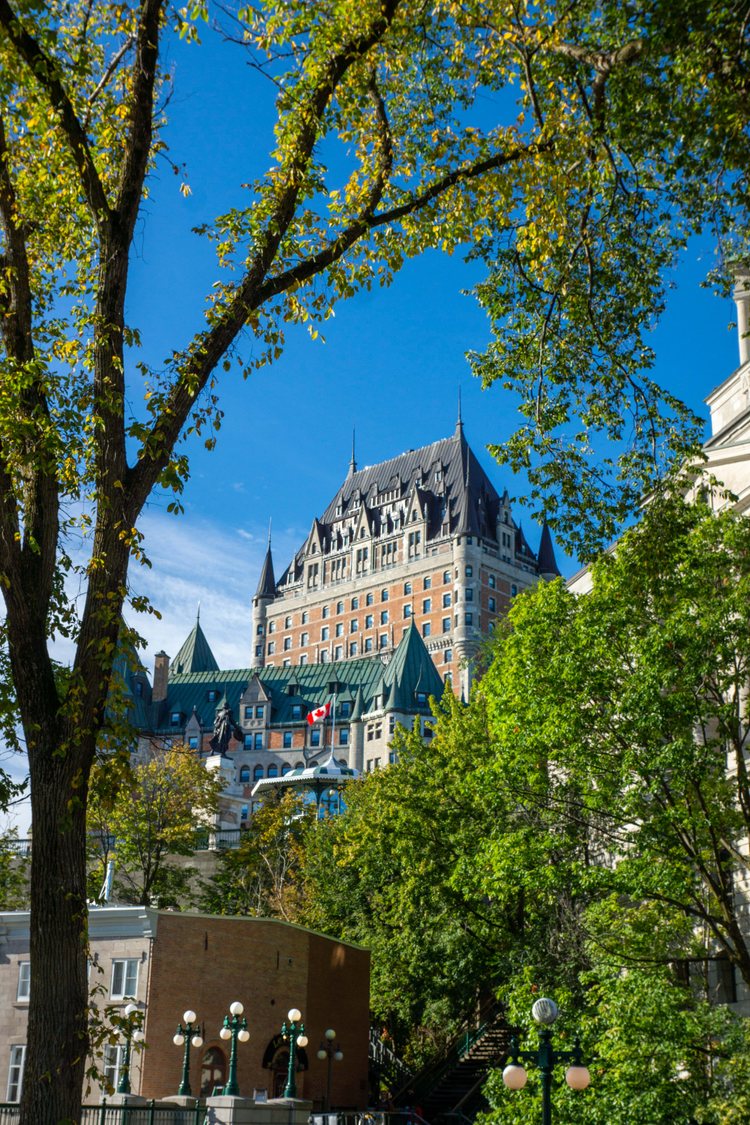 A new generation of young entrepreneurs are bringing curated vintage to Quebec City. Here are some stores we discovered during our visit in May.
Quebec City is more renowned for its rich history, cobblestone streets, and well-preserved old town than its vintage scene. But the situation is changing fast as the younger generation is fulfilling their dreams and opening new vintage businesses in the Saint-Roch area. Most new stores are concentrated on Rue Saint-Joseph, making them easy to browse in one day.
Check our Google Maps list for more vintage and thrift stores.
Triste Vintage
"I've always been thrifting clothes for myself – until I had too much stuff so I decided to sell some of it on my personal Instagram. I happened to see that people were really interested and saw the opportunity. I've always been a businessman, and I've always hated how the fast fashion industry is hurting our planet", Étienne Jacques tells about the beginnings of his store.
When Jacques found a perfect location he opened the store in May 2022. Now Triste Vintage has the most premium streetwear pieces in the whole city: from original souvenir pieces from Québec, vintage band tees, Coogi sweaters, military wear, vintage Patagonia, to vintage Nike dunks and Jordans.
Jacques aims to have both an affordable and a more niche and rare selection at his store.
"You'll always see some original Levi's Orange Tabs, graphic t-shirts, jackets, crewnecks and hoodies here."
The store is easy to spot because of the huge sad face in the exterior windows. The posters, plushes, the VHS collection and music great a unique, nostalgic and welcoming feel.
Triste Vintage
835 Rue Saint-Joseph E, Québec, QC G1K 3C8
Mon-Tue closed
Wed-Fri 12-7pm
Sun 12-5pm
@tristevintage
Twise Studio
"In Quebec City, the younger people are really into vintage, streetwear and unisex clothes. Our community is also very aware of the impact of its consumption", says Laïla Masri, the founder of Twise Studio.
Masri started vintage selling as a sidekick when she was still a university student. The physical store on Rue de Saint-Denis opened 1.5 years ago.
"The first thing to know about our shop is that every piece is hand-picked and curated by me. I travel to find these very special and unique items. We only have vintage, so every piece has 20 years and more. I select our items based on durable brands, quality, rarity, condition and of course, on what the people want."
You can find mostly y2k and 90s vintage, but also some items from the 80s and 70s. The Levi's selection is always great as Masri is a big fan herself.
Twise Studio
762 Rue Saint-Jean, Québec, QC G1R 1P9
Mon–Tue Closed
Wed–Fri 12am–7pm
Sat-Sun 12am–6pm
@twisestudio
Lucia F
The first curated vintage store in Quebec opened in 2009. Since then, Rue Saint-Joseh has seen four more vintage and thrift stores opening up.
The owner Cheryl Campbell decided to start a vintage business after a dream she had one night.
"I just decided to go for it! With no money or experience but with love for vintage clothing and fashion. It was not easy at first. But it was the best decision I have ever made."
Every item at the store is hand picked and selected by Campbell.
"I have to love each piece of clothing I have in store. The selection is curated with personal taste, intuition, love of fashion and good quality. You can always find here a good selection of dresses from the 50s to 00s, Levis jeans, and leather jackets."
Lucia F
34 Rue Saint-Joseph O, Québec, QC G1K 1W6
Mon-Tue closed
Wed-Sun 12-5
@boutiqueluciaf
Pattes d'elephant
The owners of Pattes d'elephant, Christine Dion of LeSalondesFrangines and Camille Pépin of Niche Vintage, opened their store a year after running several shorter and longer pop-ups at vacant locations on Rue Saint-Joseph. The store also houses a third vendor, Jean-François Couture of Le Petit Couture, who has his own store in Limoilou outside the city center.
The store has a big selection and something for all tastes and ages, although the owners' target clientele are the 20-35-year-olds.
From neon-colored 80s and 90s track coats and anoraks to 90s dark floral grunge dresses, denim, tees, and all kinds of tops. There is also a small selection of home goods and fun accessories to choose from
While Pépin has a rather feminine selection emphasizing y2k fashion, lingerie, and leather, Dion's inventory (crewnecks, t-shirts, denim, shirts, etc.) appeals to men and the youngest customers.
And if you are wondering what the name of the store means: it is 'the paws of an elephant' in French!
Pattes d'éléphant
213 Rue Saint-Joseph E, Québec, QC G1K 3B1
Sun-Wed 11-5
Thu-Fri 11-7
Sat 11-6
@pattesdelephantboutique
Oh la la! Boutique Eco Chic
This boutique-like store stands out with its beautiful interior, dark green walls, and antique furniture.
Color-coordinated racks are carefully displayed with brand and designer items from more expensive labels like Chanel and Prada and from more affordable ones like COS, Zadig & Voltaire, and Vince. All items are in great condition, and the airy layout helps the browsing. There is also one rack of men's items.
The owner runs another store, Entre Nous Écochange, a few blocks away. This store is a buy-and-sell store with more affordable prices but everything is as neatly organized as in the sister store.
Oh la la! Boutique Eco Chic
869 rue St Jean
Mon-Tue closed
Wed-Sun 10-5.30pm
@ohlalaeco