travel
Vintage Shopping in East Bay – Guide to Oakland and Berkeley
Our Bay Area correspondent Amanda Assing visits her favorite vintage spots in Oakland and Berkeley, CA.
Amanda Assing · Sep 20, 2022
Cover: Mercy Vintage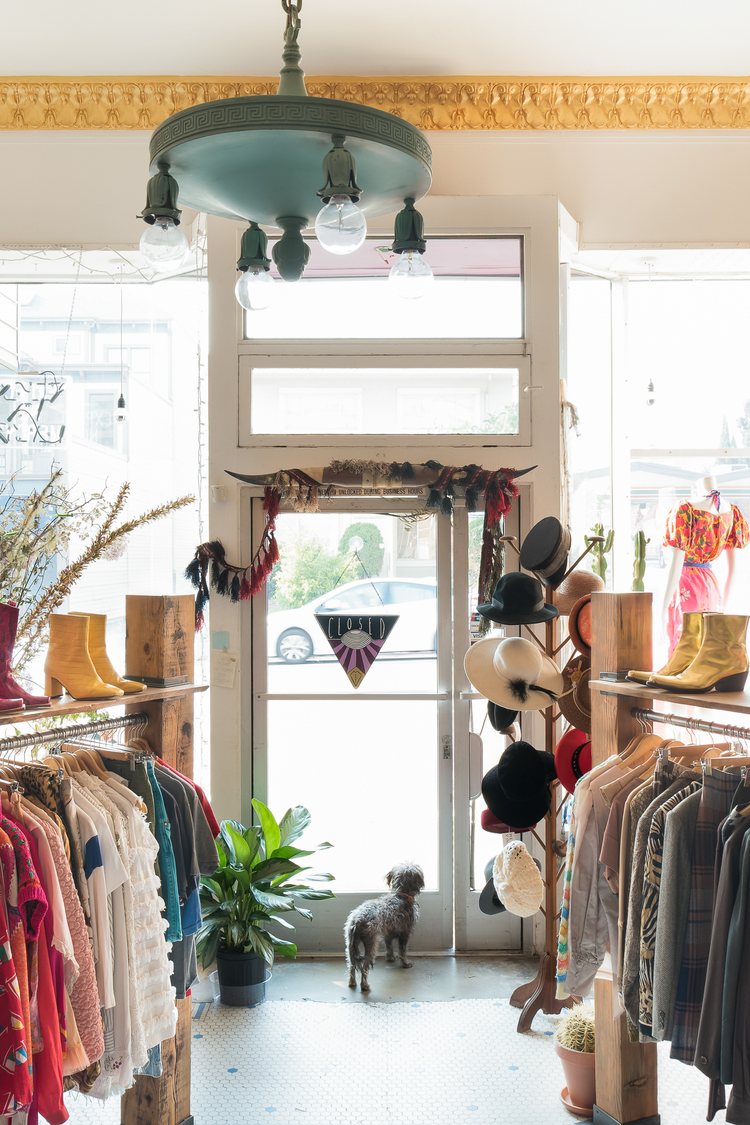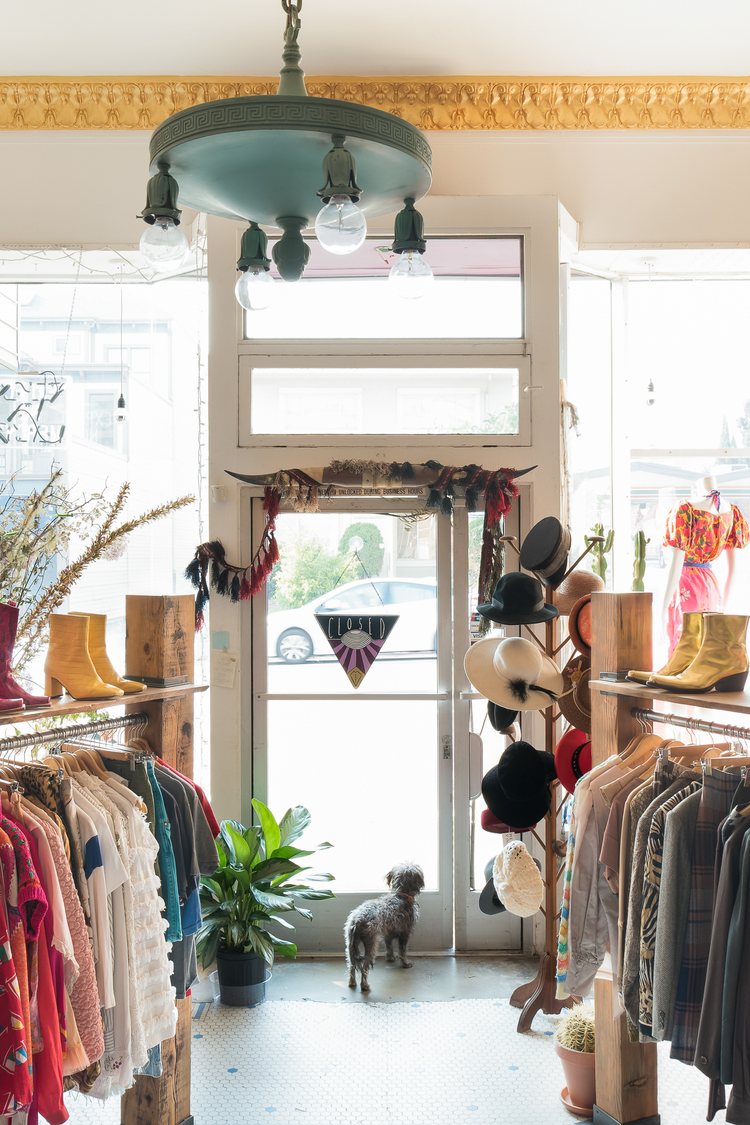 travel
Vintage Shopping in East Bay – Guide to Oakland and Berkeley
Our Bay Area correspondent Amanda Assing visits her favorite vintage spots in Oakland and Berkeley, CA.
Amanda Assing · Sep 20, 2022
Cover: Mercy Vintage
Day trips from SF don't need to be far. 20 min away are the vintage shops of Oakland & Berkeley that only locals and fashion insiders know. Think chic coffee shops and wine tasting rooms, farmers markets on tree lined streets and antique stores tucked into industrial lots of the design district. Nothing is more exciting than discovering a finely curated vintage shop with all the gems. Grab your BFF and take a short drive to explore the hidden gems of Oakland and Berkeley.
Mercy Vintage
The crown jewel of NorCal, Divinity herself has resurrected and genuflected before the doors of Mercy. Hands down, one of THE best curated vintage boutiques in California, Mercy's vintage has an elevated point of view and the stylish clientele to prove it. Located on the popular Piedmont strip, owner Karen Fort's collection is an editor's choice for cutting edge women's & men's vintage and designer gems. The eye-full of designer & premium racks will leave you breathless.
What to expect: Big style energy. Think Yves St Laurent, Rick Owens, Fendi, Mary McFadden, Balmain, Chanel, and Thierry Mugler. Maximalist gems, hero pieces, and capsule collectibles in serious textures and movement. Lavish floor length dresses in extravagant colors with plunge necks, tulips shapes, glamorous silks, chandelier beading, etc. Sharp-shouldered blazers and luxe jackets that nip, drape, and fold for exaggerated silhouettes and snatching frames. Earthy nomadic Kantha robes, quilted with ikat cotton weaves. Watercolor blouses, and cuffed oxford trousers in fine wools for your 5-star autumn escapes. I collapsed over a black sheer billowy blouse, cropped in micro pleated organza perfect for layering and added vavoom.
Check out Karen's newest 2nd location, Have Mercy, just a few steps away where the perfect marriage of street-style sweaters and denim display on a rotating garment conveyor.
Mercy Vintage
4188 Piedmont Avenue
Oakland, CA 94611
@mercyvintage
Mon-Sun 12pm-6pm
510-3257324
Slash
Towering walls of denim swallow you into the basement of Slash. I can see why THIS is the place that denim purists excavate the perfect pair to brag about. Born in the cool of 1979 with Berkeley radicals and university beatniks, Slash continues to be the destination for that perfect Cindy Crawford head-turning (rather break-neck) pair. Originally called Cosmic Jeans, then changed to Slash in the early 80s, their mission is to inspire denim with wear/tear/damage in the spirit of used denim.
The collection, in every sliver of perfectly worn-in blue, blacks and white, reflects decades of denim knowledge from owners Carla Bell and newly appointed Adriana Guerra.
What to expect: A team of experts dedicated to the craft of denim, paired with a vast vintage collection of wearable 60s, 70s, 80s, and 90s Levis icons. The collection includes orange tabs, silver tabs, black tabs, and more. Wonders like a 1970s single stitch 501 Levis in top grain denim with a red selvage thread. Incredible. A rare collection of bell bottom, bootcuts, straight cuts, and pure cotton wedgies that defined the look of the social movements of Berkeley and throughout California. Deadstock jeans, 2-5 pocket jackets, unisex overalls and limited camo prints. 0 spandex, and 100% denim knowledge in this baby. Welcome to your new favorite jeans.
Slash
2840 College Ave
Berkeley, CA 94705
@slashdenim
Mon-Sat 11am-7pm
Sun 12pm-6pm
510-841-7803, 510-665-5994
Baba Yaga
Located in an industrial lot in North Berkeley, flights from Japan find their final destination. Baba Yaga, an atelier-style studio is worth the appointment-only visit. With a penchant for the unexpected, her aim is to encourage self-expression by offering one-of-a-kind garments that mix seamlessly into a modern wardrobe.
Moving her collection from traditional finds into the modern-day symbolist movement of fashion, her clever approach to vintage workwear dates back to the path of Margiela, who sourced the globe for vintage pieces to remake and reinvent for the masses.
Just the same, Baba Yaga's carefully selected collection from the early 1900s to 1980s is compelling with the adornment of custom hand illustrated art, text and symbols embroidered onto select vintage pieces.
What to expect: Rare American, French, and Japanese utilitarian workwear seen amongst infamous independent artists and creative-types. European smocks transformed into incredibly cool layering pieces with fine illustrative stitchwork. 50s jewel tone chinoise smoking jackets. Delicate 40s silk lingerie in carnation pinks and creamy vanillas that float against black walls. Cable knit sweaters next to lurex dresses with gold and black stripes. White ghostly cotton prairie dresses transformed with amulets, symbols, and cheeky cartoon figurines inviting onlookers to decipher the social commentary.
Baba Yaga
707 Park Way
Berkeley, CA 94606
@babayagastore
By appointment & shopping events at Baba Yaga
Pretty Penny
Amongst College Avenue's boutique and restaurant row, Pretty Penny's white gallery space fills with golden hour light. An ethereal collection of ivory sheer gowns in dreamy french tulle with buoyant ruffles and equally volumed sleeves waves me in. Gorgeous. Immediate thoughts "Prada platforms or tennis shoes?" Absolutely both.
Pretty Penny continues to offer a finely curated collection of effortless vintage at all angles & decades. The delicately selective merch is handpicked by owner Sarah Dunbar who's been in business for 10+ years and stands by her "Killer, no filler" ethos.
Transition and accessibility is key in this modern and chic boutique. You could easily wear these pieces everyday: to a destination wedding one day, or your fav farmer's market the next.
What to expect: Racks with tightly packed textiles in draping sleeves and eye-candy prints. Fine silk knit & wool blends that peak and push through voluminous gathered skirts. Tribal patterned jackets with red and yellow accent embroidery. Cocktail dresses and sculptural event wear in Schiaparelli-esque sets. Japanese workwear jackets in boxy oversized shapes - some in overdyed shades and shadows of indigo. Soft, perfectly worn band tees & novelty tees next to a row of vintage denim neatly hung by the belt band. Lots of extraordinary staples to elevate your closet. Expect your Pretty Penny piece to stand the test of time.
Pretty Penny
2981 College Avenue
Berkeley, CA 94705
@prettypennyclothing
Wed-Sat 12-6
(510) 903-6280
Mars Mercantile
Where the Bay Area cool kids shop for Y2K and retro finds, Mars Mercantile is your cheap and cheerful vintage shop where style experimentation is done on a dime. The 2-story location with its attic-style feel and never-ending racks of original goods, has a large selection of men's and women's vintage dating from the 50s-2000s. Lots of nooks to explore. Great for the young at heart and looks on a budget.
What to expect: Mens on floor 1, and women on floor 2. Silk & rayon button-down blouses in multiple colors, patterns, and novelty prints. Vintage jeans, dickies, khakis, and cargo trousers perfect for wallet chains and Kurt Cobain-esque style. Varsity tees, wooly cardigans, and cotton blend sweatshirts like vintage Champion and Nike. White dirndl crop tops and colorful wrap skirts next to polyester shift dresses from the 70s. Polo knit vest for the preppy, tie-dye t-shirts, flannel, and vintage bandanas in bins to choose.
Mars Mercantile
2398 Telegraph Ave
Berkeley, CA 94704
Sun-Fri 11-7pm, Sat 11-8pm
(510) 843-6711
@marsmercantile
Honorable Mentions
Ver Unica
2278 Telegraph Ave, Oakland, CA 94612 (Cord & Company, 2nd floor)
Thur-Sat 12-6pm, Sun 12-5pm
@verunicavintage
Here Studio California
5861 San Pablo Ave, Oakland, CA 94608
By appointment
@here.studio.california
Down at Lulu's
6603 Telegraph Ave
Berkeley, CA 94705
Daily 12-7pm
@downatlulus
(510) 601-0964