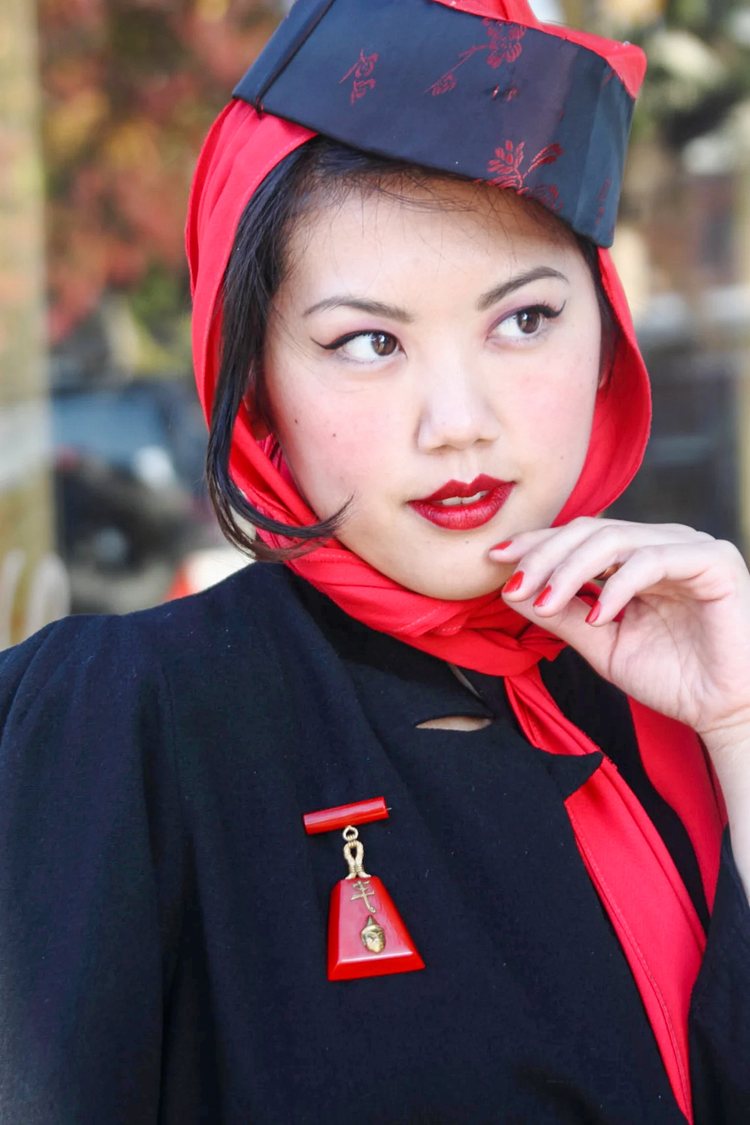 The variety of bakelite jewelry is impressive: from chic Art Deco bangles to funny figures, all in amazing colors. But how was bakelite invented and how did it become the dominating jewelry material during the 30s?
Bakelite was invented accidentally in 1909 when a Belgian-born chemist Leo Baekeland mixed phenolic resin with formaldehyde in the presence of a catalyst and heat. The new material was hard, water-resistant, non-flammable, odorless, warm to touch, and could be polished – a perfect material for electrical insulation, auto, radio, and telephone parts but also for jewelry.
Before bakelite, two other synthetic plastics had been invented: cellulose plastic in 1867 and casein plastic in 1897. But bakelite was much better suited for jewelry making.
Bakelite could be drilled, sawed, sliced, sanded, or carved. Bakelite was so easy to work on, that even amateurs started making all kinds of objects out of it. There were also DIY jewelry kits for sale. Bracelets were usually sliced from stock tubes and then carved by skillful machinists. Pins and brooches were cut from sheet stock and shaped with jig saws.
"Bakelite jewelry inspired a fashion trend that began, spread like wildfire, grew to gigantic proportions, and died away all within a few short years – flourishing little more than a decade, particularly between the years 1933 and 1941", Corienne Davidiv and Ginny Redington Dawes write in The Bakelite Jewelry Book.
The writers argue that bakelite jewelry could not have blossomed during any other time. Humorous, colorful, and affordable bakelite jewelry matched the mood of the times when people had to make do with what little they had and keep their spirits high.
The discovery of bakelite coincided with the resurgence of costume jewelry. Because of the great depression (1929-39) women were more attracted than ever to plastic costume jewelry. Plastic jewelry was affordable and there was a novelty side to it, too. French fashion designer Coco Chanel popularized plastic costume jewelry even further by incorporating it into her couture collections. 30s fashion loved accessories and the variety of themes used in jewelry ranged from exotic plants and fruits to baseball hats and bats reflected this.
By 1936, 70% of all costume jewelry sold was made of plastic. Bakelite's popularity continued to grow until World War II. All the materials, workforce, and money were to be saved for the war effort. After the war, new materials and technologies replaced bakelite, and it fell out of fashion. People were craving for more colors than what bakelite could offer – bakelite's color range was limited as phenol-formaldehyde has a color of its own that affects the bakelite's end color. Light colors, purples, and blues were very difficult to achieve in bakelite.
Originally, jewelry manufacturers wanted bakelite to imitate more expensive materials like ivory, onyx, coral, and jade. Later on, when bakelite's qualities were explored more, it became "the material of the many uses and the wonder product of the times". After World War II, bakelite was despised and destroyed in large quantities. Now anything made with bakelite is valued and collected.
Geometric Bakelite Jewelry
The Art Deco period (around 1925-30) provided a boom to plastic jewelry with its zig-zags, polka dots, and other geometric patterns.
New Yorker Bell Kogan designed two-toned jewelry decorated with elongated polka dots. Kogan's affordable pieces cost fifty cents, and the more expensive ones even $3 – the price of a dress at the time!
It was fashionable to wear multiple bracelets on the same arm, even as many as eight. The sound of the clicking bakelite bangles is something special!
Geometric bakelite bracelets have long been popular but check out the rings, brooches and necklaces, too. European bakelite items tend to be more streamlined than Americans and often have more dominating metal parts.
Most bakelite jewelry is not signed and therefore, it is very difficult to trace the origins or identify these pieces.
Carved Bakelite Jewelry
The bakelite was carved by highly skilled machinists who held their work against latches with high-speed carving spindles. They had to memorize the ornaments and cuts and center the carved piece by eye. The deeper cuts were done first. No two pieces were the same, as all the work was done by hand.
As the carvers became more skillful, the carvings depicted whole detailed landscapes with animals and tropical vegetation.
Fun fact: because the polished bakelite has a special luster, the carved bakelite pieces look more intricate than they actually are.
And have you heard about so-called end-of-the-day bakelite? They consisted of all the remnants of color made on a given day and poured into the same mold. These pieces were usually sold at a discount, but many people liked the unusual color patterns.
Some notable makers of carved bakelite jewelry were Ace Plastic Novelty Corporation and Alta Novelty Company, both operating from New York City. Although these companies were relatively big, Alta, for example, only made a maximum of a dozen copies of their pricier items. This explains why older bakelite pieces are hard to find – they never existed in large numbers, David and Dawes argue.
Figural Bakelite Jewelry
In the fall of 1935, geometric art deco and carved decorations fell out of fashion, and a new trend emerged: figural-themed jewelry. The figural pieces were silly, fun, and frivolous, depicting everything from animals to fruits, sports, man-made objects, and people. Cherry necklaces, banana pins, and brooches depicting President Roosevelt's Scottish Terrier Fala were especially popular.
Martha Sleeper created some of the most astonishing, detailed, and exceptional bakelite jewelry. Sleeper clearly had fun while designing! Sleeper was a well-known actress when she launched her second career as a jewelry designer. Her business grew quickly and she received a lot of press and attention for her whimsical designs. After World War II, Sleeper relocated to Puerto Rico, where she opened a fashion boutique and designed fabrics for bathing suits and dresses.
Sources
· Bakelite Style. Edited by Tessa Clark. 1997.
· Plastic Jewelry. A Schiffer Book for Collectors. Lyngerda Kelly & Nancy Schiffer. 2001.
· The Bakelite Jewelry Book. Corinne Davidov & Ginny Redington Dawes. 1988.