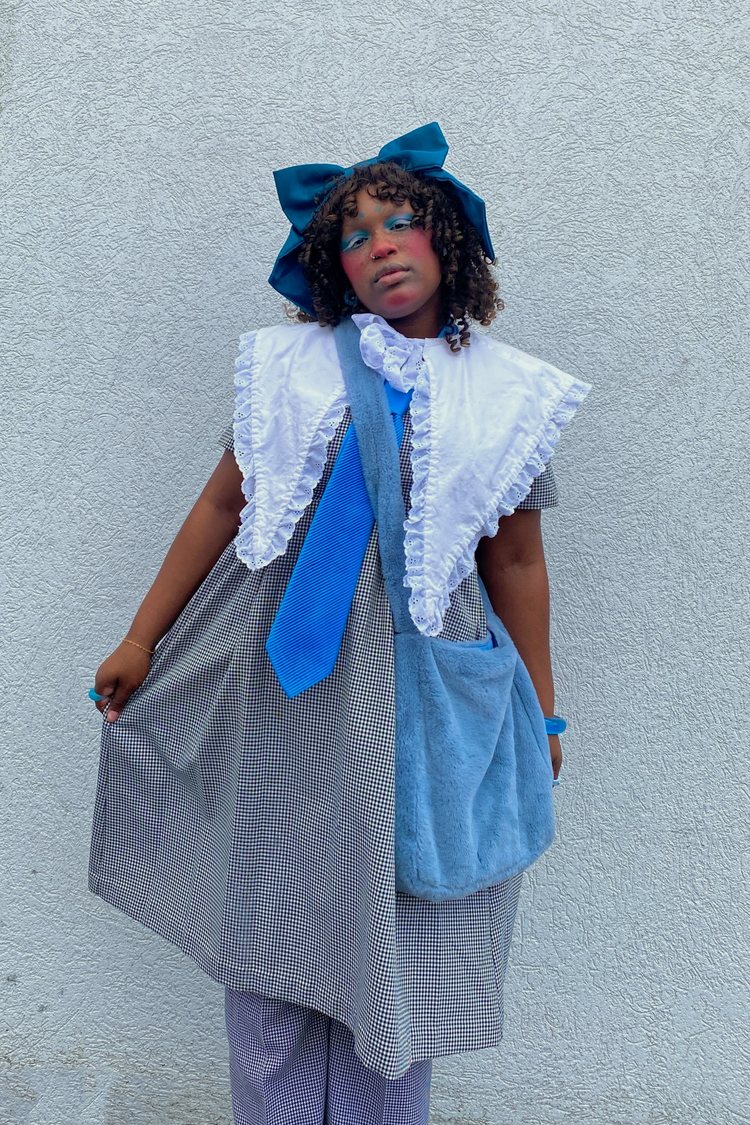 Jordyn Edgerton, 23, is a thrifter, maximalist, part-time sewing teacher and fashion designer. Her style is built around bows, ties, petticoats, and vintage lingerie.
"My style is vintage eclectic maximalist. It is definitely not everyone's taste but I don't care. I am an avid thrifter so a lot of my style is very vintage inspired. I love mixing prints and textures. I love trying to find crazy and unique ways to put clothes, colors and patterns together, even mixing and matching different decades of fashion styles together. I always like adding an element of kitsch to my outfits. For me, there is never too much color or print or accessories. Maximalism is being extra for the fun of it.
Crazy enough, circa 2019–2020 I was a complete minimalist. I would only wear neutrals. My uniform would probably have been a neutral top, trousers and blazer. After a while I started missing color and that then completely opened the door to prints, textures and being louder with my fashion choices.
One of my biggest inspirations is my online friend Sara Campo. She was a big catalyst to being open to having fun with fashion and to not be afraid to get weird. When I came across Sara's outfits it really opened my eyes to all the possibilities fashion holds and creates. Sara really just inspires me to challenge myself in the guise of fashion. I without shame have definitely used some of her looks as inspo. Once I have an outfit together I always think what is one thing I can add that doesn't make sense.
I am also inspired by thrifting itself. Thrifting and vintage shopping exposes me to all sorts of time periods and unique pieces that I can then mix and match together.
I always like to say I am hyper fixated on a decade or two and that changes every few years.
As of now, I am in love with the 60s and 80s.
Something about combining elements of the 60s and 80s interests me because they are, to me, stark contrasts.
I am really into the boxy, mini silhouettes of the 60s, as well as the pastel color palette and make up. The 60s to me is very feminine and girly, with ruffles and florals and bows and headscarves. There is just a special connection I have with the 60s, always. In contrast with the 80s, where everything is grungier with big shoulder pads, loud colors, gaudy hair and accessories. The 80s was a maximalist era if I've ever seen one. I love 80s acid wash, oversized blazers, I love a good vintage 80s drop waist as well.
My favorite place to thrift is my good old local thrift store. I have a good circulation of trusted spots close to where I live that I frequent. When I am in the mood for some vintage shopping, here in Atlanta, I love Clothing Warehouse and Vintage Mama Boutique.
I lived in Savannah my senior years of college and the thrifting and vintage there was unmatched! There is a Goodwill Bins in Savannah and it surpassed my expectations. Some of the vintage spots I've gone to and enjoyed there were Future on Forsyth and Vintage Vortex. And then of course I am a Depop user. I am always able to find a gem or two there.
My biggest thrifting tip is to know what you're looking for.
The more you thrift, also depending on the store, you'll develop a thrift 'routine'. You'll always end up starting in one section and making your way through the store as you see fit. Know what colors and textures you like and don't be afraid to try something new and out of your comfort zone. I always like to start in my favorite sections. Mine are the dress and lingerie / pj section. Try and start your thrift trip on a good note.
As for online, your best friend is gonna be filters. As for Depop specifically, spend some time liking and saving things you like so the app can develop a good idea of what you like so your suggestions will be more catered to you.
I am very proud of my vintage petticoat collection. I have white, black, red, pink, and lime green which is now my most prized possession. I thrifted my first petticoat on a whim at the Goodwill Bins, it was a white one that I saw styled on TikTok as a dress. From then on I was hooked. It made me feel so beautiful and girly yet bold at the same time. I realized the styling possibilities were endless. I also love the kitschy element of being able to find a petticoat in any color you want. I really want to have one in every color of the rainbow. A plaid petticoat would be everything!
I style petticoats with any and everything. I have styled a petticoat with a graphic tee, I have styled them with a blazer, over a dress. One of my favorite petticoat outfits as of late was styling my newest, lime green, one. I wore it to the mall with a lime green satin button up, a nude bustier, lime green tights, and some black cowboy boots.
I have a serious love for elements of a school uniform and menswear in my style.
I love plaid. I love button ups. I love knee high socks and mary janes. I only buy men's blazers. I think a reasonable next step was ties. I started off with the basic colors black, red and navy blue, then I realized that there were so many quirky unconventional colors and patterns and now I just can't stop collecting them. Like a Looney Tunes tie, cmon! Any opportunity I have to wear a tie I'm gonna wear it. If I'm wearing a collar 9 times out of 10 I'm wearing a tie. I wear them with dresses, t-shirts, genuinely anything.
Although my style is maximalist, I still like monochromatic looks as well. I thrifted all the items in the blue outfit at different times and I love how close each of the pieces match in color.
I am very OCD when it comes to my clothes and outfits. I have my 'normal' closet, then I have a huge clothing rack dedicated to 'new in' pieces I haven't worn yet. Once I've worn it, it will go into my "normal" closet. I have a note on my phone where I put outfit ideas that I have. I prioritize styling the clothes on my 'new in' rack so I can make room for all the other new clothes I have. I pick out a piece that feels right and I start pulling other things from all of my closets to make a look. I just have fun pulling options and playing with the styling and accessories.
My engagement party dress is this gorgeous peach dress with white lace overlay. It's a vintage handmade 80s does 50s dress. I got it off Depop for $30! When it comes to bridal, I describe my style as traditional, nontraditional. I am for sure a white bridal girl and for the most part any event regarding my wedding I want to wear white but this dress was too good to pass up. My wedding theme is Spring Garden Party and I wanted that theme to carry over to the engagement party. This dress, although it wasn't white, felt bridal to me and I knew I was going to make it even more bridal with the accessories. It was one of those diamonds in the rough, right place, right time moments and I loved the way the look came out."
Follow Jordyn on Instagram @jordyniiman