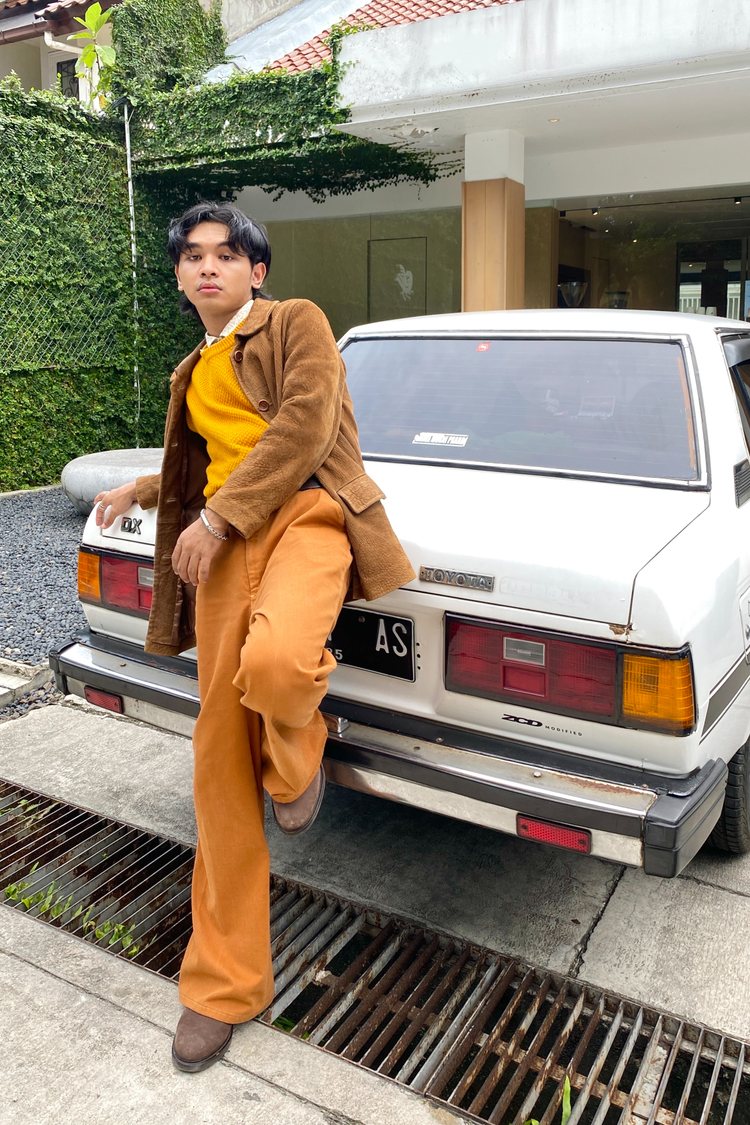 Indonesian Rayn Amrillah, 23, loves flamboyant 70s and 80s looks. Most of his clothes are thrifted at the Jakarta flea markets.
"I started thrifting five years ago when I was 18. My sister recommended the Carousell app that allowed me to buy old clothes at a very cheap price. My first purchases were a brown wool sweater from Uniqlo and a vintage jacket from Lacoste. I remember being so excited to receive my first vintage items, and that moment marked the beginning of my precious thrifting journey.
As I dove more into thrifting, I gradually stopped buying new things from fast fashion stores like Zara or H&M and embraced wearing vintage because of its uniqueness.
Now 90% clothes of my wardrobe were all thrifted and I have been crazy about thrifting ever since.
I feel like I was born to have a vintage style. I feel powerful when wearing my colorful bell bottoms with a patterned shirt.
I mostly draw inspiration from the past rather than the present because modern fashion doesn't suit me well due to its minimalist concept. I really love fashion from the 70s and 80s era because of the bright colors and abundance of decorations, including prints.
It sometimes scares me to see how modern fashion is becoming simplified and minimized, which makes it less creative and enjoyable for some people.
The Western cultural scene of the 70s and 80s, documented in movies like Saturday Night Fever and Breaking Away, and musicians like Freddie Mercury, Elton John, and David Bowie, give me so much inspiration for my style. I sometimes read old 70s and 80s magazines my grandma still has at her house to get closer to the references. One of the popular magazines among young Indonesian people in the 80s was called Hai Magazine. I also use Simplicity Pattern guides for reference.
Additionally, fashion influencers like @lexsonator, @tylermazaheri, @jarvisAivali, and @trent.vann have helped me a lot on my personal style journey.
I enjoy clothing with a lot of patterns, especially florals, and vibrant colors. I also love pants with flared legs or culottes because they flatter my body proportions. For daily wear, I like to pair my vintage shirts or t-shirts with flared jeans. I always complete my outfits with boots, as they make me feel powerful. I never wear sneakers unless they're high chunky ones from Converse. Accessories are also important to me. I like to wear scarves and golden necklaces to add vintage vibes to my outfits. Sometimes I put on colored glasses.
Outfits with a lot of colors make me feel happy and relaxed, and can make my day better. It is therapeutic!
Besides wearing clothes with vibrant colors, I also love layering my clothing. It doesn't matter how hot the weather is here; I still enjoy layering because I find it to be a fun experiment in mixing clothes with different colors, textures, fabrics, and patterns. Not only do I enjoy the process of mixing them all together, but I also believe that layering enhances my creativity in styling and makes my entire outfit look more stylish.
Jakarta is a great place for thrifting. My favorite place for thrifting is an old market called Pasar Baru, located in Central Jakarta. The prices are affordable, so I don't have to worry about spending too much money on the vintage pieces I want. What makes Pasar Baru unique is that they mainly import items from Japan and as you know, Japanese clothing is known for its high-quality materials and well-designed pieces. The market is huge but secondhand sellers are easy to find as they are located exclusively on the 3rd and 4th floors of the Metro Atom building.
People in Jakarta love thrifting. Thrifting communities are growing, they are organizing bazaars and even fashion shows featuring thrifted items in Jakarta. However, flea markets in Indonesia are still limited to big cities like Jakarta, Bandung, and Jogja, unlike the USA or Japan where vintage shops are everywhere.
My favorite thrift find is this green textured shirt. Most of the items in my wardrobe are from the women's section of thrift markets, and so is this shirt. The texture of this shirt makes my whole outfit look unique. This shirt has no brand, which makes me wonder what's the history behind the shirt – who was the previous owner was and how did they acquired it?
This leather jacket is from a random Japanese brand called Biplane. I really love the material - I think it's authentic cow leather - and the color has a grayish, over-washed look which I love. Also, the details on the back are amazing to me.
I always make a list of the clothing and accessories I want to buy each month. Currently, my wish list includes bell-bottom pants with velvet fabric, vintage golden accessories, and more pleated pants.
My most recent thrifted item is this vintage briefcase that I carry a lot. I thrifted it from a bag seller on Pasar Senen and it is from a brand called Delsey Paris. I loved the design at the first look, but when I touched the bag, I loved it even more because of the material. I got the briefcase at a super cheap price, so this one is totally my favorite thrift find, almost like a gem.
For me, vintage fashion is not just about wearing old clothes, but also about allowing myself to convey history, my personality, and my identity as a whole.
I believe that through what I wear, I can tell people about history and emphasize that the old days should not be forgotten, but rather remembered. I love wearing outfits that are colorful and have a 70s disco vibe, such as flared pants, patterned shirts with bold colors, heeled boots, leather jackets, tight ringer tees, and lace. I feel that self-expression was so strong during that time compared to today, which also makes me jealous."