denim
The Story of The Oldest Pair of Women's Jeans
In 2014, vintage vendor Samantha Canales stumbled upon a pair of jeans that would change the understanding of the history of jeans.
Liisa Jokinen · Jun 1, 2021
Photos: Levi Strauss & Co. Archives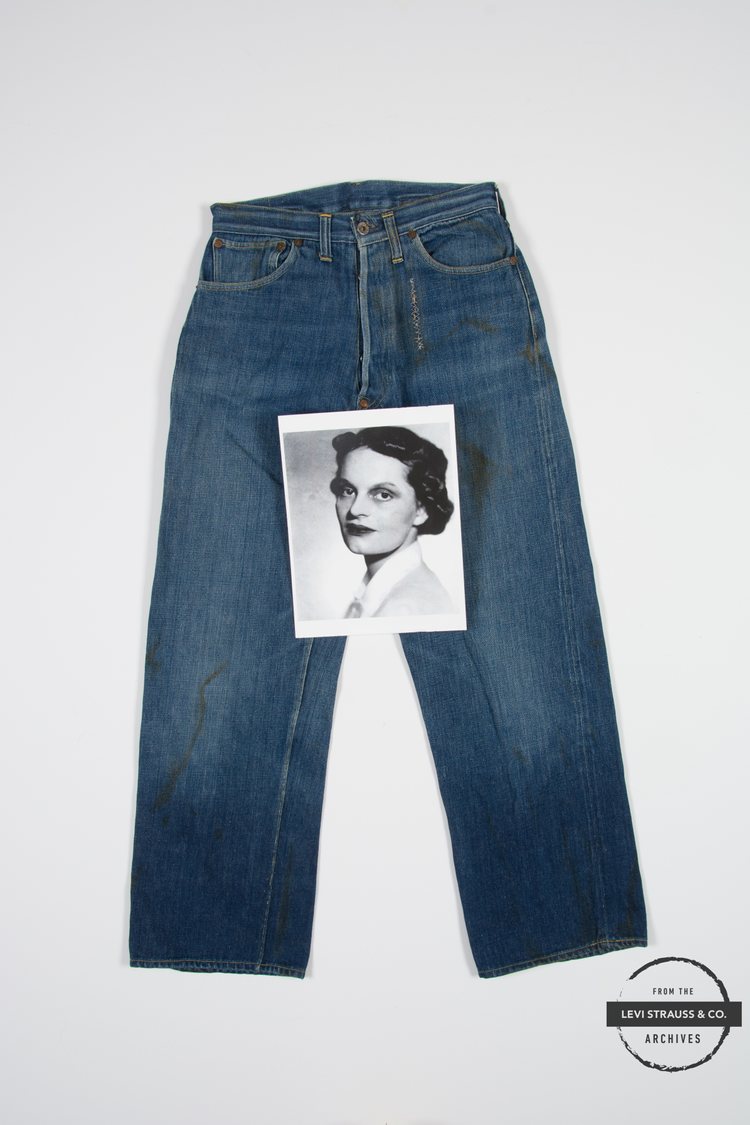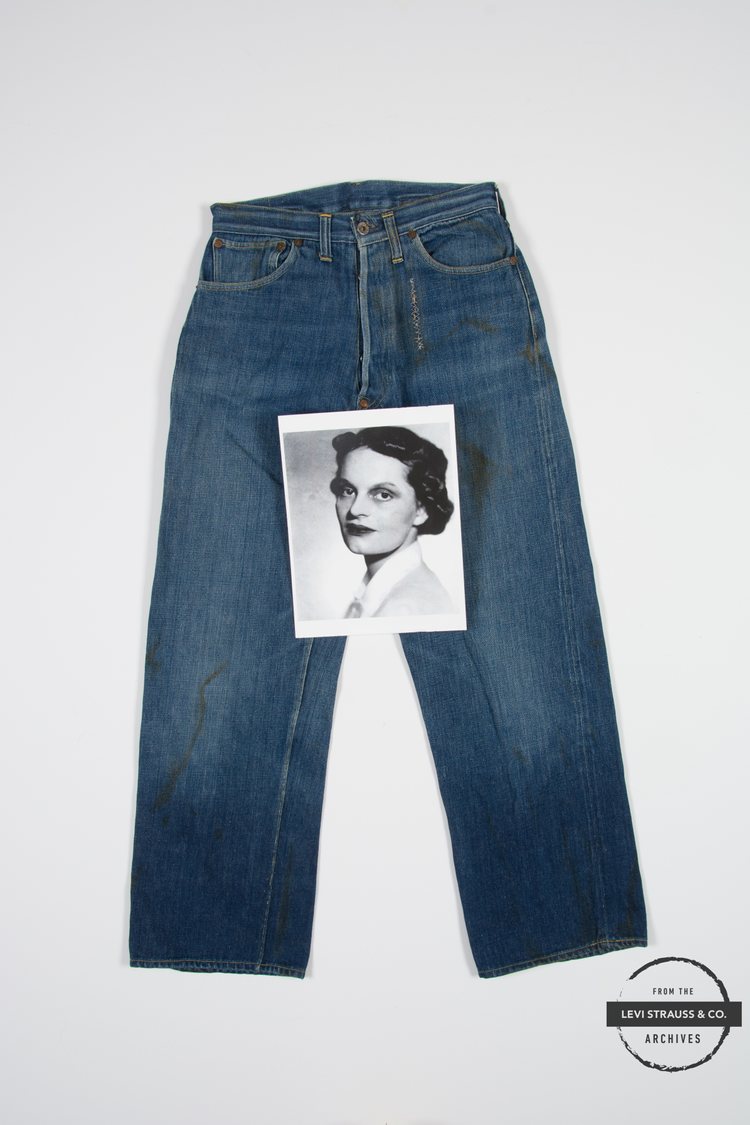 denim
The Story of The Oldest Pair of Women's Jeans
In 2014, vintage vendor Samantha Canales stumbled upon a pair of jeans that would change the understanding of the history of jeans.
Liisa Jokinen · Jun 1, 2021
Photos: Levi Strauss & Co. Archives
"I am always looking for off-road places to search for items for my vintage store DreemCo. There is a wealth of untapped vintage treasures here in Central California where I live.
One day in 2014, I was coming home from running errands when I saw a bunch of older women standing in front of a house. I saw some things laid out on the lawn and thought they might have a sale. There was no advertisement or anything but it turned out that a group of friends had organized a sale of an older woman who had passed away. So I went into the house looking around.
I walked around, spotted some bakelite jewelry. Then I opened a linen closet and saw a pair of jeans with a buckle and Levi's patch.
I got curious because I had never seen anything like that before – they looked like the jeans you could find if you could travel with a time machine 100 hundred years back in time. Kind of my dream jeans!
I bought them, soaked them in water and tried them on. They were in perfect condition. Sadly, they were a little tight for me and I managed to rip them a bit in the leg.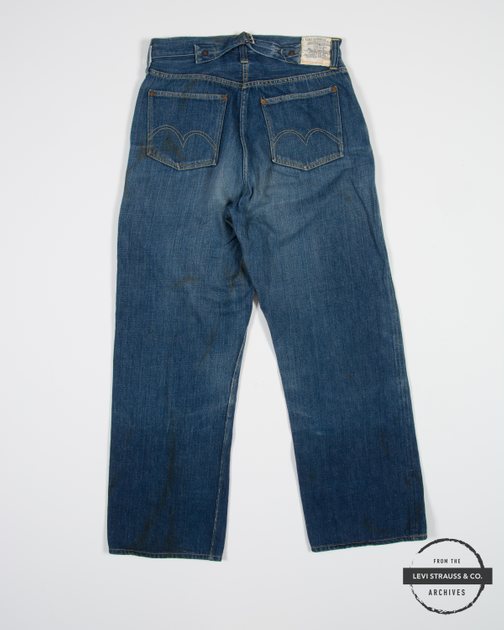 I stored them away. There was no way I was going to sell them as long as I didn't know what they were. A year later I pulled them out again. I became so curious about them.
My number one interest is history. Vintage pieces are extremely intriguing to me. I also write historical fiction stories. The label says "Levi's 401's" on them but I could not find any information about that model in any avenue.
I reached out to Levi Strauss archive in San Francisco. The Historian for Levi Strauss & Co. and Director of the Archives, Tracey Panek invited me to come up and show the jeans. But Levi did not have any record or information of these jeans either because the 1906 fire may have destroyed some of their archives.
After the visit I got into super research mode. I took it on myself to find out what these jeans were. So began a one-year-long journey researching.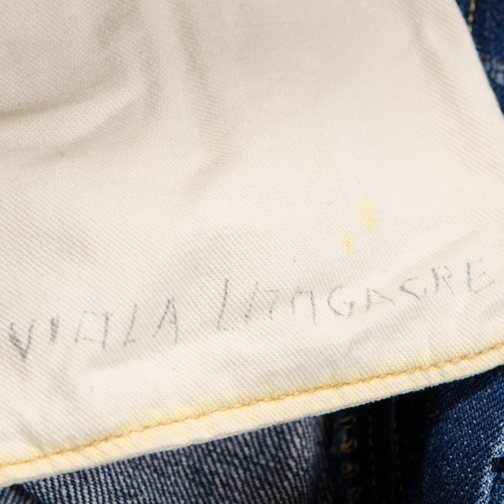 There was a name hand-written inside the pocket of the jeans: Viola Longacre. I searched her name and found out she was a school teacher, writer, and one of the founders of the Fresno Arts Museum. She was 106 years old when she passed away. The sale I happened to find was organized by her arts community. She became a fascinating figure to me.
I started interviewing people who knew her or were influenced by her. Only after I talked to her daughter Bette Duncan, I learned that she attended the Sierra Summer School near Huntington Lake in the Sierra National Forest. Our summers are famously hot here so Fresno State College had to take the college up to the mountains for the summer months.
Back then, in the late 1920s, it was unheard of women to wear jeans or pants.
There were no jeans for women yet. But when I did research at Fresno archive, I found a lot of pictures of women wearing men's jeans from that time at the Fresno archive and Viola is in some of them.
So I came up with a theory that Viola's jeans were an early prototype Levi's made to test the markets at the summer school. Sierra Summer School was the only school of its kind in the country. No other school had courses in a natural setting like that. Viola probably bought the jeans at the trading post some time between 1929–32. We haven't heard of similar jeans popping up anywhere else in America.
These jeans are made really similar to men's jeans 201's of that time except they are tapered in a bit in the hips and tailored a bit more to woman's form.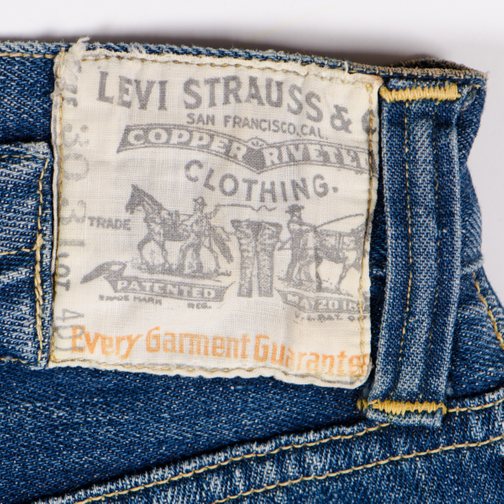 Viola's family found the idea of her wearing jeans hilarious as she was definitely not a jeans-wearing person! She was always a finely and elaborately dressed woman. These jeans were an anomaly to her. She also met her husband at the summer school – probably in her jeans!
There were no companies making women's jeans until long after – Levi's started making their first women's jeans, Lady Levi's Lot 701, first in 1934. Before that women would borrow jeans from family members if they wanted to wear a sturdy pair of pants.
The jeans are now archived at the Levi Strauss & Co. Archives. It was hard to let go of the jeans but I wanted to keep jeans in the community and I thought the story can reach a wider audience if I give the jeans to Levi's.
While doing my research, I found Viola's grave. I still visit her and leave flowers once in a while."
Samantha's Etsy store DreemCo