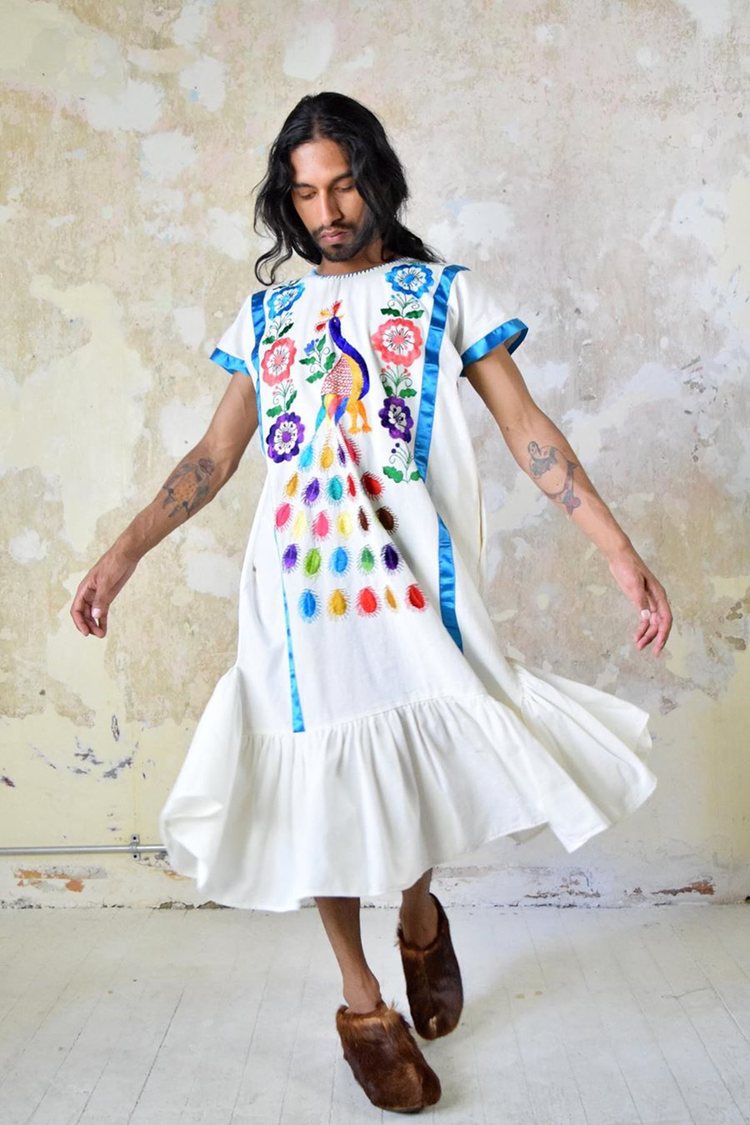 Jesus Herrera sells traditional Mexican garments to a growing international clientele. To operate responsibly, he takes into account the origin and purpose of the garment.
"I'm originally from the city of Xalapa-Enríquez, the capital of Veracruz. After living in the US for twelve years, I came back to Mexico with my boyfriend in 2010.
I started visiting bazaars and markets like Bazaar de los Sauces in Xalapan and Lagunilla in Mexico City and buying traditional Mexican hand-embroidered blouses and dresses. When a friend of mine came to visit from Los Angeles, she fell in love with the Mexican textile collection I had and gave me an idea to open an online store.
I did not know that there was a market there. I opened an Etsy store and made my first sale the first week. I thought I would be selling mostly to the US but I have had customers from Germany, Australia, Japan, France, and Saudi Arabia. I even have an Israeli customer who wears Mexican vintage garments only. Increasingly young Mexicans are wearing traditional Mexican clothes, too.
The most popular Mexican vintage pieces are cotton blouses and dresses from Oaxaca and Chiapas because of the image most people have of Mexico. They are made for everyday wear, they are affordable, and made for Mexicans. Because of icons like Mexican artist Frida Kahlo, Mexican dresses became popular in the 90s.
Many people think Mexico is one thing. But it consists of several different, separate cultures and that is why there are so many kinds of clothes traditions here. Many cultures still thrive here with their own languages, traditions, even religions. Their garments were made to be worn and last for a long time.
I try to find unique pieces, from the 80s or before. Every year they become rarer. When I started I could find 10-15 pieces a week, now I can only have 2-3 pieces. Sometimes I am lucky to find deadstock items.
In her 20s, Frida Kahlo adopted the Tehuana dress of the matriarchal Zapotec culture. The Zapotec communities that I buy from are in the Isthmus of Oaxaca, mainly in Juchitan and Salina Cruz where most of the Tehuana garments are made. Some are made for religious parties called velas, celebrations dedicated to each city's patron saints – those garments I do not buy or sell.
If a garment is made for commercial purposes, anyone can buy and wear it in my opinion, even if they didn't have a connection with Mexican culture. Indigenous artisans don't discriminate on who can wear it.
Where I draw the line: If a garment is made for rituals or parades or is very personal, it belongs to museums or archives so we can learn from it.
If you are not sure if wearing a piece can be judged as cultural appropriation, ask questions. When people come to a culture and are not asking questions, that is a problem.
Otomi are the indigenous tribe that inhabit the altiplano region of Mexico. While they are known primarily for their beadwork and their ritualistic consumption of Peyote cactus, their clothes are also amazing. This cotton textile with hand-embroidered Tenango-style embroidery took two months to make.
Tenango embroidery is a commercialized version of traditional Otomi embroidery, which was developed in the 1960s in response to an economic crisis. Around 1,200 artisans practice the craft. The most common elements are the flora and fauna found Tenango de Doria area like chickens, dogs, wild birds, rabbits, horses, flowers, and trees and increasingly hybrid alebrije-like figures. The most common background fabric colors are white and off-white and elements are usually done in surrealist, bright colors.
Rarámuri are an indigenous people from the state of Chihuahua who are known for their long-distance running ability and for their ruffled colorful skirt and blouse sets which are entirely made by hand. Rarámuri dressmaking tradition dates back to the 1500s, when Spain invaded the Sierra Madre mountains. By the 1600s, Jesuit priests compelled Rarámuri women to wear dresses that fully covered their bodies. Over time, Rarámuri women adopted the cotton fabrics brought over by the Spaniards and made the dresses their own by adding triangle designs and colorful borders. Today they continue to hand-sew the bright floral garments.
The Amuzgo are an indigenous people that live along the Guerrero and Oaxaca border. They are the weavers of Mexico – their hand spun and woven cottons are the ones I enjoy the most. They make everything from scratch; they grow the cotton, weave the yarn, sew, make the embroidery. It takes from three weeks up to two months to complete one. They cost $400-2000. The most intricate ones are made for weddings.
Textiles are an important part of Amuzgo culture and economy. Although weaving is painstaking and time-consuming, most Amuzgo women do it along with farming and household chores because it brings in money to the household. Cotton is highly valued by the Amuzgos, not only for its economic value but also because it is considered to be in harmony with the human body and soft to the touch. The most notable of their garments is the huipil, a kind of long tunic, which is called "cheyno" in Amuzgo. This word means a cloth that covers a woman and is considered to be an expression of the wearer. There are two types of huipils: everyday and those for special occasions, and both can be elaborately decorated.
In Chiapas, I usually source textiles in Chamula or Zinacantan. They are both communities in the mountains that make the most amazing brocade (Zinacantan) and wool (Chamula) textiles. The values of the community are present in the glorification of nature present in the motif of this Zinacantan huipil.
Shop and follow The Vintage Jesus

Photos: Gabriel Brandon Hanson