fashion history
The History of Hawaiian Shirts
The complicated history of the Hawaiian shirt – where Western tailoring, Asian prints, and a Japanese innovator meet.
Olivia Jol · Aug 3, 2021
Cover photo: Paradise Raleigh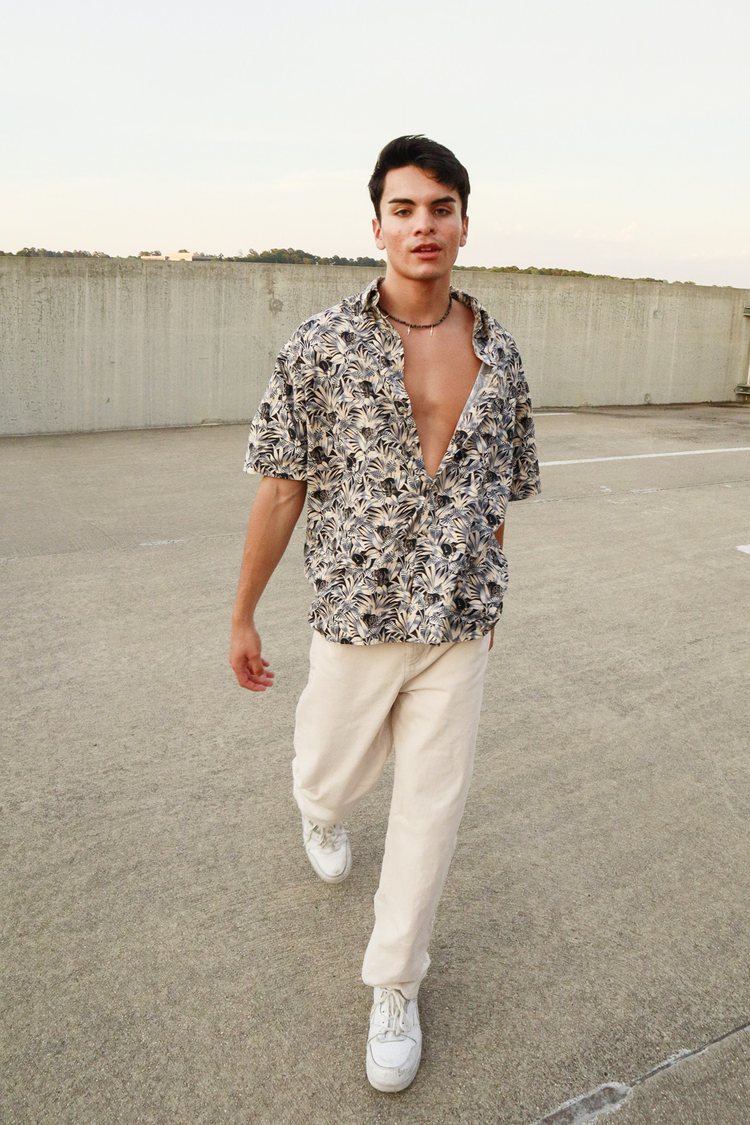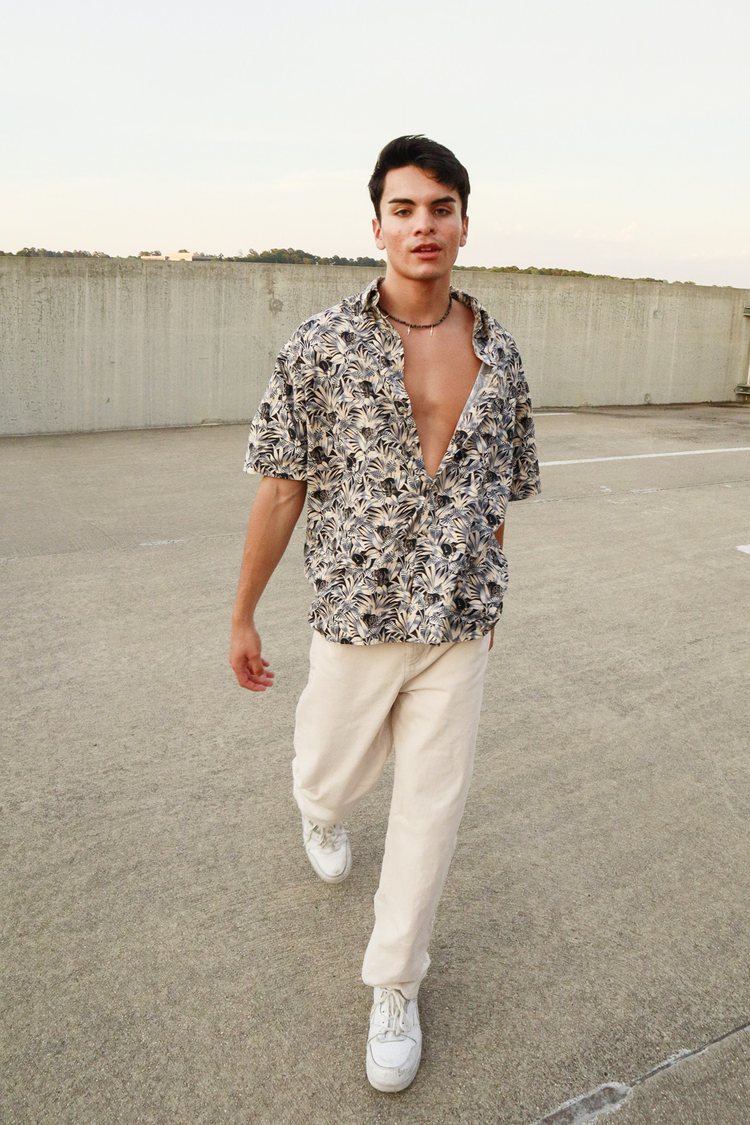 fashion history
The History of Hawaiian Shirts
The complicated history of the Hawaiian shirt – where Western tailoring, Asian prints, and a Japanese innovator meet.
Olivia Jol · Aug 3, 2021
Cover photo: Paradise Raleigh
"In the 1920s, Japanese immigrants numbered higher than 43% amongst Hawaii's population. They'd been on the island for nearly a century, and their cultural impact was already immeasurable. Japanese tailors dominated Honolulu's commercial and tourist-residential areas.
One shirtmaker in particular, Kōichirō Miyamoto, started making shirts out of colorful Japanese prints, kimono silks and even wood-block printed native Hawaiian textiles as 'Musa-Shiya the Shirtmaker'. His popularity as a shirtmaker is often credited to the racialized, satirical advertisements he circulated in local papers, but it is undoubtedly his promise of shirts ordered on arrival and completed by the end of the week that not only brought him fame but brought the 'Aloha' or 'Hawaiian' shirt to life.
Likely originally called the 'Aloha' shirt for the fact that it bookended one's trip on the island (aloha means both hello and goodbye in Hawaiian) shirts produced with such the rapid turnaround, low price, and 'exotic' fabrics quickly became a signature souvenir for those who could afford the trip during the great economic depression of the 1930s.
Though the names have historically been interchangeable, Hawaiian shirt and Aloha shirt have come to mean slightly different things. The loose-fitting men's sportswear staple of the 1950s and 60s featuring a print (which may or may not originate in Hawaii or Asia) is a Hawaiian shirt. The culturally meaningful, Hawaiian-made example of textile history and cultural synergy is the Aloha shirt. While all Aloha Shirts are Hawaiian shirts, not all Hawaiian Shirts are Aloha shirts.
Though this is the speculated origin of the shirt, and some dispute it, credit for the very first shirt can not really be attributed to one creator, but rather, the cultural synergy that resulted in western tailoring being paired with the unprecedentedly bright, graphic prints associated with Asian and Pacific Island-origin textiles.
The economic depression of the 1930s came with a heightened cultural emphasis on masculinity in the west. The advent of bodybuilding and a true re-emphasis on traditional gender roles are just a few of these cultural changes. The Hawaiian shirt, though, challenged the traditional lines which had dominated men's tailoring for two decades. The casual fit, light, airy fabric, and bright prints were reminiscent of women's blouses, so much so that in 1936 the Los Angeles Times wrote: "You'd better get two or three because it's a cinch your daughter, sister, wife or even mother will want this bright-colored shirt as soon as she sees it". This did not hinder their popularity.
By the late 1940s, women also had options in so-called Hawaiian prints, but these did not have the same eternal appeal as the Hawaiian shirt. Cut out of the same, and sometimes matching fabrics, two-piece sets, mini dresses, and maxis were common women's offerings until the Hawaiian shirt got its second life during the significantly more experimental late 1980s/ early 1990s.
A lot of mid-century Hawaiian shirts were not made in Hawaii. Often donning labels that read "California" or "A Southern California Company" brands like Catalina, Brent Sportswear and Domain made beautiful clothes, but the prints are by no means authentic. Some standout Hawaiian brands you should keep your eyes peeled for are: ChinaBlossom, which was a freshly post-war mainstreet Chinatown Honolulu shop which sold Japanese kabe crepe yukatas, Hawaiian prints, cotton and rayon kimonos and muumuus made to order. Also true to the island, Holo Holo, founded by the Takashigie's, a husband and wife team, in 1948. This mid-pricepoint brand was making 100,000 dollars worth of yearly sales through to the 1960s.
My personal favorite brand is K. Isoshima Co. The brand was founded by Kunosuke Isoshima in 1893, who originally sold dry goods and Japanese wares. K. Isoshima pioneered some early Alohashirts in the late 1930s with Japanese prints and patterns with themes inspired from Hawaii printed on Kabe crepe fabric. The shirts were made in a pullover style, with 3 coconut buttons, a small chest pocket, and a large collar.
The popularity of the Hawaiian shirt postwar is often attributed to American soldiers who, after being stationed at Pearl Harbor in Hawaii, brought the loose, casualwear shirts back with them to the mainland. Also responsible for this trend are the litany of male celebrities who donned the shirts in publicity shots, studio photos, and posed 'casual' photographs in the 1940s. In 1959, Hawaii was admitted as a state, and aloha-fever spread across the country... only to never really dissipate. Hawaiian culture became pseudo-Americana. The Hawaiian shirt went through significant evolution, from trendy sportswear to sublime, back to kitsch. Finally, in the post-singularity age of new fashion, the Hawaiian shirt is an unsung staple.
The Hawaiian shirt really is more than a shirt. When the far-right appropriated the garment during the 2020 'boogaloo uprising', it wasn't a coincidence. The shirt, which had come to be associated with relaxed, breezy attitudes, was simply an evolution of the previously adopted workwear polo/khaki combo that had been worn just the year before. Comfortable, unthreatening, and sharply contrasted to the uniformity associated with historical far-right groups, they donned the garments atop bulletproof vests and alongside rifles and fatigues in an effort to draw attention to themselves, calling upon the unflinching, isolated masculinity associated with the garment's more unfashionable history (think Vince Vaughn in a Hawaiian shirt or Jim Carrey in Ace Ventura.)
The Hawaiian shirt has always had a complicated history. Hawaii was unethically and shamelessly colonized by the United States, and continues to be. Because of this, a tourist industry has sprung out of the bastardization of Hawaiian cultural practices and traditions. While the Hawaiian shirt is not 'traditional', it is meaningful to the people who live there, and it has certainly come to be associated with the islands. The shirt itself is a testament to the cultural melange which gives Hawaii its unique iteration of Polynesian culture. Viewed by some as a symbol of the impact of Asian heritage and culture on Hawaiian identity, the shirt is certainly more complicated than any old arrowcollar – but that lineage is what gives the shirt its indisputable charm.
I think anyone can wear a Hawaiian shirt but it should be worn with some acknowledgement of its lineage. The Hawaiian shirt is a 1940's staple, and it was invented by a Japanese man, using an American style of shirting at a time where Japanese American relations were at their most tenuous. The shirt is undoubtedly responsible for the globalization of an indigenous textile printing style that could very well have died.
The shirt is more than just a symbol, it's a tangible example of the valuable product of cross-cultural relations, and cultural adaptation under colonialism. It has become part of a larger legacy of indigenous Hawaiian textile histories, and has been incorporated into the broader cultural conception of Kānaka Maoli (native Hawaiian culture.)
Unfortunately, the Aloha shirt's contemporary appropriation by white supremacist groups has sort of challenged this history and that's where I think the vintage community has a responsibility – if we're going to maintain some vintage values, let's maintain the good ones. The vintage clothes might be beautiful, but the past was not. You can love vintage fashion without denying the reality of how incredibly complicated and racist life was."
Olivia Jol is a graduate student and author. Her primary interests are Polynesian colonial history, textile history, and 1940s fashion.
Cover photo: Paradise Raleigh