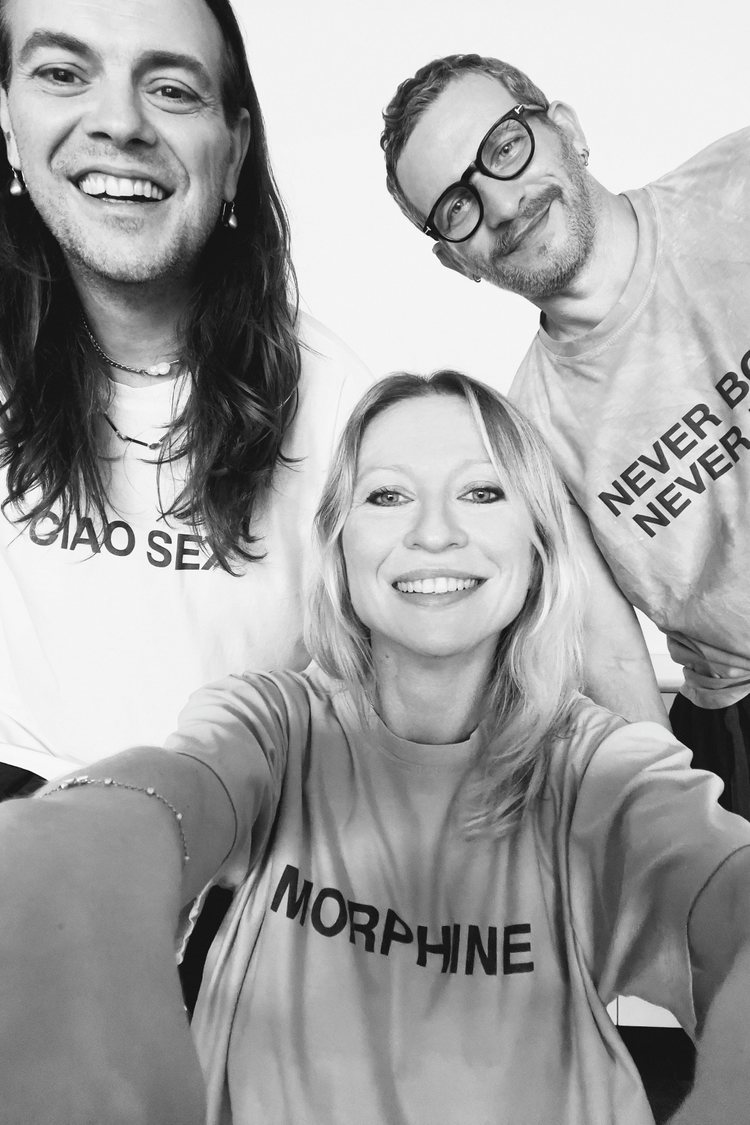 Italian Morphine.Online specializes in the late 80s to early 2000s rare designer items. One of their everlasting loves is the Belgian designer Martin Margiela.
"Martin Margiela represents for us one of the most brilliant minds in fashion that the world has ever known. His mystery and total distance from the glamorous fashion spotlight have created an intimate and unique relationship with his audience", founders Macs and Martina Iotti and Tommaso Vaiani say.
Iottis and Vaiani founded Morphine.Online in 2018 to support the circular economy and ethical responsibility through curated vintage items, upcycled artisanal pieces, and collectible publications.
Morphine takes its name from a lounge room inside the iconic Cocoricò club in Riccione.
"In the 90s, the club was famous for being the home to the highest levels of true freedom of expression, experimentation with fashion, costume, music, and creativity. The spirit of Cocoricò inspired us to create a project dedicated to everything rare, unique, and individual."
Martin Margiela launched his fashion house Maison Martin Margiela in 1988 with his business partner and fellow designer Jenny Meirens.
Margiela famously has never revealed his face in the media and has managed to keep his privacy. The private designer never attended his own shows, gave interviews by fax, and always together with his design team.
"Each of Margiela's collections, which have often created bewilderment in the fashion audience, have been and still are an inspiration to all the designers of our time, creating a new dress code that can be described as timeless. We love his independence, courage, and uniqueness."
Margiela liked to cast his models in the street (before that became fashionable and the norm) and challenged how runway shows and collections were staged and presented. His clothes were often deconstructed and his collections highly conceptual. Still, Margiela is also known for his refined tailoring techniques, Iottis and Valani point out.
"No one like him had the courage to choose his own creative independence in the industry that would shortly go mad with overproduction and massification, deciding to resign and remain even more in the mystery so dear to him."
In 2009 Margiela resigned as a creative director. John Galliano was appointed to the role in 2014.
"John Galliano is another important name that we adore. He has done an incredible job creating a new language capable of conjugating Maison Margiela's characteristics with his oneiric and romantic style."
For this post, the founders of Morphine Online chose their favorite pieces from their Martin Margiela collection.
"These items represent an important part of Margiela's work, which we love, the ARTISANAL line. These are truly unique pieces that are handmade transformations of vintage clothes, in this case, lingerie and upcycling."
Margiela launched the Artisanal line in 1988. It is the most representative of his deconstructivist period – the line consisted of accessories, garments made of found objects and recycled materials, and vintage fabrics often cut and reassembled in new and unexpected ways: a coat made of wigs, a dress made of motorcycle jackets, and a bag made of leather gloves.
"These garments are part of a very interesting, inexhaustible, and iconic trademark of Martin Margiela: the trompe l'oeil. The hair-printed dress and bag are from the FW04 collection."
The trompe l'oeil tricks the viewer into perceiving painted objects or spaces as real – the highly realistic prints look three-dimensional, although they are two-dimensional.
"The surrealism and search for the extraordinary in the ordinary are typical elements for Margiela. The necklace from ss07 made of eyeglass lenses, the scarf made of old reassembled trimmings from SS02, and the long leather glove that becomes a belt are some emblematic examples."
"This item is from SS98, and from one of Margiela's most historical fashion shows, the FLAT collection. When the garments are not worn, they are as flat as paper patterns. Brilliant!"
This Margiela collection was presented on the runway on coat hangers held by men in white lab coats. Behind them was a screen that said: 'when not worn these pieces are totally flat.' So on the runway, there were no models at all – they would have ruined the two-dimensional, flat concept. The garments were modified to make them totally flat: the neck openings of the shirts were on the front panel, the jeans could be completely unzipped and the shoulders of jackets were brought forward in order for them to be flat on hangers.
"The long dotted shirt dress from the SS06 collection tells about another of Margiela's stylistic signatures: the NON-FINISHED. The dress is perfectly printed and constructed on one side and incomplete and unfinished on the other. Creating a seductive asymmetry, one of the most sensual collections ever made by Margiela!"
According to Vogue, the collection had begun in Margiela's head as an idea about 'dissolving' the structure of clothing. Some of the garments had still pins on them. The jewelry perfected the theme: necklaces and bracelets made of melting ice cubes. Still, the tailoring was impeccable – as usual in Margiela's collections.