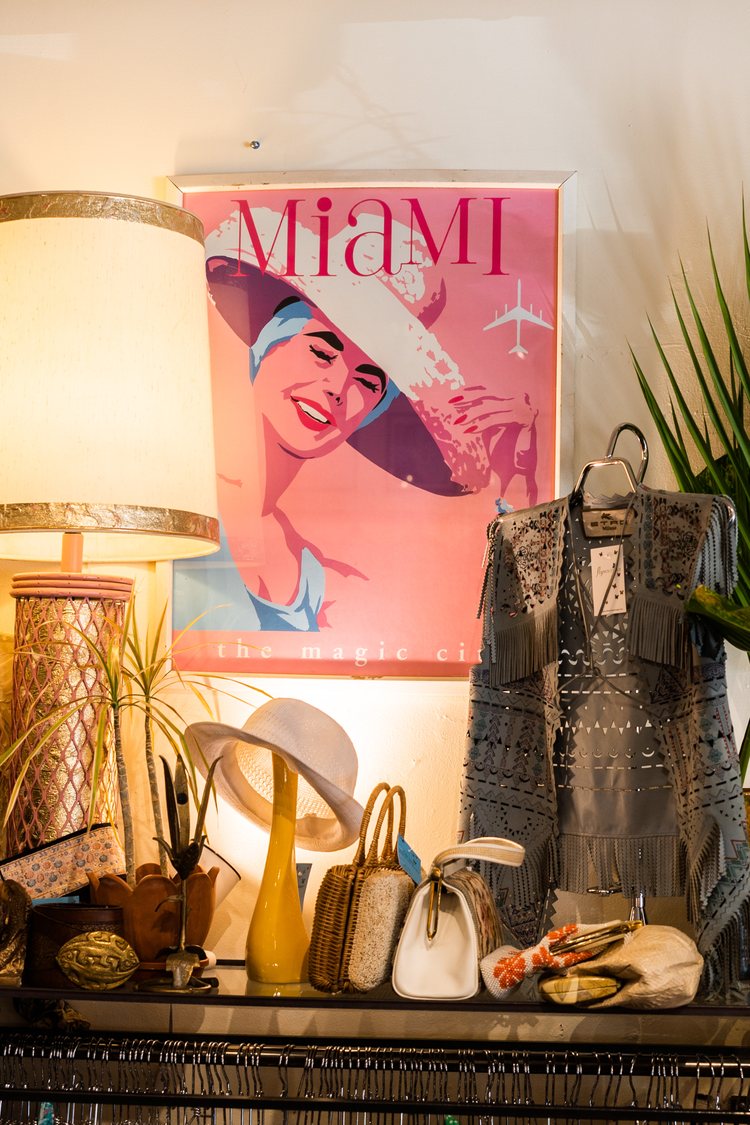 Miami is not only beach and palm trees. Here are our favorite vintage and consignment stores in The Magic City.
These are my very personal recommendations for the city of Miami! The vintage stores that had the most exciting collections, were well-kept and organized, had great vibes and made me overall happy. Our Google Maps list will help you to navigate and it has some additional tips, too!
House of Findings
I have met the owner Mayra several time at Manhattan Vintage Shows and seeing her has always been one of the highlights of that day. Her collection is whimsical, fun, happy, exciting! I love every piece. Nothing is boring. She is especially great at cute handbags. The store in Miami is as delightful: tiny but bursting with colors, treasures, and details. The imaginative decorations and shopping windows change every couple of months.
House of Findings
5030 NE 2nd Ave #404
(786) 558-4038
Tue-Sun 12-8
@thehouseoffindings
What Goes Around Comes Around
Visiting the WGACA made me fantasize about a lime green Chanel 2.55. Such was the impact of this store on me who always thought Chanel handbags were a bit too classic and self-explanatory. For those of you who are not familiar with WGACA: this is the store were kardashian-type celebrities shop their vintage. The mini chain has locations in New York, Los Angeles, Long Island, and Miami. The Miami store is big, light, and airy. The collection is youthful and colorful – fitting the Miami vibes.
What Goes Around Comes Around
1800 Bay Rd, Miami Beach
(305) 271-6200
Mon-Sat 10-6
Sun 12-6
@whatgoesaroundnyc
The Rabbit Hole
I have adored The Rabbit Hole online for years so it was exciting to see the store IRL. It is very cute, full of 60s and 70s dresses and pretty handbags, colors and prints. I feel this was the most traditional vintage store I visited in Miami–in a good way.
The Rabbit Hole
791 NE 125th St, North Miami
(305) 892-0213
Sun 2-6
Tue-Sat 1-7
@shoprabbithole
Pinkgun Gallery
This store is different –– anything else I have seen. Stepping into Pinkgun Gallery felt like falling into a movie scene. I recommend you stay here the whole day – try everything on, listen to the owner Fernando's stories and soak it all in. The front of the store is full of film movie and tv props, the clothing racks are hiding in the back. There is also an epic collection of rare sunglasses, hats, and handbags.
Pinkgun Gallery
785 NE 125th St, North Miami
(786) 542-5386
Tue-Sat 12-5
@pinkgungallery
Swish Boutique
Because of the owner Christine Marie's friendliness the store has the most welcoming feeling. She likes to call the store 'a fashion exchange' as anyone can sell their old gems here for 50% of store retail or a gift card that never expires! The collection is bohemian, flashy, showy. This is Miami after all! Your go-to-place for affordable sequin tops, fringed anything, Hawaiian shirts. No navy blazers, khaki pants, or corporate wear in sight here.
Swish Boutique
PERMANENTLY CLOSED.
@swishboutiquemiami
Fly Boutique
A consignment store that has something for everyone: designer deals for the brand-obsessed, 70s t-shirts and shirts for guys, denim, dresses, loads of jewelry, old and new, also furniture and home decor.
Fly Boutique
7235 Biscayne Blvd
(786) 332-4156
Sun-Fri 11-7
Sat closed
@flyboutique