travel
The Best Vintage Stores in London
Here are our 13 favorite stores we discovered while in London in August 2019. Find more vintage destinations on our Google Maps list.
Liisa Jokinen · Oct 29, 2019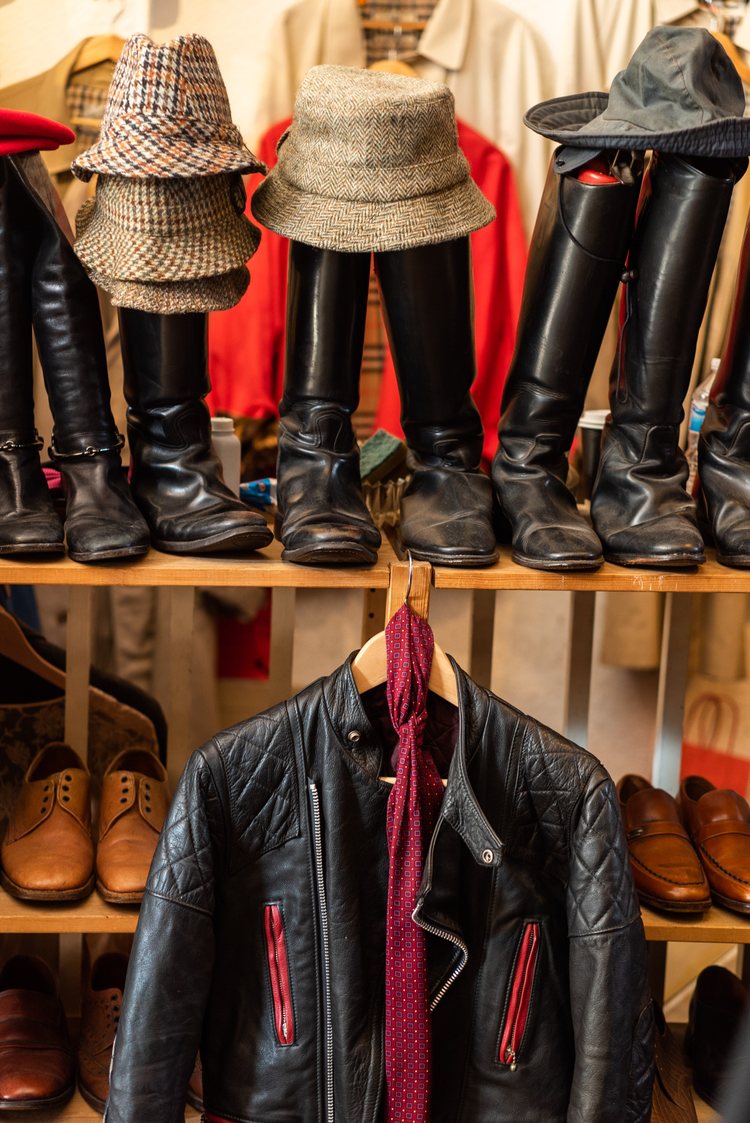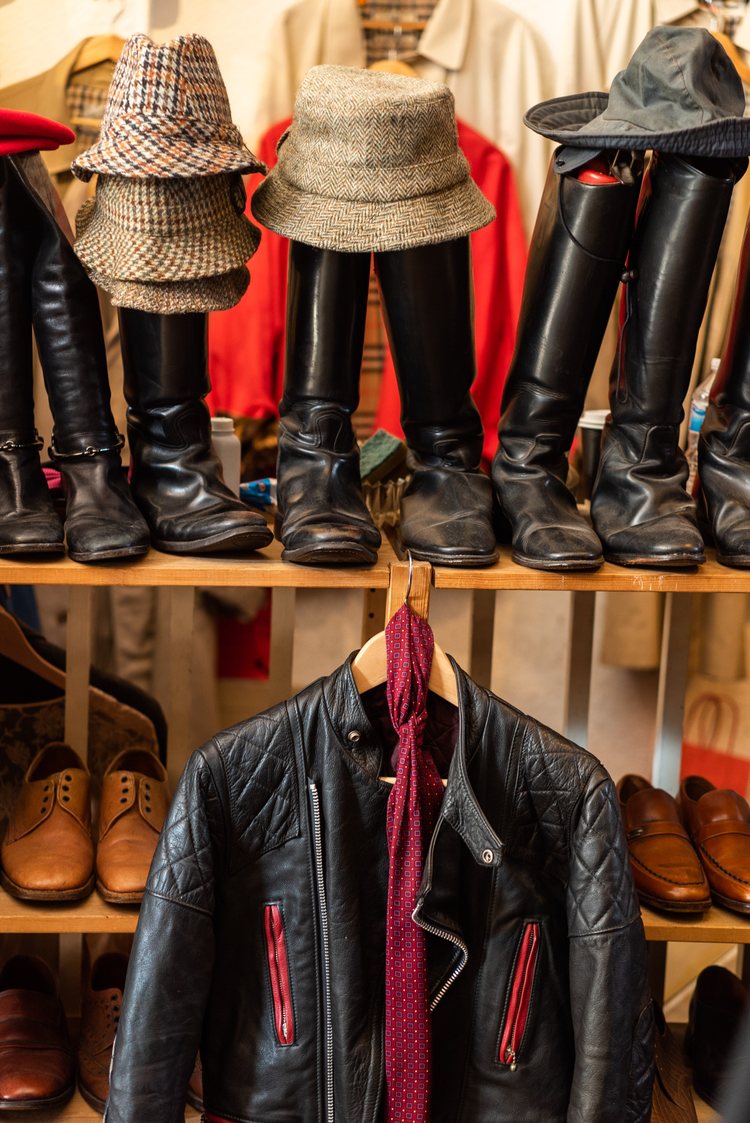 travel
The Best Vintage Stores in London
Here are our 13 favorite stores we discovered while in London in August 2019. Find more vintage destinations on our Google Maps list.
Liisa Jokinen · Oct 29, 2019

Here are the best vintage stores I discovered on my visit to London in August. London still has something for everyone: 90s and 00s designer clothing, true vintage, streetwear, workwear, affordable second hand.
All these stores plus more tips can be found on our Google Maps list. For example, do not forget the London staples Beyond Retro and Rokit for affordable vintage and second hand shopping. Another London institution Rellik is not included in the story as it was under renovation during our visit.
A London vintage shopping spree would be not complete without a visit to the Portobello Market on a Friday. So, if you have only time for one shopping destination make sure it is Portobello!
Shoreditch
The hip Shoreditch is still the neighborhood with most vintage and second hand stores in London. The best and the busiest day to visit is Sunday when the Brick Lane Market is on.
Serotonin Vintage
90s and 2000s stuff for youthful minds! Loads of Italian designer jeans from Moschino, Versace, and Gaultier. A small store but worth a visit if those mentioned are your labels. The store is run by siblings Rachael and Elliot Cook. They first started selling on Depop and after the initial success opened their store in 2016 in Brick Lane.
Serotonin Vintage
194 Brick Lane
+44 20 7729 9986
Mon-Sat 11-8
Sun 1-8
@serotoninvintage
House of Vintage
Two beautifully organized stores full of true vintage, one in Hackney, one in Shoreditch. The first House of Vintage opened its doors in Toronto in 2003. The first London store opened in 2010 in Shoreditch and in 2018 they opened the second location in the heart of Hackney Central. Menswear and womenswear from the 20s through to the 70s, with particular emphasis on the 40s, 50s and 60s. I spotted awesome pre-80s t-shirts, lots of Americana, great wool jackets, and cute deadstock like 70s undies in floral prints.
House of Vintage
4 Cheshire Street
+44 20 8089 4161
Mon-Fri 12-7
Sat 11-7
Sun 10.30-6
28 Amhurst Rd
+44 20 7739 8142
Tue-Sun 11-6
@houseofvintageuk
Levisons Vintage Clothing
It was a pleasure to visit this store! Very carefully selected classic timeless styles in limited color palette. Workwear, military, tailoring, and knitwear for both men and women. Emphasis on 40s, 50s, and 60s British, French, and American vintage.
Levisons Vintage Clothing
1 Cheshire St
+44 20 3609 2224
Mon-Sat 11-6.30
Sun 10.30-5.30
@levisons_london
Nordic Poetry
The Swedish owner Ameli Lindgren of Nordic Poetry wants you to know that hers is the best and most carefully curated vintage store in London. Lindgren started selling vintage at Spitalfields Market, then created a strong reputation online and opened her pink-colored brick-and-mortar store nine years ago. Lots of designer pieces from the hot Italian brands like Missoni, Versace, and Gucci plus UK-favorites Stone Island and Fendi. Retro, vintage and designer for all genders. Check out the store's Instagram for some great style inspiration, too.
Nordic Poetry
141 Bethnal Green Road
+44 20 7729 9444
Mon-Wed
Fri-Sat 11-7
Thu 11-8
Sun 11-6
@nordicpoetry
Hackney
Hackney must be one of my favorite neighborhoods in London: great amount of vintage stores within a walking distance from each other, Broadway Market on Saturdays, and less crowded than Brick Lane.
The Market Cartel
I fell in love with the store the second I entered. I guess because somehow the green-walled space with retro furniture and little knick-knacks instantly reminded me of my grandmother's place and I just wanted to take part of the store with me! (Bought a lemon-yellow little 70s handbag.) Lots of American vintage which owner Dani Smith picks on her travels in her previous home country. For the fans of the 60s and the 70s, this store has so much fun and wearable vintage.
The Market Cartel
12a Downs Court Parade
Amhurst Rd
+44 20 8533 5690
Mon-Fri 11.30-7
Sat 11-8
Sun 12-6
@themarketcartel
Aro Archive
If you love Japanese designer clothing and Belgian avantgarde, Aro Archive (formerly called Strut) is your piece of heaven on earth. A gallery-like space where everything is displayed beautifully. When we visited the store, the first room was all black, then you exit via a tiny shoe room and enter another space with more colorful items. For the fans of Miyake, Lang, Margiela, and Raf.
Aro Archive
2 Ada Street
Broadway Market
+44 207 2548121
Mon-Sat 10.30-18.30
Sun 12-18
@aroarchive
Retrouvé Vintage
Two lovely stores in Hackney. We visited the newer one because it is conveniently located on Broadway Market. The founder Ginny Burnett still handpicks everything. Her vintage career started by hosting parties at her home and selling at London vintage fairs. In 2013 she opened her first store. Cute Albert Nipon dresses, silk gowns, kimonos.
Retrouvé Vintage
23 Broadway Market
+44 20 7998 7110
Mon-Fri 10.30-6.30
Sat 10.30-6
Sun 11-&

61 Wilton Way
+44 20 3556 6273
Thu-Fri 12-6
Sat 11-6
Sun 11-5
@retrouvevintage
Dalston
From Hackney it is only a short walk to Dalston. Check out at least these two stores when you are in the neighborhood.
Storm in a Teacup
When the store logo reminds of the Yohji Yamamoto company logo you know what to expect: pre-owned designer items from Japan. Other Japanese and European cult designers are well-presented too in this tiny and cozy consignment store. Also some contemporary labels like Sacai and Acne Studios. Spotted many great shoes!
Storm in a Teacup
366 Kingsland Rd
+44 20 8127 5471
Mon-Sat 11-7
Sun 12-5
@storminateacuplondon
Pelicans and Parrots
Colorful vintage, fun home decor, all arranged temptingly and beautifully. Spotted a great amount of silk blouses and Italian labels like Missoni and Valentino. Reasonable prices and clothes that are guaranteed to make you happy.
Pelicans & Parrots
40 Stoke Newington Road
+44 20 3215 2083
Mon-Sun 11-7
@pelicansandparrots
Notting Hill
Notting Hill has its famous Portobello Market but also several vintage stores that are open seven days a week.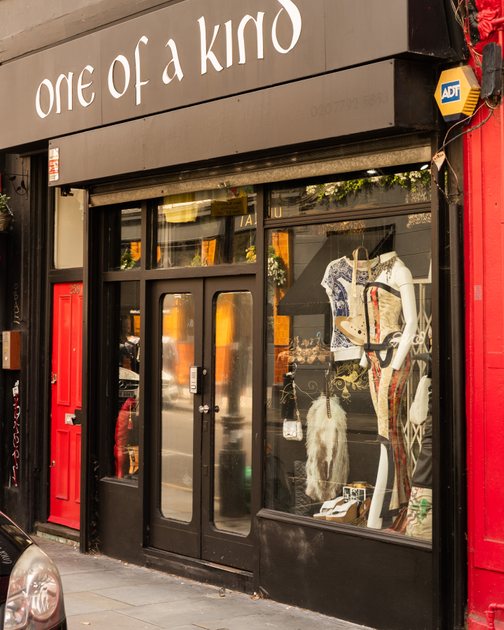 One of A Kind
One of A Kind feels more like a museum or an archive than a store – not because it is dusty or dead still but because it is full of the rarest gems of the fashion history, pieces that you can't see anywhere else. The store was founded in 1994 by Jefferson Ihenacho who has been collecting since 1987 when he first moved to London from Nigeria. No photos allowed but believe me, it is worth ringing the doorbell. Amazing, rare pieces cramped in a tiny room. The store where celebrities like Naomi Campbell and Kate Moss shop. Other noteworthy customers include the world's top museums like MET and FIT in New York, designers like Christian Dior, Tom Ford, and Celine, and film directors like Pedro Almodovar. The separate private archive (over 5000 items) is open by appointment.
One Of A Kind Archive
259 Portobello Road
+44 20 7792 5853
Mon 12-6.30
Tue-Sun 11-6.30
@oneofakind.archive
282 Portobello
The most English store in London! Everything dandy, classic and rock: Tweed hats, hunting jackets, corduroy, Burberry trench coats, classic leather coats (bikers and others), Aquascutum, tailcoats of all ages. Classics but also some rare stuff like an epic Belstaff leather moto jumpsuit can be spotted here. A must if you visit the Portobello Market on a Friday.
282 Portobello
282 Portobello Road
+44 20 8962 5625
Sun-Wed 12-5
Thu-Sat 10-5.30
@282portobello
Phoenix on Golborne
Hiding in the basement of an antique furniture store you will find an amazing, carefully curated collection of vintage statement pieces and classics. 40s gowns, Dior suits, kimonos. All color-coordinated, all great materials. I wanted to try on every piece. Small but just so perfect!
Phoenix on Golborne
67 Golborne Rd
+44 20 8964 8123
Mon-Fri 10-6
Sat 10-5
Sun 11-4
@phoenixgolborneclothing
Covent Garden
Covent Garden is probably known more for its fast fashion shopping (sigh) than vintage but there is one of the best stores for vintage-minded gentlemen there.
The Vintage Showroom
Denim, workwear, Americana, and classic military items for men who appreciate the quality, cut and materials of bygone eras. The founders Roy Luckett and Douglas Gunn know their stuff – they have published two books about vintage menswear and regularly loan to big design houses and fashion shoots. On display at the store is only a fraction of their vast and famous vintage archive.
The Vintage Showroom
4 Earlham Street
+44 20 7836 3964
Mon-Sat 11-7pm
Sun 12-6
@vintageshowroom