flea markets
Selling Vintage at Europe's Largest Flea Market
Kaisa Similä sells vintage at Puces de Saint-Ouen in Paris, the largest flea market in Europe and one of the most iconic landmarks of Paris.
Liisa Jokinen · Sep 6, 2022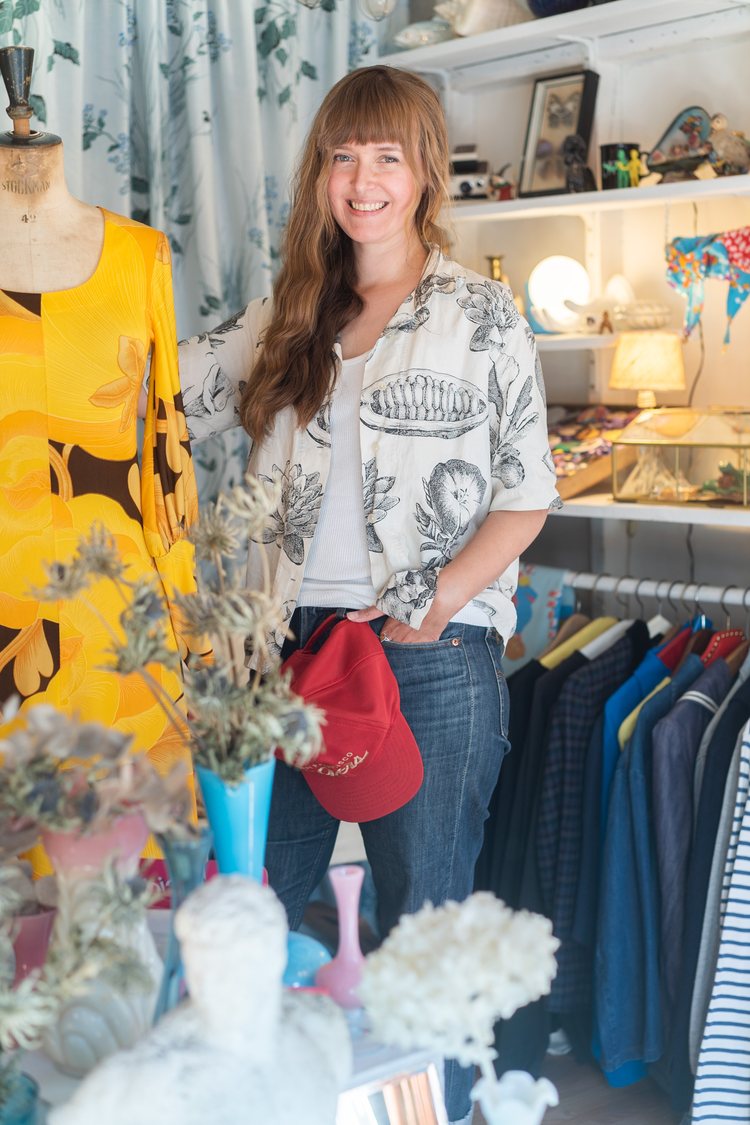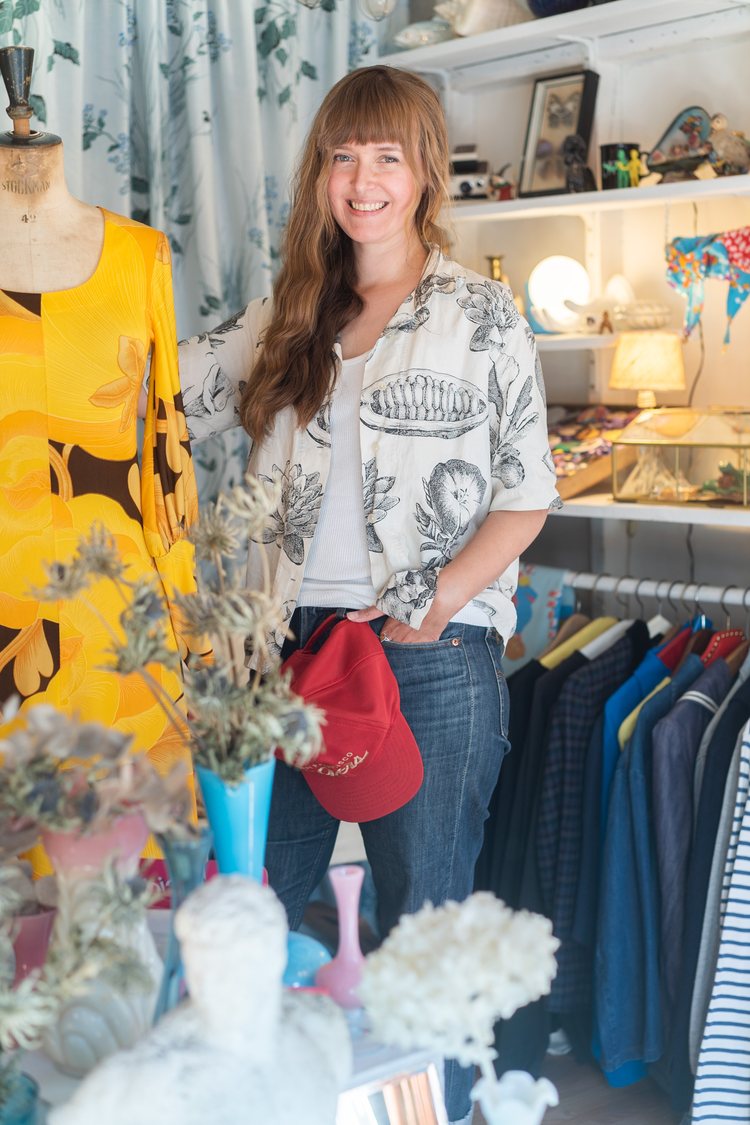 flea markets
Selling Vintage at Europe's Largest Flea Market
Kaisa Similä sells vintage at Puces de Saint-Ouen in Paris, the largest flea market in Europe and one of the most iconic landmarks of Paris.
Liisa Jokinen · Sep 6, 2022

Puces de Paris Saint-Ouen is the largest concentration of antique and second-hand dealers in the world. Over 5 million tourists visit this maze of markets, alleyways and little stores every year. The area is seven hectares (17 acres) big and consists of twelve covered markets and five shopping streets.
As most vendors sell antique furniture, textiles and homegoods, it is not easy to get a spot here as a vintage clothes vendor. Finnish-born Kaisa Similä managed to rent a booth at Vernaison, the oldest and protected part of the flea market. We met her to find out how it all happened!
"I moved to Paris in the fall of 2018. At that time, I was still working in fashion in production and product development. I wanted to do and experience something new. I got a job in Paris, and decided to stay.
I have dug through flea markets since I was a teen, always loved the 'hunt' not knowing what you might find.
I have also always been interested in costume and style history, especially style in youth cultures. So vintage pieces have always been a huge part of my closet. Selling vintage became a dream little by little over time but while living in Finland it was just that; a dream.
Working in fashion can be brutal, especially with a freelance contract. Sometimes you end up working with no pay so the decision to start selling vintage here in Paris came both from out of necessity to get some extra cash and having that "now or never" feeling of wanting to try doing something I actually felt passionate about. So I opened a shop on Etsy, and that is how it started.
I studied the vintage scene in Paris by just walking through some shops and of course, browsing through social media. My boyfriend actually has been a huge help. He has worked in the brocante business here for some years and nowadays he also has a shop in Marché Vernaison fixing, selling and renting vintage bikes. He knows people in the business and has guided me along the way.
We live very close to the Le Marché aux Puces de Paris Saint-Ouen. This whole area is one of my favorite places in Paris and always felt like home to me. I was told there was a booth available and after crunching the numbers, I decided to go ahead. My shop is located in alley 1, which is sometimes called the Champs Élysées of Marche Vernaison. This is because it is located next to the entrance and is thus more busy. Finding a suitable booth in this area can be tricky.
I named the store, Popular Favorites, after my favorite garage punk album by the Oblivians. I think Talking Heads also have a compilation album by that name, love them also.
I would say my inventory is kitschy with classic elements. I think you can see in my store that I have watched a lot of John Waters films. I sell from t-shirts to dresses and in between. Everything is handpicked and due to that the selection can vary. I like to have pieces in my collection that are easy to wear, making them a good option for fast fashion along with more collectible pieces. My customers are both locals and tourists, otherwise it's hard to describe because the range is large which I love.
The language barrier can sometimes get in my way. I fully intend to learn French fluently but it has been difficult. I'm heavily dyslexic so it gives an extra spice to the whole process. I manage in basic things but I still have a long way to go. Thankfully the customers are wonderful about it and mostly understanding. Also when you work alone, getting sick is something that I try to avoid, my vitamin expenses have definitely gone up.
Digging is one of my favorite things to do. When I find something really special it just makes my week. I source everywhere. At friperies (clothing fleamarkets), brocantes outside Paris, street flea markets and in Finland when I visit. Sometimes people bring items to me that I might be interested in.
I once found a 50s Lanvin-Castillo couture dress in a pile of random clothes, doesn't get much better than that.
Also when you see someone really excited about their purchase it always makes me happy to see the items getting a new life. I have had some famous customers too – Tyler The Creator purchased a peach colored mohair cable knit cardigan from me during the last fashion week.
In France, there is definitely more vintage to choose from than in my previous home country Finland, and you can find from older periods plus from more famous fashion brands. But in Finland, you can find curated vintage in a more reasonable price range (for example at UFF thrift stores). Also in Finland you can find these amazing vintage prints that are harder to find here. In France you can also find well priced vintage pieces but it takes a little more work and effort.
Like with any business doing your homework is important when it comes to administrative issues.
When it comes to vintage itself I encourage to be true to your own style. When you do it with your heart it shows.
To more practical advice I suggest to accumulate material knowledge, this helps you in multiple ways; in pricing, fixing, washing and maintenance.
I would also recommend not taking the business lightly. Consider all the risks involved, do your business plan and do the numbers. Luckily, I managed to start with small expenses so I did not need to take a loan for my store.
When you work at a boutique, people come looking for things which adds an element of stress. This flea market is more of a place where locals come to enjoy their Sunday and if they find something nice, they are happy about it. I can't recall having a bad customer experience here."