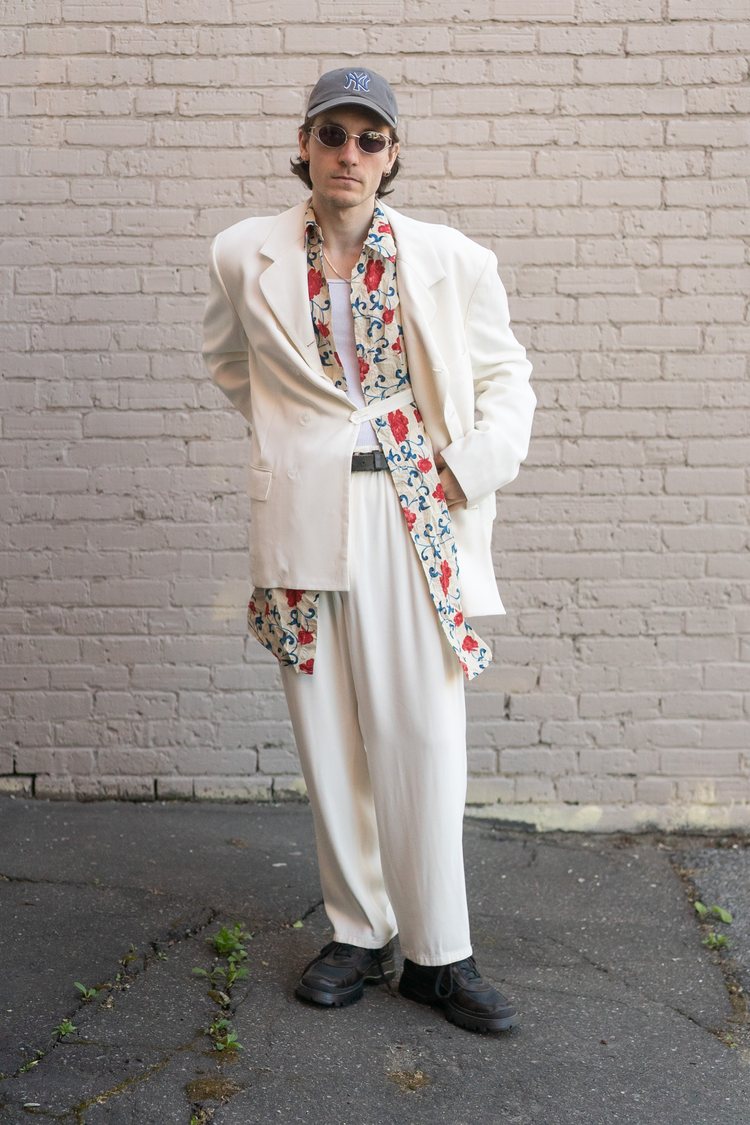 Etienne Bolduc collects Japanese vintage menswear. He approaches the subject like a scientist, researching every detail with the help of his extensive library.
"Getting into collecting was a long process for me as I never intended to be a fashion collector – I somewhat fell into it and accepted the role.
One of my first emotional experiences with designer clothing took place in New York City. Through a friend, I met a guy who was wearing Yohji Yamamoto clothes from head to toe. It was a revelation for me: this was exactly what my spirit wanted to exude to the world and I knew immediately that it was how I wanted to dress for the rest of my life. Like Wim Wenders, my first experience with Yohji Yamamoto was an experience of identity. It was not because the style felt novel or different, but rather because it felt like it was meant to be all along. I felt the same way about Comme des Garçons as I was realizing that the label was more than just a heart on Converse shoes. However, those brands come at a price and I had to resort to buying on the Japanese secondhand market.
As I was gathering garments, I began to realize that some of them had appeared on runways and in editorials and that they had a cultural significance. My curious nature pushed me to find all such appearances and dig deeper. Unfortunately for me, the internet is NOT a good source of information, especially for such things that were generally only published in magazines and books – if you're lucky. Thanks to passionate collectors, some resources were available online – but it was not enough. Thus began my search for the magazines and books containing what I was missing. One thing led to another and I eventually gathered a large collection of items and documents together with an encyclopedic knowledge on different subjects. At some point, I realized that a lot of what I had was coveted by others sharing the same curiosity as me for their own research. As such, I began sharing forgotten stories, unique information – to the extent of creating my own charts –, and rare scans of runway images, editorials, etc. I want to make it clear that I did not start from scratch: my approach has been guided by other collectors who have shared so openly their knowledge and their resources.
I mainly focus on Japanese menswear from the mid-1980s until the late 2000s with a specialization in the work of Yohji Yamamoto, Rei Kawakubo at Comme des Garçons, and Issey Miyake and Naoki Takizawa at Issey Miyake. But I still have to collect information on womenswear to properly understand menswear. What I like about this era is that, while the information is available out there in print, it is not readily available. As such, there is a certain challenge associated with finding this information and there are always new things to find. It was also an interesting period for menswear and womenswear. To understand the current fashion world, I think it is fundamental to have a good knowledge of this groundbreaking period. But why do I collect those three brands in particular? I am not entirely sure.
I simply love their approach to menswear: it is formal yet whimsical. I appreciate how their framework is rooted in a proper mastery of the craft. And yet, they are still able to put it into question with a certain lightheartedness.
Again in terms of menswear, I think that those three brands have an interesting perspective and that they care about the subject. For most other brands, menswear was an afterthought for a long time – and it still is for many. Yet, I think that those three Japanese brands spent a lot of time and energy making their menswear innovative. They elevated suiting to something beyond boring business suits. While they were not alone in doing this, I think that digging for information on them specifically is compelling because they have been relatively well-documented. There are a lot of things being said about those brands today and it is a good exercise to find the original sources to confirm or deny many such claims, to demystify certain myths, and to reveal forgotten stories. I studied Mathematics and Physics in college and I even have a master's degree in Condensed Matter Physics. My experience in STEM made me exceptionally methodical and thorough. I approach fashion with the same thoughtfulness.
First, I am wearing a psychedelic shirt from Yohji Yamamoto Pour Homme, Spring/Summer 2002, made in collaboration with Saeko Tsuemura. It is one of the most famous pieces in my collection. I bought this shirt many years ago at a bargain because no one cared about it yet. To coordinate with the shirt, I am wearing jeans from the same collection made by Spotted Horse Craft. It was Yamamoto's first collaboration with the denim production company and he used this as an opportunity to explore denim in depth. Unfortunately, those denim pieces are less discussed than those made in collaboration with Saeko Tsuemura – which is a shame considering how perfectly the formers look. It is amusing to me when I hear people talking about the collection because they always focus on the prints made by Tsuemura although Yamamoto working with denim takes a more substantial part of the collection and was a lot more unusual and notable at the time.
To add to the coordination, I am also wearing Adidas shoes from the same season made in collaboration with Yohji Yamamoto. It was his second collaboration with Adidas, which led to Y-3 soon after. I love the style of the shoes from their first few collaborations. Sadly, they always end up crumbling down when worn. I cannot wear them as much as I would like to. Finally, the white leather jacket is from Yohji Yamamoto Pour Homme, Autumn/Winter 1994-1995. Simple yet beautiful.
Second, I am wearing a spilled dye set from Issey Miyake Men, Spring/Summer 1994. It was Naoki Takizawa's first collection as the creative director of the menswear line. Rare are those who know his name, even though he was in charge of the menswear at Issey Miyake throughout the 1990s and of the womenswear later on. In fact, he is behind most of the well-known Issey Miyake and Issey Miyake Men collections! Coincidently, the jacket and the pants are among the first Issey Miyake pieces I bought.
I like this set because it is directly related to how I feel about myself. You need to be confident to wear it.
I remember the first time I wore it: I took a detour through small, quiet streets to avoid being seen. I don't care anymore – I feel proud wearing extravagant pieces. I once overheard a woman tell her friend, 'I wish I could wear things like this,' as I was passing by. It is too good not to wear.
Third, I am wearing the black version of the pleated Lithuanian Olympic team uniform designed by Issey Miyake for the 1992 Barcelona Olympics. Although Miyake was officially credited for it, Naoki Takizawa is the one who created the design. It was the first pleated Issey Miyake piece I ever bought. I have to admit that I have never been a huge fan of pleated pieces, hence it took me years to finally add one to my collection – and only because it is a special one, especially when considering that the Lithuanian Olympic team uniform is one of the very first subjects I documented.
A few years ago, I found the vacation pictures of Kensuke Ishizu as he was accompanying Issey Miyake to the 1992 Barcelona Olympics. These pictures are some of my favorites because they taught me to humanize the creative process.
Under the jacket, I am wearing a vintage T-shirt of the same Olympic games. I found it last summer as I was walking around McCarren Park in Brooklyn. It was the first T-shirt on a rack outside. It was calling for me; I had to buy it.
To finish the look, I am wearing Paolina Russo edition Adidas striped track pants. I rarely buy new clothes, but I love her work. I think the colorful stripes fit perfectly with the Olympic rings.
Fourth, I am wearing a full outfit from Comme des Garçons Homme Plus, Spring/Summer 1999, except for the shoes. The collection was called 'Secret Treasure' as most items were reversible with frills on the inside.
I rarely see anyone wearing pieces from this collection, even though they often sell for a lot of money. Although I myself rarely wear anything from this collection, I am not eager to sell what I have from it unless I find someone who has the style and confidence for it.
As a collector, I care a lot about who will take care of my collectibles next. I know that it is unusual, but I don't see myself as 'owning' anything in my collection. Rather, I am simply the current caretaker.
My perspective is rooted in what is called 'new materialism.' I think about objects like garments as having a 'life' of their own. Clothing stays alive by being worn and loved. They have the power to bring people together; so many of our memories and feelings are associated with them. In the case of secondhand clothes, we generally have no idea what the previous caretaker went through in them. They could have met their future wife wearing this or brought that on a long trip around the world. This is why I am not too possessive when it comes to clothing: it makes me happy to know that they are leaving for a nice home and that they will spark new memories. I have often sold items that would become a part of another person's significant moment in life – after having been a part of my own.
Fifth, I am wearing a white suit from Yohji Yamamoto Pour Homme, Spring/Summer 1989. The collection is fairly obscure to most people. It was inspired by August Sander's photographs of well-dressed peasants. The suit has unique, beautiful flower-shaped buttons.
Robin Williams wore a similar suit – albeit in red –on the cover of the June 1989 issue of Esquire. I don't think many people know about this. There are always new things to discover!
And this is why I think collectors are important: they notice small details and make connections in ways that most people would not.
Under this suit, I am wearing a wrinkled floral shirt from Yohji Yamamoto Pour Homme, Spring/Summer 2001. It is one of my most iconic pieces. I love floral patterns and unusual textures. I also love to mix formal with casual, which is the duality I see in this shirt. Any normal individual – that includes me – finds it silly to wear such a heavily wrinkled shirt, but this is what makes it so engaging. It is also why I added the sunglasses – also from Yohji Yamamoto – and the Yankees hat to the look. It is not proper; it is almost scandalous, especially with the shirt worn outside the pants like this.
Yamamoto wrote that 'it is always best to add something playful to any polished, coordinated look in man's clothing. [...] The man with a real sense of style will always combine a highly polished look with something a little less refined, [...] mixing the sensitive with the clownish.' I agree with him and I have been following his approach for a long time. Life is too short to be dull.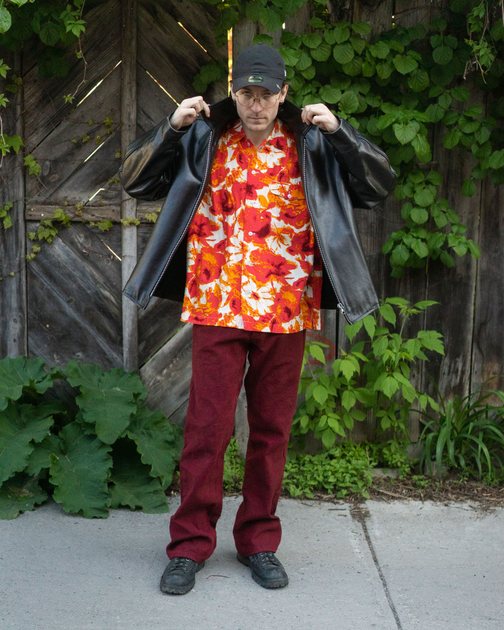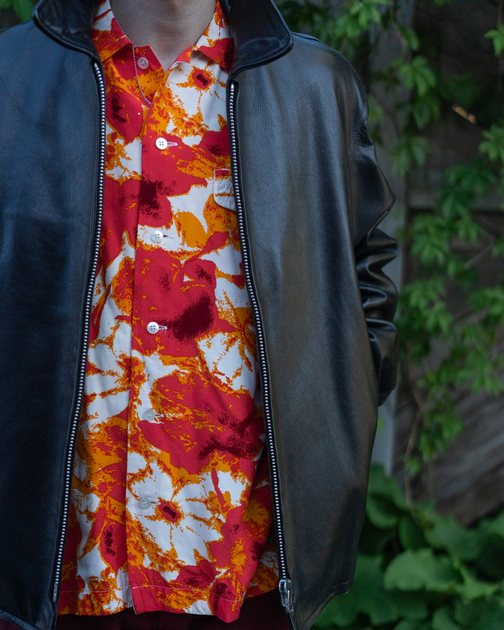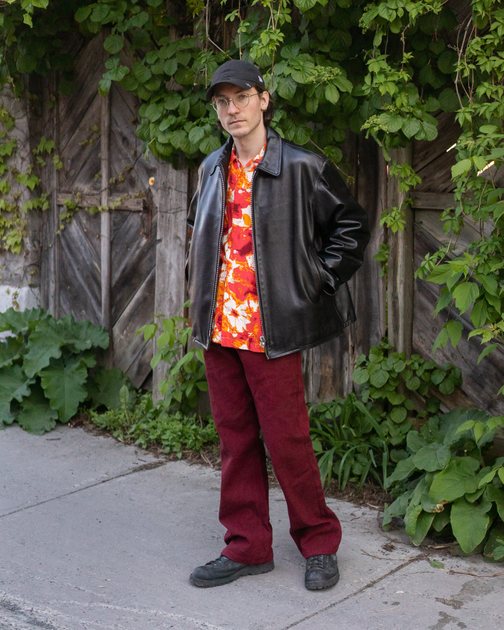 Sixth and last, I am wearing a floral shirt from Issey Miyake Men, Spring/Summer 1993, a leather jacket from Yohji Yamamoto Pour Homme, Autumn/Winter 1991-1992, and jeans from Carter Young, Spring/Summer 2021. I am such an annoying collector: I have a hard time mixing different brands. I try to do it more often lately. The shirt is from the same collection as the Olympic uniform from earlier. Many people already know about the leather jacket without realizing it, I think. While it is probably one of the most well-known pieces designed by Yohji Yamamoto, it is more easily recognizable when there is a pinup model painted on the back but this iteration does not have one. It is still the same leather jacket, however. I like the one I have better: it is plain and simple.
I do not want people to know what I am wearing at first glance. I do not want people to appreciate what I am wearing simply because they can recognize the brand and associate it with luxury and exclusivity. That is why I generally stay away from well-known pieces and logos. I do not think that it is interesting to simply showcase a brand. I want to express a style, a concept. Obviously, I am well-aware of the irony here: I have been focusing on the same three brands for years. However, this approach has allowed me to understand each piece I collect on a deeper level, as I know their origin, their perspective, their impact, how they have been interpreted, etc.
I believe that vintage collecting is not about what you own. Rather, it is about what you know and – most of all – about your ability to learn new things and create connections.
All of the collectors that I know are curious individuals; they are just arrogant enough to be able to build their knowledge independently from trends and clichés, but not enough to think that they will ever know everything on their own.
For me, collecting is a journey. It is all about process and progress. It takes time and there is no shortcut. I have often compared collecting to navigating 'Indra's Net.' Other people may help guiding you across vertices, but you have to stop and reflect on your own, observing and understanding the endless connections. Additionally, you have to revisit the same subject over and over again, because you will always find something new based on your current knowledge. Everything is connected in the end. And this infinite complexity is what makes it so beautiful!"
My Clothing Archive
Follow on Instagram & YouTube