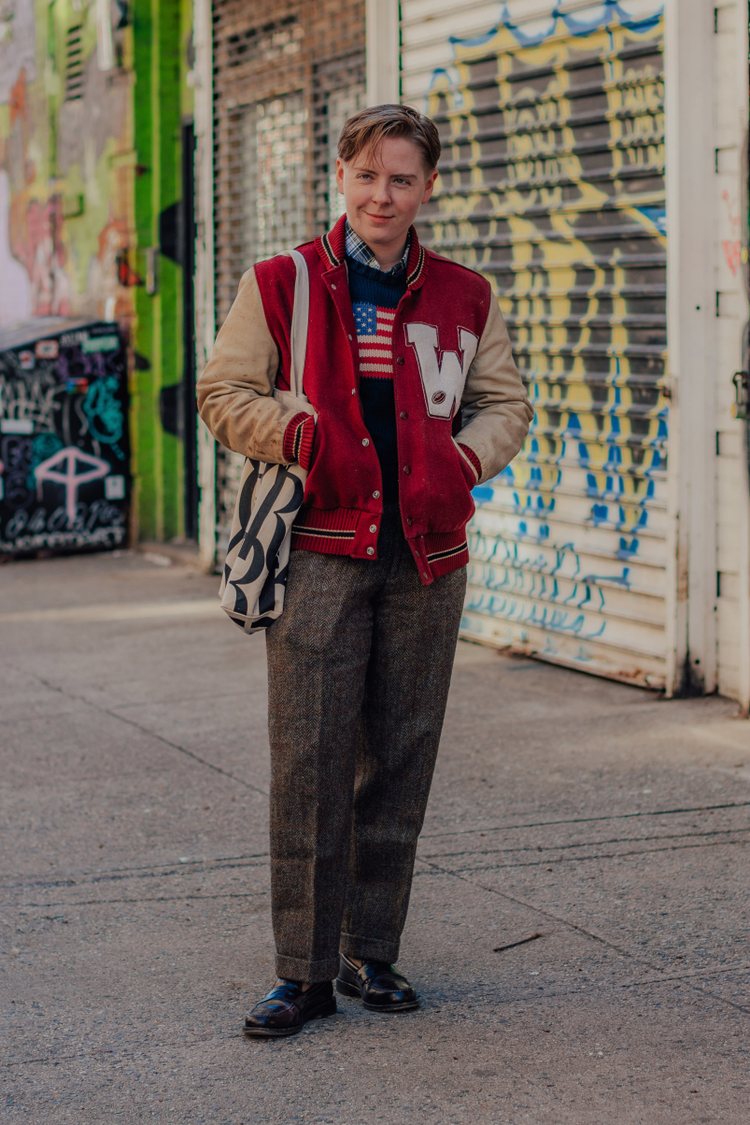 Why can't menswear be for all, asks Laura Arnold.
"Even when I was a little kid – like 7 years old – I always wanted to wear 'boys' clothes like basketball shorts and suits instead of skirts and dresses, so menswear has always been something that's simply a facet of all the things that make me who I am as a person.
My interest in the intricacies of construction, fabrics, styles, etc., though, came much later. I studied abroad in London during my junior year of college and that was the first time I really began buying classic and vintage menswear both to wear but also to analyze and learn from. I'm a bit of an impulsive person and dive deeply into the things I love, so from that jumping-off point I just continued to acquire more and more pieces.
I currently work in the fashion industry, more specifically in classic menswear, doing marketing, creative direction, and photography for 120-year-old brand J. Press. In addition to the work I do professionally, I also run an Instagram account and blog focused on the various styles that fall under the umbrella of classic menswear.
I would describe my style primarily as the 1930s-1960s menswear, incorporating aesthetics like Ivy style, British country, American militaria, and some hints of British mod and workwear. I often mix these aesthetics together in a melting pot of classic styles to make my outfits feel a bit more of my own. Everything works together like a puzzle, and sometimes the pieces I choose make an outfit that aligns strictly with one aesthetic, while other times the pieces I put together produce something that can't neatly fall under one category.
The pants in the photo are Vietnam-era OG-107 trousers issued by the US military. They're one of the most comfortable items I own and are perfect for taking the Ivy aesthetic and bending its rules a bit.
I like to think that style is a constantly-evolving concept and that there isn't one singular moment where you have a finite 'aha!' feeling. The style that I've curated for myself evolved from numerous influences including interests in British tweeds, prohibition-era fashion, the concept of style 'rules' related to aesthetics like Ivy, and how clothes relate to gender expression. My taste is constantly expanding and with that, my style becomes more elevated and intentional.
If you are a woman or non-binary person and want to explore more menswear, I always recommend starting with gaining a strong understanding of your own body and how you want to look and feel in the clothes you wear. Learn the exact measurements of both your body (chest, waist, inseam, shoulder width, neck circumference, etc.) and your favorite articles of clothing, and use that knowledge to begin constructing a solid foundation of basics like Oxford shirts, t-shirts, and casual trousers.
Bodies come in all shapes and sizes, so what works for one person won't always work for another, and that's why it's crucial to build this personal knowledge base. It takes a lot of work and effort to really nail down the fit you want, and much of that work boils down to trial and error, as well as understanding things like fabric drape and construction.
I love all of the stains and imperfections on this 1950s bowling shirt! The chain stitching and embroidery, coupled with the 'damage' really give a unique life to this shirt.
The vast majority of my wardrobe is vintage and secondhand – probably somewhere around 75%. I rarely have the disposable income to buy things new at full retail price, and lots of modern patterns lack the details I want from my garments, like higher rises on trousers and longer sport coat lengths.
My style inspiration comes from so many places! Vintage Ralph Lauren catalogs, print resources like Esquire's Encyclopedia of 20th Century Men's Fashions, films like Casablanca and North By Northwest, etc. Even things as simple as the weather – what's the best fabric to keep me dry in a thunderstorm and what suit is perfect for a hot summer day? This old London Fog trench coat is perfect for rainy days, especially in the colder months since it's lined with fur.
I'm a very creative person, so finding inspiration everywhere around me comes pretty naturally.
I always recommend Briar Vintage in Philadelphia for great stock both online and offline. Crowley Vintage in Brooklyn is also wonderful, especially for classic British and American pieces. If you're into Ivy style, PlacidVintage and KevinsVintageFinds are both great Etsy sellers. For 60s-80s styles I'd strongly recommend Field Mercantile. And lastly, if you want a real hodgepodge of treasures, Alfargo's Marketplace is a great event to check out in the East Village in NYC."
Follow Laura on Instagram @reapersower
Read Laura's blog Reaper & Sower