collectors
Meet Mark, a Marlboro Merch Collector
Back in the 1980s and the 1990s Marlboro created streetwear and outdoors gear – to promote their business aka sell cigarettes. Though not a smoker anymore, Mark Humphreys is a fan and a collector of all things Marlboro.
Liisa Jokinen · Jun 25, 2019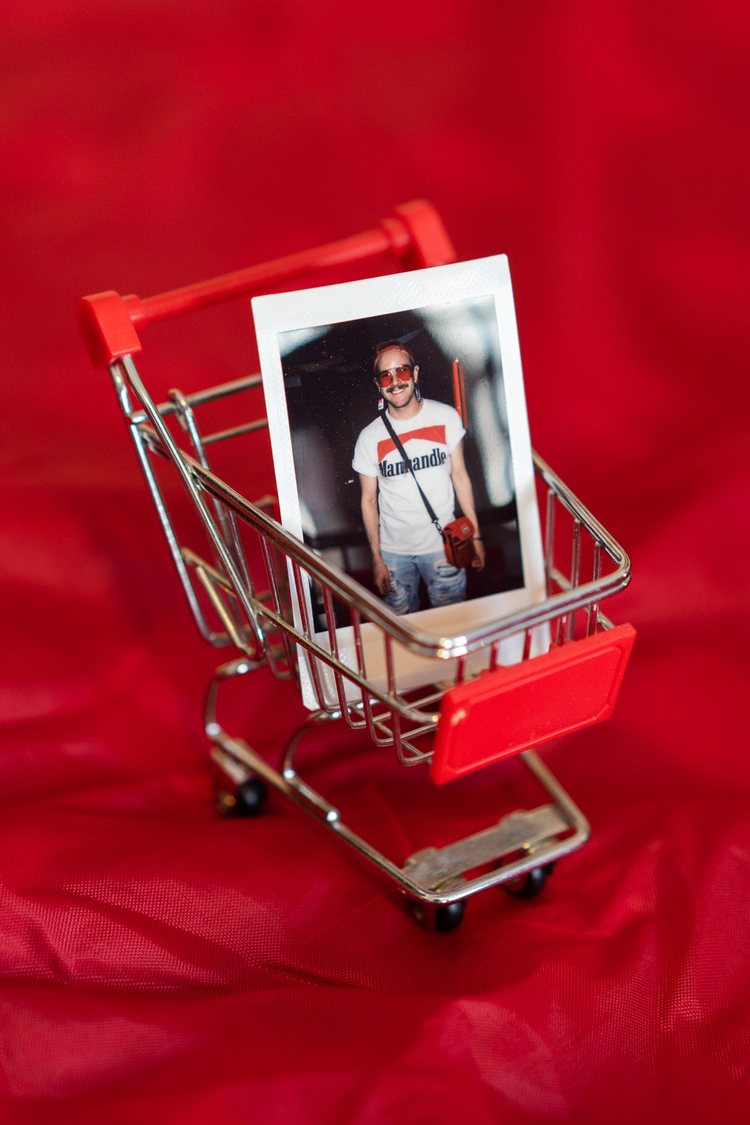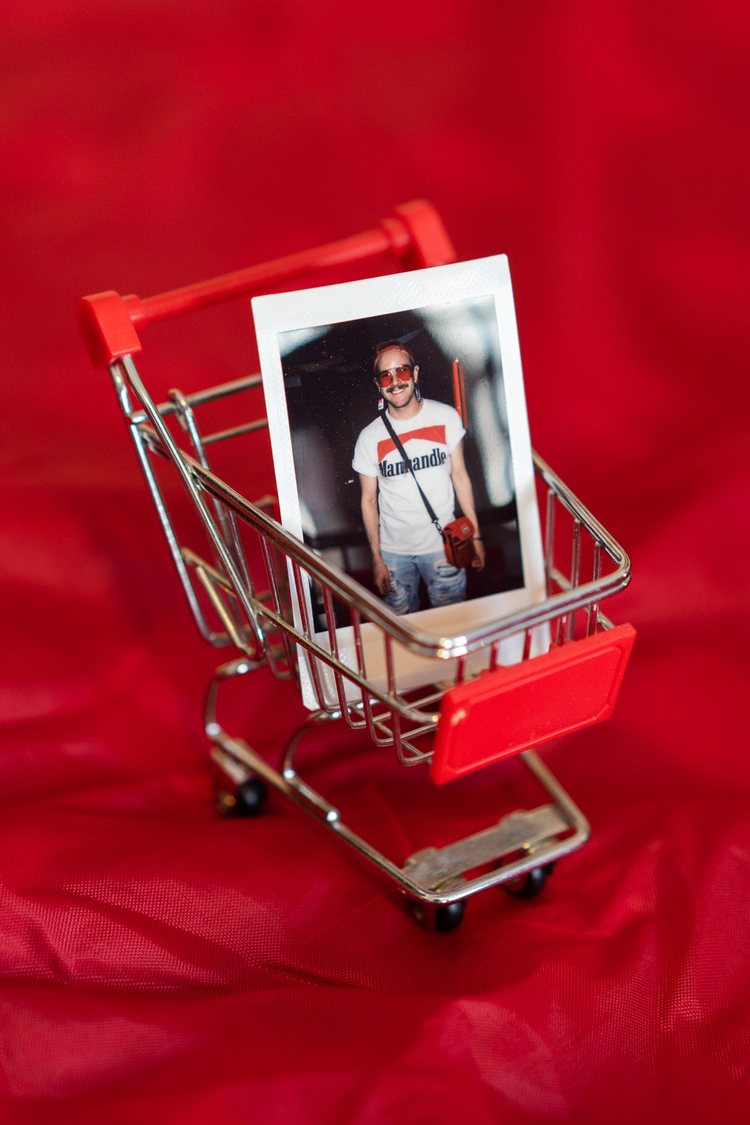 collectors
Meet Mark, a Marlboro Merch Collector
Back in the 1980s and the 1990s Marlboro created streetwear and outdoors gear – to promote their business aka sell cigarettes. Though not a smoker anymore, Mark Humphreys is a fan and a collector of all things Marlboro.
Liisa Jokinen · Jun 25, 2019

Back in the 1980s Phillip Morris' marketing department created the Marlboro Miles program, a point system where their customers could trade in points for Marlboro branded merchandise. The Marlboro Miles program was a way for their customer base to show off their loyalty and fandom to the brand.
Each pack of smokes would get you about 5 Miles (points) and you could trade them in for apparel merchandise, home goods, and outdoor gear.
So, as crazy as this sounds now, the more you smoked, the more Marlboro gear you earned.
According to Highsnobiety, over 14 million Marlboro garments were sold.
A stylist and vintage collector Mark Humphreys has over 70 Marlboro items in his growing collection. We met him in Seattle.
"Why Marlboro? I guess you could probably blame it on the first boy I had a crush on. He smoked Marlboro Reds, and naturally, so did I. Marlboro's were the first cigarettes that I smoked and the colors red, black, and white happen to be my favorite.
During the 1960s my mom was good friends with a girl who's dad, Phil Bidegain, owned the T4 ranch in Quay County. At the time, Marlboro was doing a lot of TV commercials to push their brand. Phil got selected to be a Marlboro Man in one of their commercials because of his rugged good looks and occupation as a cattle ranch owner. This was a big deal in a small town.
The fact that my mom knew one of the original Marlboro Men is a fun little story to tell that helps connect me to the brand. I can only hope to follow in Phil's footsteps.
I used to smoke, but I don't really anymore. Here and there when I'm feeling zesty. I think people are entitled to their own choices and even if you don't agree with it, you need to respect it.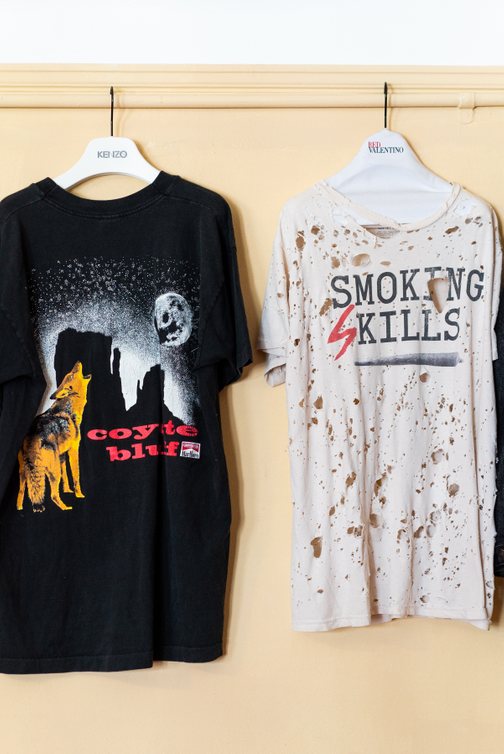 I was about 19 or 20 when I got my very first Marlboro piece. It was a red corduroy trucker hat from the Buffalo Exchange in Albuquerque where I grew up.
However, most of my collection has been acquired within the last five years thrifting in Seattle and being immersed in the local vintage scene.
I'm an aspiring fashion stylist, but selling vintage and second hand is how I pay my bills so I'm always hunting. I actively thrift about 4 days a week, but I'm also always visiting vintage and consignment shops anyways. When I say I thrift for a living, it ain't no joke.
I prefer to find my Marlboro pieces naturally along my thrifting adventures. Shopping online is like sniping, it's easy, but not as fun.
I enjoy the hunt and try to only buy online when it's a rare piece I haven't seen before or don't think I'll encounter "in the wild."
I've been heavily incorporating Marlboro gear into my personal style for years and it's made it easy for other people to connect the dots that help me acquire my collection.
It's been a community effort that has helped make me the Marlboro Man that I am today.
Usually, I wear my Marlboro with a lot with other red, black, and white pieces.
This can be anything from Prada Sport and Neil Barrett to Fox Racing and Adidas. My looks are usually pretty sporty and little bit 80s bad boy. I try to serve you modern day Marky Mark the Marlboro Man realness across all categories.
I've got a lot of Marlboro branded accessories that I've acquired or made and I'm able to layer on to bring any Marlboro Man look up to speed.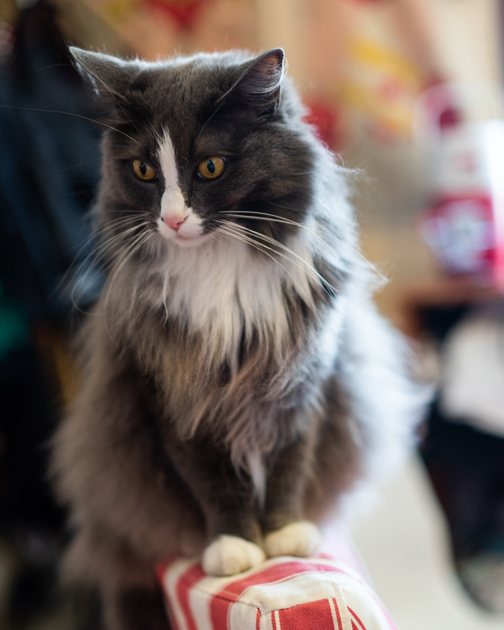 People comment my looks a lot. They also constantly ask me for cigarettes and for cigarette coupons which I love because they think I'm the real deal.
When I had my Marlboro inspired Moschino phone case people would literally stop me every day to talk about it/Marlboro/my Marlboro Man look. People will frequently ask if I'm sponsored, which I'm not, but I'm not opposed to it… Other Marlboro stans will usually start up conversations with me about their pieces and it's cool to connect and nerd out with other collectors.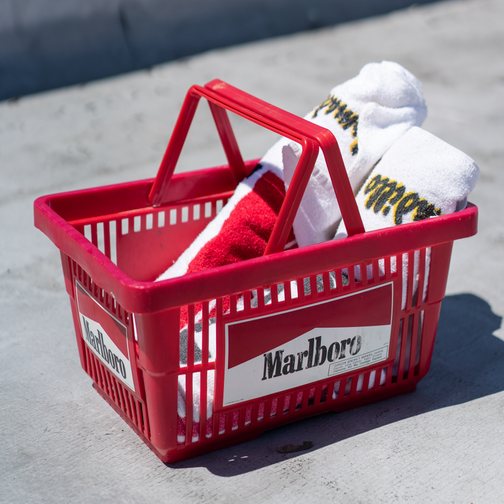 My favorite item, hands down, is my Marlboro shopping basket! A very close friend gave to me as a gift she found while thrifting. She had held onto it for years and gave it to me the last time I visited my home town. I had to fly home with it as my carry-on and felt like I was serving Marlboro Man on the Chanel runway at the Albuquerque airport. (Please see Chanel's Fall 2014 runway for reference!)
I love the shopping basket because it's just a really random and unexpected piece that wasn't available to the public to purchase or to acquire with Marlboro Miles.
You just wouldn't even normally think of it to exist. That's my favorite kind of stuff.
My Marlboro lock earring is one of my most worn pieces of my collection because I can wear it with anything, any time of year, anywhere. It's custom earring I made for myself after finding an old Marlboro suitcase lock on eBay from a seller in Greece.
I'm all about statement jewelry and this one is smoking! It's also a fan favorite and total compliment-collector piece.
My favorite apparel piece is my denim jacket with the silhouette of the Marlboro Man printed onto the back.
It's so Raf Simons for Calvin Klein, on top of it just being an all around amazing piece in general.
The first time I encountered this jacket was when I was a production manager at Goodwill, I was basically foaming at the mouth and I chased it down to the store I priced it for, but it sold within minutes of hitting the floor. I was devastated. Luckily my boyfriend at the time was pretty cool and got me a deadstock one for Christmas that year.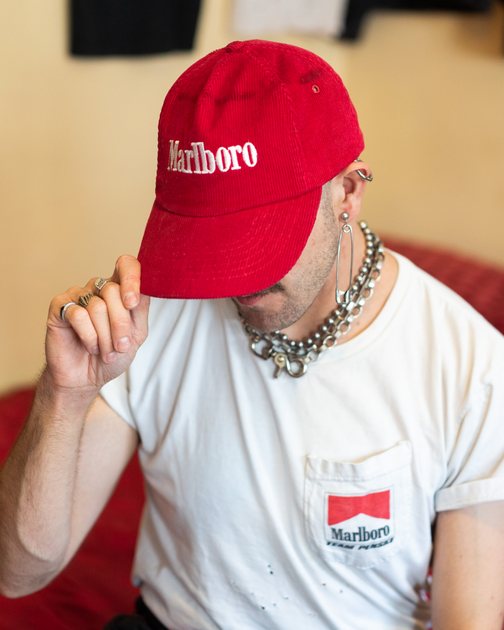 The Marlboro Racing Team hat is my favorite hat in my collection. To me, this hat is just a classic logo hat. It's also red, Marlboro's signature color, which happens to be my favorite color. It's also Marlboro Racing Team, and I'm all about Motor Sport vibes.
The print on these Marlboro Country shorts is SO good.
I never saw a pair of them until they popped up on eBay one day I swooped them right up.
From what I know about Marlboro clothing, these shorts weren't available to purchase, they actually pre-date Marlboro Miles program and I think they were a promotional item from the late 70s, or early 80s. I got them at the end of last summer and the first time I wore them was for this interview.
This t-shirt I created with the brand Puppy Love from Seattle. Puppy Love was into my Marlboro Man aesthetic and wanted to collab on a gay Marlboro inspired design. We ended up creating the Manhandle shirt which features the silhouette of Marlboro's classic red tip logo.
I love this piece because I got to help create it, it supports gay artists, I love Marlboro, and I love to be Manhandled™! I feel truly blessed to have someone reach out to me to create something inspired by my personal style."
Shop Mark's vintage collection at Bon Voyage Vintage store in Seattle or on Instagram, @ssloppysseconds.