store owners
Meet Kathleen Schaaf of Meow Vintage – Hunting Deadstock Vintage Since The 70s
Legendary Kathleen Schaaf of Meow Vintage has been hunting deadstock vintage since the late 70s. Read how it all started.
Liisa Jokinen · Jun 28, 2022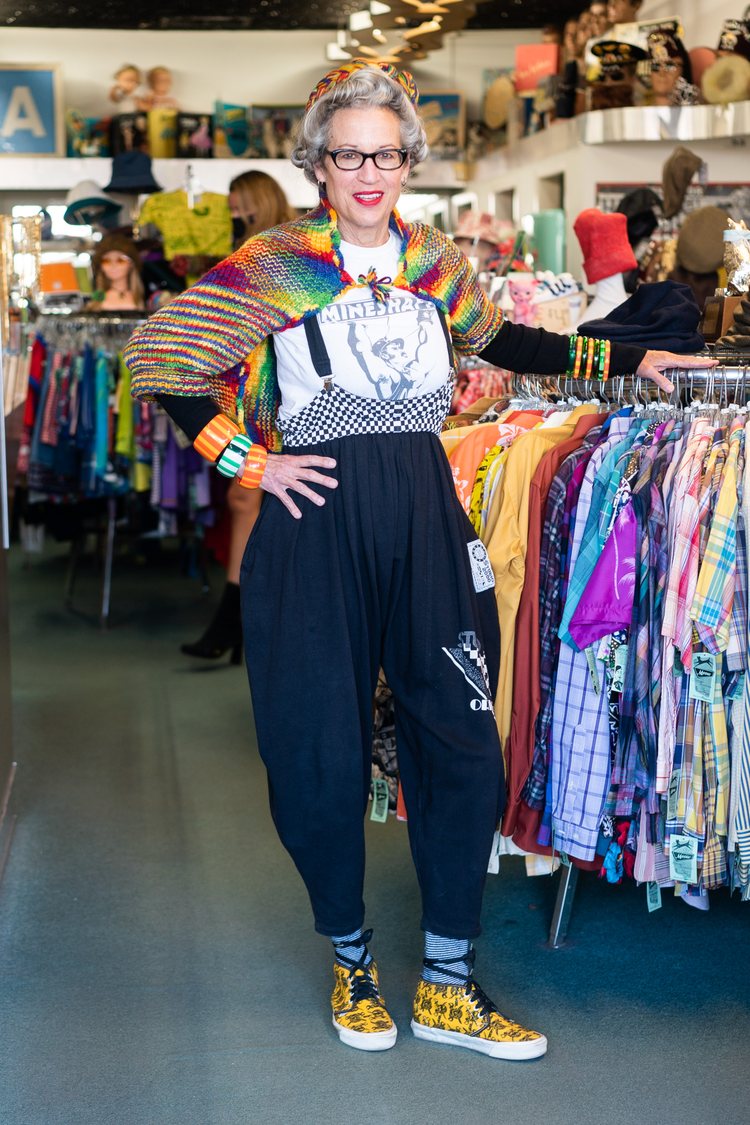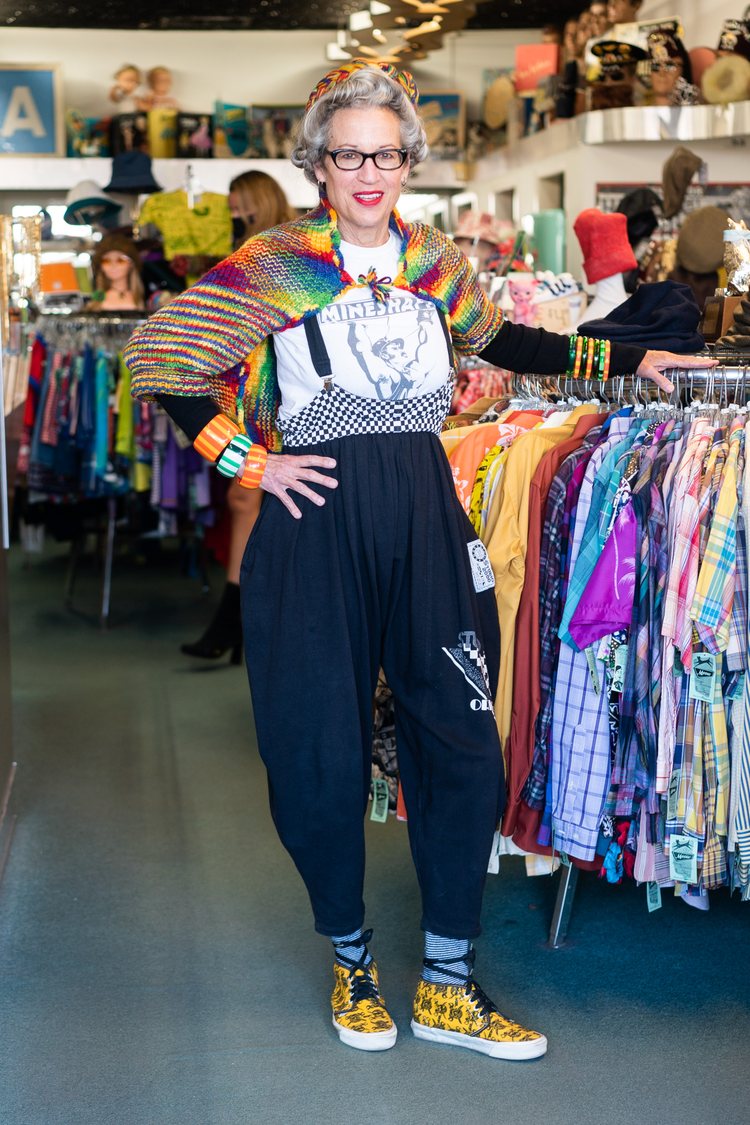 store owners
Meet Kathleen Schaaf of Meow Vintage – Hunting Deadstock Vintage Since The 70s
Legendary Kathleen Schaaf of Meow Vintage has been hunting deadstock vintage since the late 70s. Read how it all started.
Liisa Jokinen · Jun 28, 2022

"Let's talk about true vintage. I've worn vintage for 18,463 days now. That's over 50 years.
My road to being a vintage vendor started with a trip to the Goodwill "as is" yard, circa 1978. Things were priced at under 10 cents a pound! I noticed a guy that was buying the same things that I was. We became friends and I invited him over to check out my vintage stash. He told me he resold the clothes to a store in Laguna Beach. I was like, "you do this for a living?" I let him take all the items that didn't fit me and he subsequently sold them for a profit. That was my "ah-ha" moment. You can do this and get paid for it.
Fast forward to 1981, I'm a waitress in college studying costume design, and I went on a thrift run to Ventura. I walked into the big thrift on the main street and saw rows and rows of glorious, pointy sixties flats, all dead stock, all marked down to 99 cents a pair. Why were they still there? Who knows. I walked up to the manager, waved my hand along the isles, and said "I'll take them all!"
300 pairs of shoes later, I walked into "Cowboys & Poodles", the premier vintage dead stock store on Melrose. I sold them everything for 5 dollars a pair, and presto! A dealer is born!
When I started in the late 70s, vintage shops were filled with art deco to 60s. Nobody would touch polyester and the 80s didn't exist yet. A lot of established vendors retired rather than stock those later looks, but I embraced it.
Changes in the industry have been brewing for years. We are in a reset now that's fueled by the internet, not to mention the latest phenomenon, the "pandemic pickers".
Seems like people are more interested in an instant score. No digging, no hunting, no research, no fun! Just click and done.
I'm not sure if the new folks in the vintage scene are aware of how to take care of their new togs. The quality and workmanship that went into the earlier garments mean they where built to last. There are still things out there in the wild to be found, but more collectible pieces are becoming quite scarce.
Retail vintage should be all about the quality of goods and customer service and education. It's not a bad time to get into vintage – lots of people are concerned with sustainability, knowing where their clothes came from, etc.
I still believe brick and mortar stores are the way to go because nothing beats the experience and joy of finding a rare treat, and being able to actually touch things. That tactile experience can't be duplicated online.
I like to think of Meow Vintage as the ark of vintage. I have two of everything. As far as running a store, you have to be all in. Had you told me 36 years ago how hard it would be to run a store for that long, I might have stayed in waitressing! But as much as I put into it, I get out of it. Constantly pivoting to stay current, all the while respecting my vintage roots.
Deadstock or NOS (new old stock) is my jam. I've always been able to find it.
Dead stock is just left overs. It's not always good stuff, it's just stuff no one wanted. It amazes me that some of the items I've found NOS aren't even available used any more. Makes no sense.
The mom & pop stores that I bought from in the 80s and 90s are long gone. Warehouse situations and pockets of forgotten storage are where it's at now. Honestly, I'm amazed that I still get to dig around old stock rooms, opening boxes left over from another era. It is my favorite thing to do and I'm very lucky I've been able to create a career from it.
Remember, when I started out in vintage, the internet didn't exist. I had to do my own sleuthing by going to the library and looking through old phone books. I'd pick Kansas, for example, and thumb through the yellow pages looking for old and established-looking businesses.
Crisscrossing the country with my paper maps, it was amazing what was still sitting on the shelves not to mention what they had squirreled away in their secret hide-holes.
My major competition at the time was Japanese buyers and the American "denim dogs". They were so focused on Lee, Levi, and Wrangler denim, that when I came along I snapped up everything else.
I'm very fortunate I've been providing wardrobe to film and TV. I've created a lucrative side hustle by being able to work within those industries' unique parameters, providing one-stop shopping to busy costumers. Post pandemic, I'm beyond busy with requests for period clothes. With all the new content being produced, costumers are looking for the early 60s to the mid-90s. Some of my current projects include; Lakers, Daisy Jones and the Six, Wonder Years, and That 90's show. Past projects include Pose, Licorice Pizza, and Stranger Things, but it all began with That 70's show, Seinfeld and of course, Mad Men.
My shop is situated on 4th street, in the heart of Retro Row, in beautiful Long Beach, California. The 4th street has always been an eclectic destination for vintage lovers, but Long Beach in general is home to a growing vintage scene that includes many excellent antique malls, and a flea market that's on the third Sunday."
Meow Vintage
2210 E 4th Street
Long Beach, CA
Mon–Thu 12–6:30pm
Sat 11am–7pm
Sun 12–6pm
@meowvintagelb