store owners
Linking Art and Vintage Fashion
With her creative curation of the 99candles vintage store, Paris-based artist Louise Ducatillon creates links through art and fashion.
Liisa Jokinen · Jun 7, 2022
Photos: Thomas Marroni for 99candles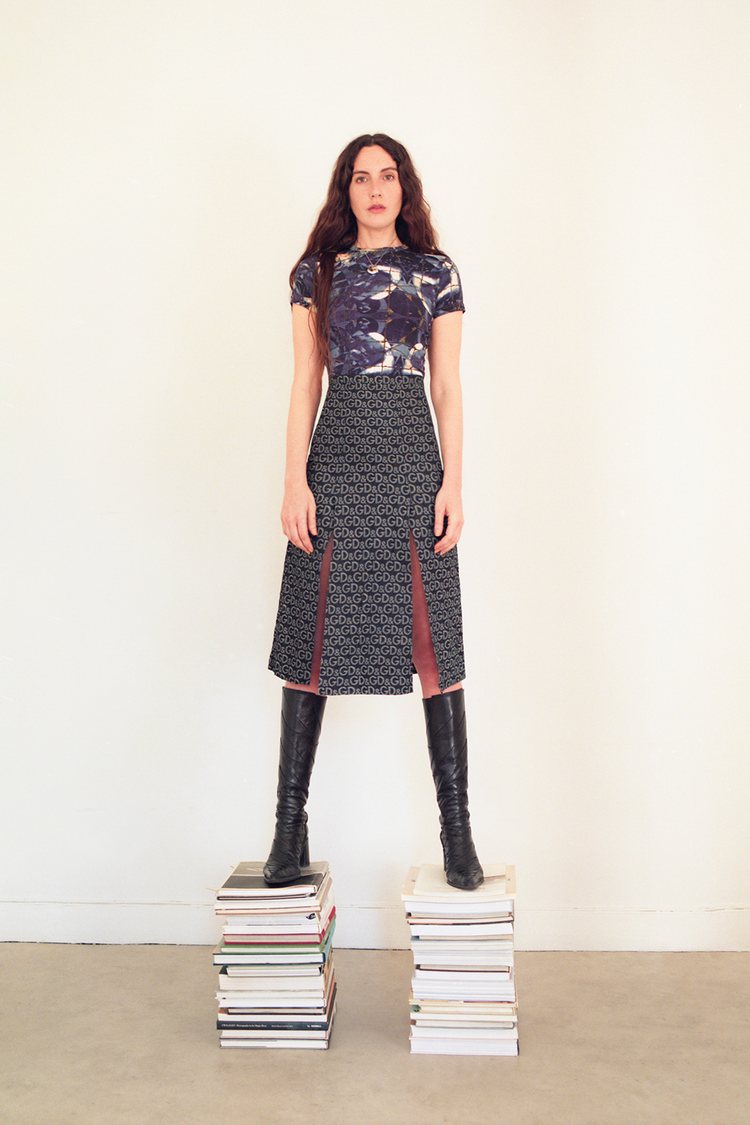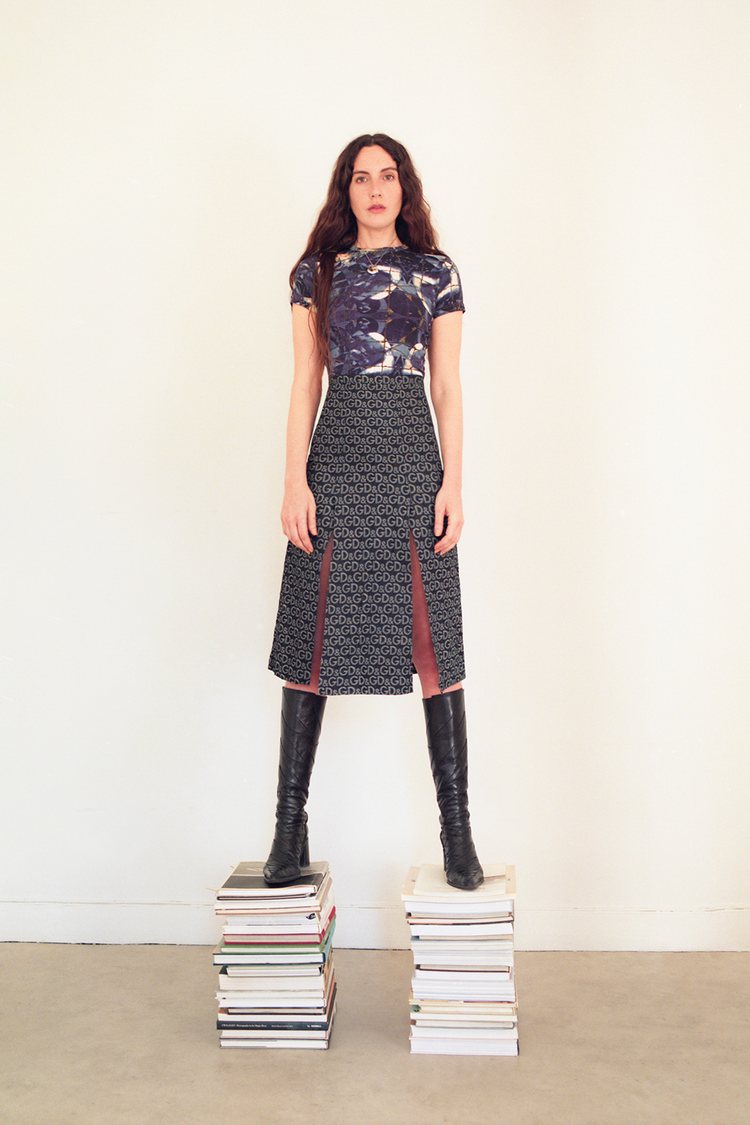 store owners
Linking Art and Vintage Fashion
With her creative curation of the 99candles vintage store, Paris-based artist Louise Ducatillon creates links through art and fashion.
Liisa Jokinen · Jun 7, 2022
Photos: Thomas Marroni for 99candles
"I was born in Switzerland in 1991. After my Bachelor's degree at the University of Art and Design, I moved to Paris to work as an artist and creative director. In 2022 I founded 99candles, a vintage selection curated by me. 99candles presents a combination of unusual treasures like cow fur clogs and some serious one-of-a-kind designer pieces, like an archival JPG jacket or that never-seen Moschino leather gilet. Each piece is sourced by me and styled in a contemporary way.
I have always been interested in and amused by clothes. One of my first memories of fashion goes back to the age of 10 when I was with my two sisters and my mom at the French embassy in Switzerland to get my identity card. In the waiting room, I found a magazine with pictures of Alexander McQueen's fashion show. There was a purple leather cape with a giant hood, vixenish women strapped in a variation of a warrior leather bra, milkmaid necklines, and wolf dogs on leashes. I was absorbed by these magnetic images, maybe because at the time I was fascinated by fearless women heroes from 80s and 90s movies: Sigourney Weaver in Alien, Rachel in Blade Runner, Leeloo in the 5th element, Trinity in Matrix, Joan of Arc.
Since I was a teenager, I have always bought vintage, even though at the time, in a country like Switzerland, it seemed strange to others. I've always loved the idea of owning a unique piece of clothing and combining elements from different eras.
I have a soft spot for Prada's shoes, Jean-Paul Gaultier's prints, Margiela's madness, Jil Sander's cuts, and Dolce&Gabbana's sensuality.
Through my selection today, I'm obviously looking for iconic designer pieces but I also like to mix them with beautiful anonymous pieces.
One catwalk show that still inspires me is the Jean Paul Gaultier Les Tatouages collection from 1994. The collection takes inspiration from the street and pushes it to a graceful paroxysm. The runway show was full of unexpected and puzzling inspirations: Joan of Arc-like armor, men in skirts, hip-hop denim, trompe l'oeil tattoos, Indian and African tribal notes, and corsets. We share the idea that fashion should be above all a game and an expression of freedom.
I never felt the necessity to lock myself into a single category of creative practice and always had multiple projects in different fields. Some of my forever inspirations are sculptor Eva Hesse, fashion designer and artist Susan Cianciolo, musician Brian Eno, and the Japanese street style magazine STREET.
Susan Cianciolo inspires me because she is a pioneer in the use of ecological materials. Her work is not limited by the art/fashion boundary: her illustrations and paintings have been exhibited in galleries and museums around the world. She makes fashion that isn't just fashion: she proposes craftsmanship and effects rather than coolness.
Besides the STREET magazine's earlier street style photos, also contemporary street style fascinates me. I live right next door to a college in Paris and I'm really inspired by the radical and touching way young teenagers dress.
For example, I find it inspiring to see how young girls are wearing baggy pants again in 2022.
Since my childhood, I have done paintings and drawings and I always had the reflex to collect textures, and details, and photograph random beauties in the streets to redraw them in my work.
I see parallels between art and fashion: Collecting and archiving are part of my mental process and both obviously have similarities with vintage curation.
In the endless flow of images in which we're living, it's important for me to create 99candels as a window into my aesthetic sensibility: my collection photographs are always developed in film and are thought of as an editorial. In fact, photography is an important point in this project – I'm still obsessed with the elegance of the 90s Prada and Jil Sander ads.
For the photographic direction of 99candles, we aspire to the documentary dimension of fashion photography: to highlight the natural beauty of the model and celebrate her unique characteristics. For example, we find Nigel Shafran's radical approach to fashion photography inspiring. His work is contemplative, tender, and intensely human. "
Mark Borthwick's photography for Margiela, Norbert Schoerner's photography for Prada in 1998, and Craig McDean's photography for Jil Sander were our other inspirations.
I describe myself first and foremost as a treasure hunter who loves markets, yard sales, and traveling: All the fun is in the quest. For example, I like putting together disunited sets: I love these kinds of magical coincidences that allow me to recreate the puzzle of pieces that originally went together.
I'm a very hands-on person so even classy clothes have to be practical for daily life. I always had a problem with rules and conformity: I like joyful, carefree sartorial choices, trying to avoid boredom.
I love irreverent takes on classic pieces and I don't believe in the idea of overdressing or underdressing.
It's ok to me to be very chic to go do groceries or very casual to go to a party, depending on your mood. I personally view clothes as a medium to experiment with: they are not just something to put on a person; instead, they are a part of your narrative.
After several years working in fashion as a creative director and consultant, I believe that rethinking our relationship with clothing has a huge ethical potential.
It's about searching for a meaning in your purchase. I wanted to develop an alternative approach through the creation of 99candles because I don't believe that value and relevance decrease with time. I think it's even more exciting to create something new with items that already exist. 99candles is about celebrating timeless fashion."
Shop 99candles online
Follow on Instagram @99.candles
Photography by Thomas Marroni @thomas_marroni