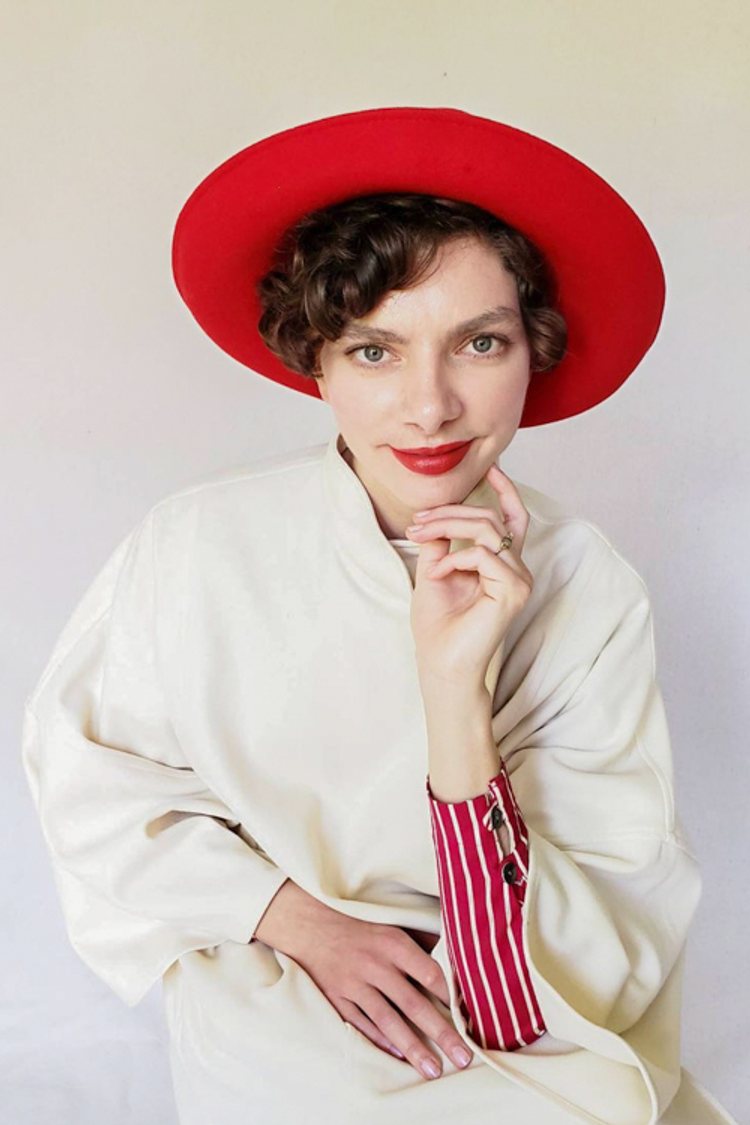 Four vintage vendors and hat lovers share their best tips: how to incorporate hats into your everyday looks.
Prior to the mid-1960s, most middle-class adults in the Western world didn't go outside without some kind of cover, whether it was a Panama, cloche, fedora, beret, or silk scarf, writes Hanna Brooks-Olsen.
Then, during the latter part of the 60s, most hats vanished. The advents of standing showers, shampoo, car culture, and changes in hairstyle fashions were very much a part of the hat's demise. Sunglasses and sunscreens made wide brim hats unnecessary. In general, people spent less time outdoors and needed less protection.
Maybe now is the time to bring hats back again. "Hats are by far and away the most dynamic accessory you can add to any look by playing with color, texture, structure, not to mention placement", says Leah Young of Veracious Vintage Co.
But how to start wearing hats? How to incorporate them in daily looks?
"Start with the basics", says Leah Young. "A basic black hat in nearly any style is a great wardrobe staple for versatility and wearability. Dress it down or dress it up, pick a style that can complement a variety of looks from your closet."
"For a novice hat wearer, I recommend simple hats like 1970s fedoras or close-fitting half hats of 1950s. Those are quite easy to incorporate with most clothing styles", says Kulthida Maneerat of Etsy store His & Her Vintage specializing in the 1950s and 1960s accessories and hats.
Julia Marchenko of RareJule Vintage likes the 50s mini cocktail hats, too. "Many of them have flowers, beads, or other pretty baubles. They are a great way to accessorize a little party dress in a way that's whimsical and different! For the holidays, fur and satin headbands, so popular in the 40s and 50s, would be a great choice."
Start with functionality, suggests Young. "A classic wide brim hat in a seasonal straw or felt will keep you looking cool, calm, and collected in the sun. Wide brim platter hats from the 1940s and 1950s are best sellers and favorites for framing or shading the face. Also, hats with a cap-like fit will generally be the most approachable as many of us have worn a cap or baseball hat at one time. A cap-like fit should be comfortably snug, down around the crown of the head, and rest at or just above the temples. Fedoras, sun hats, beanies, or cloches are a few styles that will all have a nice straight forward fit."
Another easy option for a hat newbie is a classic beret. A basic black beret is forever timeless and incredibly chic, confirms Young.
"I adore colorful wool berets as they can make a plain sweater and jeans ensemble an instant blast of chic! They tend to look good on almost everyone", says Marchenko.
"For cold weather, I also love felt fedoras from the 40s to the 90s. They come in solids, but the checks and houndstooth patterned ones are super fun to mix and match with casual layering in the fall and winter."
The key to wearing vintage hats in your everyday life is to combine them with a modern outfit, says a well-known hat aficionado Linda Connell of Recycology vintage store.
"I quite often mix a 60's pillbox hat with a modern outfit and always receive lots of compliments."
Connell encourages people not to think about trends but wear what hats that suit you and show your persona. If you want to wear a hat – just to do it, Connell says. "You do have to have a bit of personality to carry a vintage hat off, and not feel awkward. Maybe start with modern ones and work your way towards vintage, they are investment pieces too, so you can always sell it if it's not the right choice."
Kulthida Maneerat thinks hats look best with simple hairdos.
"My suggestion is if you want to wear a vintage hat and still achieve a contemporary look, simplify the hairstyle. For long hair, tie it in a simple tight bun or wear the hair straight down. Too much curling might compete with the hat. Short hair is the easiest, crop and bob hairdo always fit well with vintage hats, so do nothing with the hair. A vintage hat will do the rest."
If you are still lost in the sea of vintage hats, watch some great movies or tv shows for inspiration.
"Watch Faye Dunaway rock a beret in Bonnie & Clyde. Julie Christie in Russian fur hats in Zhivago is sublime! Almost any film with Audrey Hepburn or Grace Kelly is sure to have amazing hat fashion inspiration. It is a cliche at this point to point out Diane Keaton's character in Annie Hall as a symbol of effortless, androgynous chic, but her bowler hat look forever left an impression on me", lists Marchenko.
"Of the TV shows, I Love Lucy is an incredible archive of what an aspiring middle-class sophisticated lady would have worn in terms of hats while both Mad Men and Marvelous Mrs Maisel do an incredible job highlighting how important of an accessory a hat was in the mid 20th century. Downton Abbey stupendously chronicles millinery fashion of the 1910s and 1920s."
Connell adds Agatha Christies' Poirot series for the 30's inspiration to the list.
Apart from being fun and stylish, hats are also practical. They protect from the sun in summer and keep your head warm in winter. They also take care of bad hair days conveniently, like all vintage vendors know.
"Take risks and try them with everything. If they don't stay up on your head, use bobby pins. Rip off ripped veils or replace them," Marchenko suggests.
Lastly, consider comfort. "Take the time to find your proper measurements. No matter how much you love it, an ill-fitting hat can be a real headache. It never hurts to plan ahead so I always advise using hat or hairpins to help secure any hat in place. Adding a bit of elastic that can be worn under your hair is also a great way to feel comfortable and kept together even if the wind picks up", Young says.