people
How to Wear Pajamas in Broad Daylight
Lace Tomer, 35, pairs her pajama sets with chunky sneakers, statement jewelry, and bold jackets. Easy, but fun!
Liisa Jokinen · Jan 28, 2019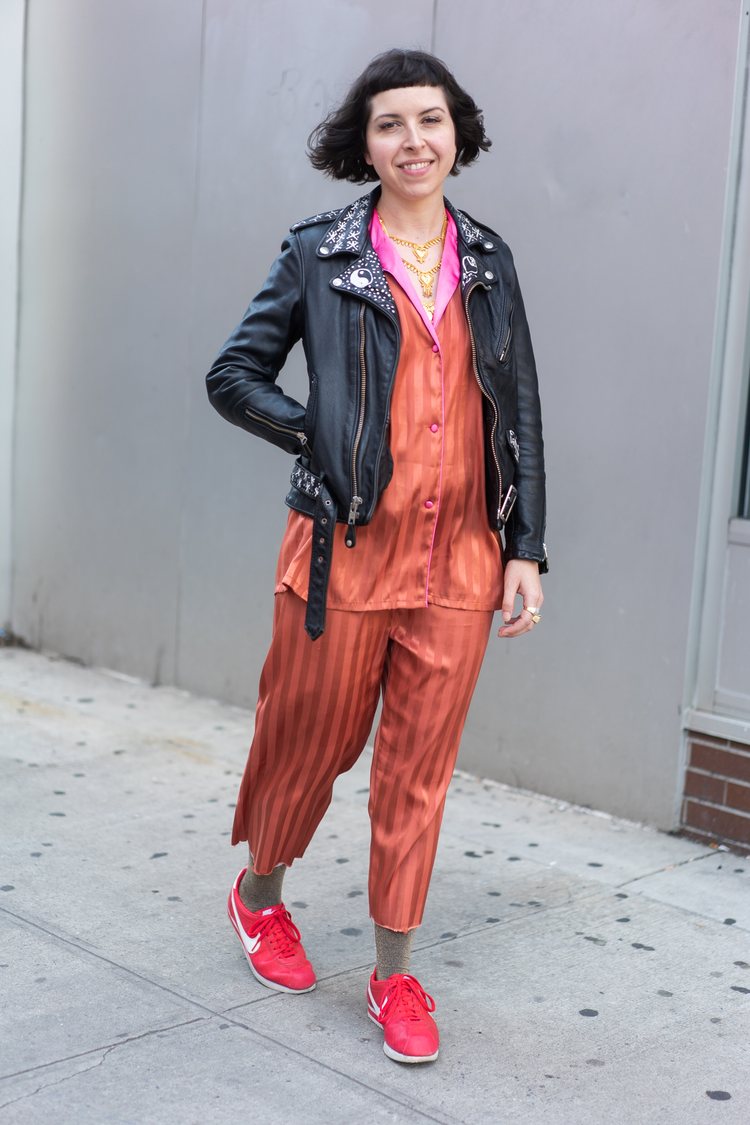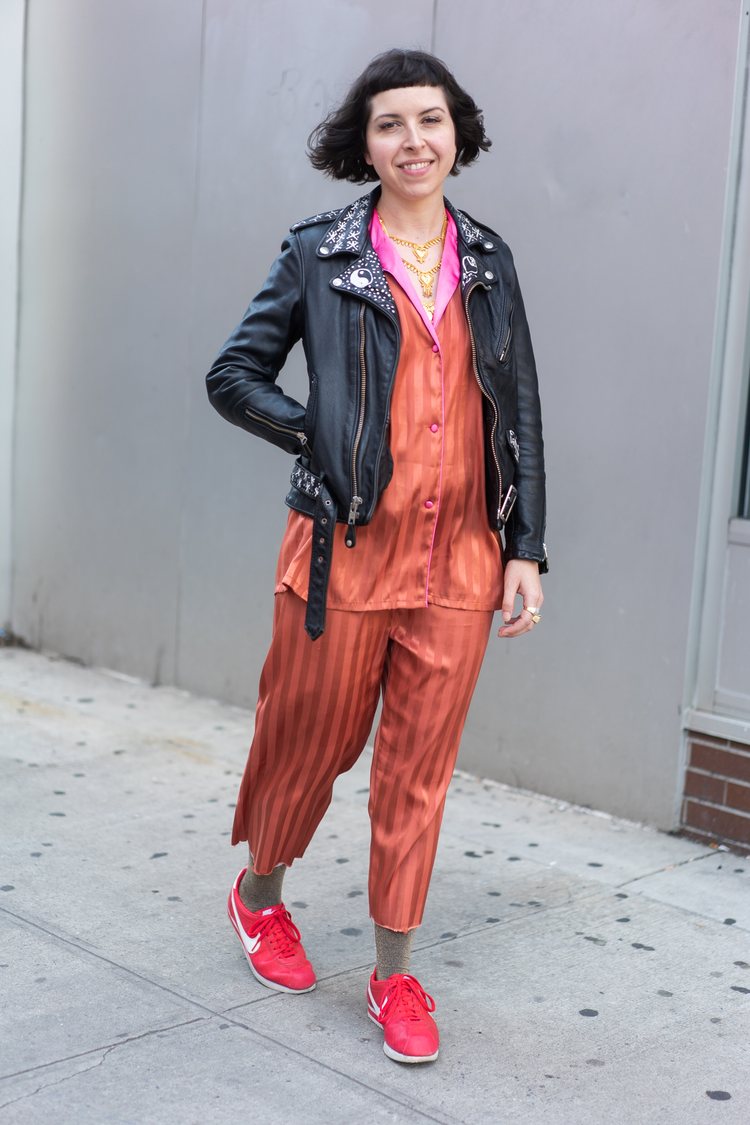 people
How to Wear Pajamas in Broad Daylight
Lace Tomer, 35, pairs her pajama sets with chunky sneakers, statement jewelry, and bold jackets. Easy, but fun!
Liisa Jokinen · Jan 28, 2019

"I love vintage two-piece pajama sets. There is something so appealing in the idea of two pieces of clothing that were not only made to go together and but have also survived together over years, or even decades, to find their way into a thrift shop. Two-piece sets are both fun and easy to wear since it takes less effort than making a whole outfit of separates. I mostly wear the pieces together because that's how you get most out of them. My pink striped pants I often wear as pants with an over-sized t-shirt or sweater.
Pajama sets make me feel like a rich person who has just rolled out of a bed.
I like the lazy luxuriousness of pajamas. I dress the pajama set up with a foundation of chunky-heeled sandals or big sneakers and finish it with an accent of glitter socks and a good statement piece of jewelry.
If you couldn't tell already, I am not a plain girl. I like patterns on my pajama sets: florals, stripes, animal prints. And of course, vibrant colors look good at the moment. Just imagine how amazing would a fluorescent or chartreuse satin set be?
I have quite a few pantsuits too but patterned suits are hard to find.
I love the idea of a suit and a sneaker. It is such an easy to way to look professional without overdoing it.
I like to layer my sets with over-sized jackets. Some years ago there was an oversized denim jacket with a massive dog face tapestry on Vfiles. Needless to say, it caught my eye and I went on a hunt to find items with these semi-photorealistic prints. That's how I discovered the company Sugar Street Weavers who make amazing tapestry jackets.
I hadn't been really wearing my leather jacket a lot because the fit was not exciting enough. I found it too classic and I like pieces that are a bit weirder in shape, style or design. Again, I am not a plain girl! So, I asked my artist friend to draw on the jacket for me. I gave him free range, which resulted in months of work, but he finally did it for me.
Silk is beautiful but it is actually very warm so it is not ideal for summer, especially as a suit.
Alternatively, satin-polyester blends breathe better than silk and still have an elegant drape and a nice sheen.
Because most thrift stores don't have dedicated sections for two-piece sets (except the Savers thrift store chain which I visit often), it's easier to find them online. I have found great, luxurious sets on Poshmark and Depop. Maybe they are sets that someone received as a birthday gift, never wore, and then decided to sell them.
I love vintage because the options are endless. I have always been someone who likes to wear things that are big, bold and loud but I wasn't finding a lot of that in the stores growing up. So I discovered vintage is a better way to express myself. These Comme des Garçons shoes go nicely with pajama sets, too; they are not too casual.
Two-piece sets are great to travel with. Whenever my friends and I go traveling, we come up with special looks for the trip. It's a lot of fun. It can give you an outlet to express yourself in ways you wouldn't normally do back at home. Years ago, my friends and I were on a trip to Paris, and I just wanted to feel luxurious. This snakeskin set was my solution. After having the pants slimmed and cropped, I completed the look with a fur coat."