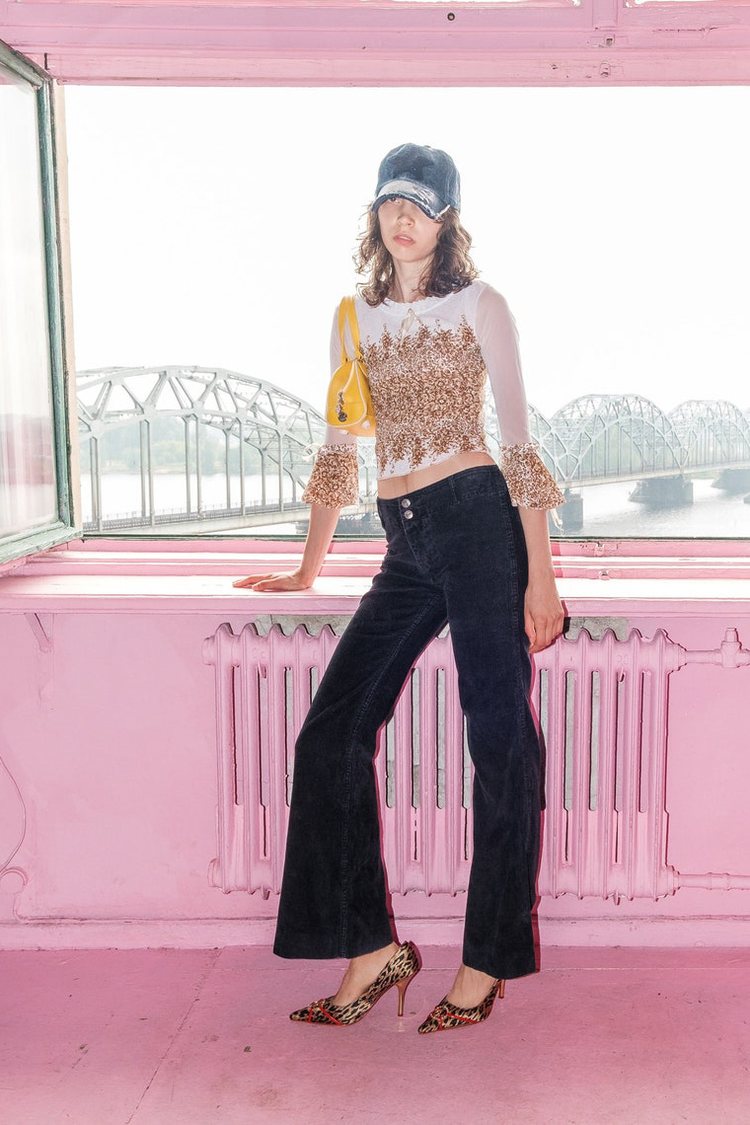 trends
How To Embrace The Y2K Vintage Trend
It is over 20 years since the start of the millennium. That means y2k fashion is officially vintage – and trending. Here is a walk-through how to embrace it, no matter how old you are!
Y2K vintage, fashion from the early 00s, is trending. If you have experienced millennium fashion already once, you might feel that those low-rise jeans are coming back a bit too soon.
We reached out to vintage sellers who are great at sourcing, styling, and selling y2k vintage and asked how to embrace the early 00s look. How to get started, and is this trend even for all of us?
Firstly, how to create a y2k look?
"I feel a slightly cropped top and low-waisted bottoms are what make the y2k look. Add in a mini purse and you're golden!", says Holly Brown of Disco Tiger.
It is all about the silhouette, agrees Krissy Weber of Previously Known. Another iconic y2k outfit is a windbreaker or track jacket worn with baggy pants, a messenger bag, and soccer or running sneakers, she says.
"Other iconic y2k items are low rise skirts, rope belts, mesh graphic print tops, colorful leather, silk dresses, knit shrugs/tunics, track jackets, and baggy pants", Weber lists.
But what if a full-on y2k look is just too much? Are there some steps we could take to achieve the 00s-ness gradually? Weber suggests starting with one piece that is undeniably y2k in style and keeping the rest of the look more minimal and classic. An accessory is the easiest step toward the y2k style.
"Start with accessories like frameless sunglasses, a skinny scarf, a baguette purse, or a short cord necklace with a large pendant," Weber says.
Brown suggests starting with the y2k staples: low-rise pants or tank tops.
"If you're new to y2k, I would just start easing into experimenting with some mid-rise or low-rise jeans. As someone who isn't super skinny, I found it took me a second to accept my body in those styles of clothing but now I love it. Play around with some funky bags and tank tops, too", says Brown.
The early 00s had also some characteristic colors and color combinations. They can also be a fun way incorporate y2k vibes to your looks.
"Mixing shades of pink with a dark chocolate brown is very y2k, or maybe adding a bright turquoise into your closet, or a colorful horizontal striped knit", Weber says.
Also, start shopping at your own wardrobe first, reminds Weber. "I think the way to start is to start re-wearing things that you kept from that era. Personally, I know my mom keeps mentioning that she used to have some of the things I am now selling, so if that's you and you hung onto those (and still fit in them) then pull them out of the closet!"
You don't need to look for designer brands to find good quality y2k vintage, sellers say.
"I love Forever 21 y2k! Crazy to say, but the quality used to be much better and they have a lot of cute stuff. I recently found a Y2K Forever 21 cropped vest and it's so funky and versatile", Brown says.
Weber likes brands like Bebe, Caché, Coach, DKNY, Bisou Bisou, Max Studio, Adidas, Express, and Wilsons Leather.
But is y2k really for everyone? Maybe some of us are just too old for this trend.
"I think you should be able to wear any style no matter your age! This world can be ageist so I know it's easier said than done but I would just wear what you want to wear, and ignore those feelings of doubt", says Brown.
"Y2K fashion was very exclusionary in terms of sizing so I don't think it's ever been for everyone. I hope now that it's making a resurgence, people who aren't in privileged bodies feel comfortable trying out different styles, but I understand the fit of the clothes isn't always great for someone past a size 4. Learning how to sew has helped me to be able to wear more clothes that weren't made for my body, it helps a lot to be able to alter your clothes. I also hope designers will make affordable and size-inclusive reproductions of y2k clothes so they're more accessible to everyone."
"Y2K seemed ugly to me for the longest time but I find I am loving the silliness and over-the-top vibe it has! I think it's a really fun era to lean into and just play around. I like to come at it with a light attitude."
"Y2K fashion is not necessarily for everyone, and that's okay!", says Weber. "I know some people feel the silhouettes don't suit their body shape, or they've been there done that...or it's just not their taste. I'm always a promoter of personal style over trends. If it's not for you or you don't feel confident in it, then don't be afraid to skip it. There are plenty of other cool vintage eras to get inspired from. If y2k feels nostalgic, fun, or like it suits you ...then it's for you & you should embrace it!
After all, if we don't embrace the y2k era these items will just wind up in a landfill somewhere.
Personally, being 27 years old, I am loving embracing y2k vintage. I was around to see these trends growing up on my older sister and the shows I used to watch, but was a little young to try out some of the styles myself. It's fun to get a chance now to style authentic y2k pieces and create nostalgic, yet modern looks", Weber continues.