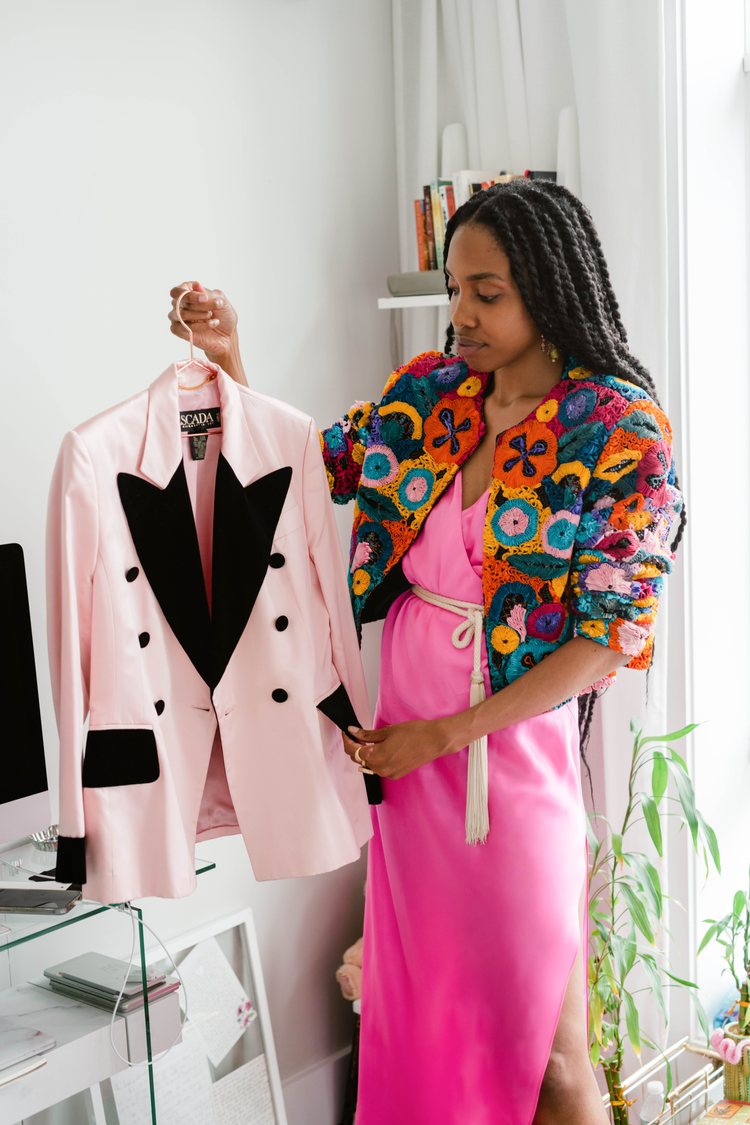 Style architect Brownie Brown is on a mission to redefine what people think about thrifting through her styling and upcycling work.
"My mission is to educate consumers and encourage shopping at thrift stores, consignment shops, and with designers and brands that are environmentally friendly.
In 2013, I launched my production and styling company, Ify by Bobi, where I organized shoots and shows in Virginia, DC, New York, and Florida. Working with Ify by Bobi taught me a lot about the fashion industry and helped me perfect my crafts, but I began to feel like I needed to do more.
In 2015, I watched The True Cost documentary, and it changed my perception of the fashion industry. It opened my eyes to the environmental clothing waste that results from fast fashion.
After years of witnessing the growing fast fashion industry and increasing toxicity of garment waste creating worldwide environmental and health concerns, I decided that I had to do something about it. My brand High Fashion Thrift was born.
I started creating and altering my own clothes at the age of 11, or maybe earlier. Age 11 is the earliest that I can recall, but it's very possible I was creating before then. I remember sitting in our laundry room cutting up clothes then sewing them together by hand.
I learned to sew by watching my mom mend things together as a child.
I recall one of those creative sessions in particular. I cut one of my favorite tops right across the bust and added a denim waistband at the top to create a tube-like halter top. I sourced the denim from an old pair of jeans by cutting off its waistband along with its zipper. It was a proud moment when I figured out how to make the button and zipper functional at the front of the halter. I so wish I saved that piece! It was special.
I believe the inspiration to start making clothes back then was more of a creative urge. Fashion was the medium that was most accessible to me at the time, and one I stuck with. My parents, especially my dad, have always been very fashionable. That's most likely where my introduction to clothing and fashion came from. I also remember wanting to look a bit different than the other kids.
I purchased this vintage piece made of raw silk and ostrich feathers in 2018. It's probably my favorite secondhand purchase thus far. I styled it with a vintage high neck bow blouse and yellow vintage leather crocodile patterned heels for this shoot for Volition Magazine.
I discovered thrifting and secondhand clothing roughly around 2009 in college. A thrift store called Rumors up the street from my dorm allowed students to sell their clothing for extra cash. They had really cool stuff in there as well. I would visit thrift stores here and there after college but really increased my visits around 2012.
I call myself style architect. I'm not solely a stylist and I'm not solely a designer; I'm somewhere in the middle. One day, my dad and I were having a conversation about our individual creative processes. He's an architect and studied at Pratt Institute in New York. We are extremely alike, with our birthdays only a couple of days apart. Strangely, as he talked, I related to almost everything. I felt finally understood and that there was someone who could fully relate to my type of creativity. After that conversation, I realized that I do the same thing my dad does, only with clothing. The title style architect was born.
Jumping into something like fashion or any other field where there is no real blueprint on how to get from point A to B can be scary. I'm self-taught and learn as I go. The internal work you do for yourself is much more important than anything you can do externally. My advice is: learn to control your thoughts and know that anything is possible.
I want to encourage people to be more aware of their 'fashion footprint' and bring more understanding about issues within the fashion industry. The fashion footprint, similar to carbon footprint, is the environmental impact and resource consumption associated with the production, use, and disposal of clothing and accessories within the fashion industry. Fashion is one of the largest polluters in the world and is responsible for 10% of our annual global carbon emissions. Unsustainable practices in the industry, like fast fashion, lead to unethical labor practices as well as polluted water systems, airs, and landfills. Fast fashion is the rapid production of cheap trendy clothing by companies, which encourages consumers to buy and discard garments quickly.
The best way to reduce your fashion footprint is to research companies, shop with sustainable clothing brands, and extend the life cycle of your current closet.
I share tutorials on my Instagram and TikTok on easy ways to create amazing new looks from clothes already in your closet.
One of the reasons I started my brand High Fashion Thrift is to show people what's possible with secondhand clothing. You can still look amazing and even high fashion in secondhand. If you really want to hone your personal style, explore secondhand first. Many people get lost behind who and what they're wearing and lose sight of the why. The why is their personal take on garments and essentially their style.
Secondhand helps push labels, costs, and trends to the side while pulling the inner stylist you never knew existed to the front.
I've found the most amazing and unique pieces on GEM like this green 80s Victor Costa evening gown I styled with custom gloves and durag embellished with crystals from my broken vintage candelabra. Bittersweet moment. The fabulous 80s Loubé Couture puff sleeve velvet gown was love at first sight and purchased on Etsy, also via the GEM app. It originally came as a long gown, but we shortened it and lowered the neckline to make it a bit more editorial.
If you want to shop in person, Goodwill and Savers thrift stores anywhere are usually a good time, but I recommend you to visit your local mom-and-pop thrift stores. Local stores typically have the best deals and most unique items.
I'll keep it real with you – I'm still discovering my personal style. For a while it's been casual and clean with a statement piece or two. The statement piece may be my jewelry, shoes or some type of cool jacket, pants or top. Since moving to New York a little over a year ago, I've been inspired to see more from my own personal style. Spending so much time styling other people, I forget to re-explore my personal style. My favorite shades to wear are black and neutral tones because they look really great on me. 95% of my closet is thrifted, and I'm looking into more sustainable brands.
My favorite high fashion designers by far are Schiaparelli and Alexander McQueen. They have that clean but effective style that I see in my own styling and designs. Although I upcycle many 80s garments, my favorite decades are the 60s and 70s. And, my favorite garments to work with are anything vintage! The craftsmanship and quality are unmatched."