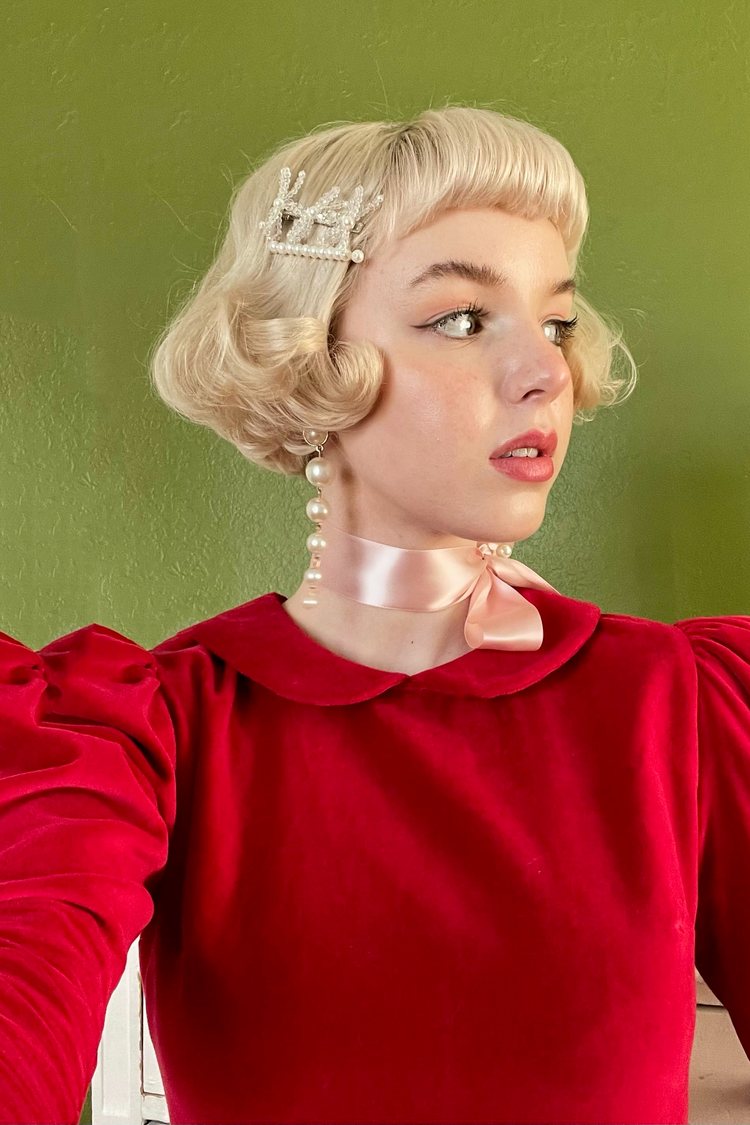 Hannah Ruth Zander, 23, is a fashion stylist and content creator living in Salt Lake City, Utah, known for her nostalgic vintage style.
"I became interested in fashion during my freshman year of high school when my grandmother gifted me her clothing from the 1960s. I was fascinated by the well-made nature, the poofiness and frills, and the bright colors. It was the complete opposite of the Hollister and Abercrombie trends of the time. It was then that I began researching vintage fashion, style icons of the 60s, and vintage boutiques nearby.
My love of fashion began with vintage. It transcended into all things Man Repeller, Vogue Runway, and Alexa Chung's YouTube channel. I fell in love with mixing vintage pieces into modern trends. Getting dressed everyday became my favorite activity.
I would describe my style as youthful, feminine, and nostalgic. I draw most of my inspiration from 1960s fashion as well as the high-fashion runways and try to emulate those styles through thrifted and vintage clothing.
My grandmother, Barbara Streisand, Midge Maisel, Vivetta, Sandy Liang, Tanner Fletcher, and Miu Miu are my top inspirations! I also save a lot of vintage sewing patterns from the 50s and 60s and try to recreate those looks.
This is one of my favorite dresses! It's old Marc Jacobs, but I found it at a local vintage shop here in Salt Lake City. The top I'm wearing is also from a local shop, Copperhive Vintage. The shoes are from Newbella.
It feels like an outfit that represents all of my favorite style aesthetics. Vintage, 60s prep, Victorian Style, and that Americal Girl Doll Look, of course. I've worn it on several occasions.
I never hesitate to repeat an outfit. If you love an outfit and feel good in it, definitely wear it more than once!
This sailor collared top is from the 80s. I found it via my favorite Etsy shop The Thrill of A Thrift which also happens to be local to me! The bloomers are from Serpenti Apparel, the sunglasses are J.Crew, and the Mary Jane's and basket purse are both thrifted.
Another local favorite of mine is Shop Eyes Open which you can find on Etsy, too.
I love a preppy outfit! This is a suit I thrifted and shortened into a short suit. The tie is from Antique Sugar, my favorite vintage shop from my hometown, the headband is by Dorian Who, and the back is old Miu Miu from The RealReal.
I typically build an outfit around one item that I want to wear. Sometimes it starts with shoes, a hat, or even a pair of tights. If I'm feeling stuck, I take it to Pinterest. I spend hours every week on Pinterest!
Fall layering galore! This is a vintage varsity cardigan I got at a local flea market, the dress is from Goodwill, the pants and the bag are from a local vintage shop, Decades.
At the moment, I'm on the hunt for more vintage cheerleading sweaters, plaid jumpers, and a peter pan collared coat.
This is a dress I upcycled for a collection I made, Cherry Varsity. It used to be a long dress but I shortened it and added a pink taffeta skirt with a matching bonnet, using vintage fabric. The shoes are from Antique Sugar.
My new favorite upcycling tip is shortening a dress but using the hem to create a matching head scarf. It's super easy and a great way to make an outfit feel even more coordinated.
The floral maxi dress is another dress I upcycled. I added a heart cut out to and tiered the bottom with vintage ribbon. I made the pillow bag from quilted fabric and trim from Joannes.
The pink quilted set I made from a long quilted nightgown.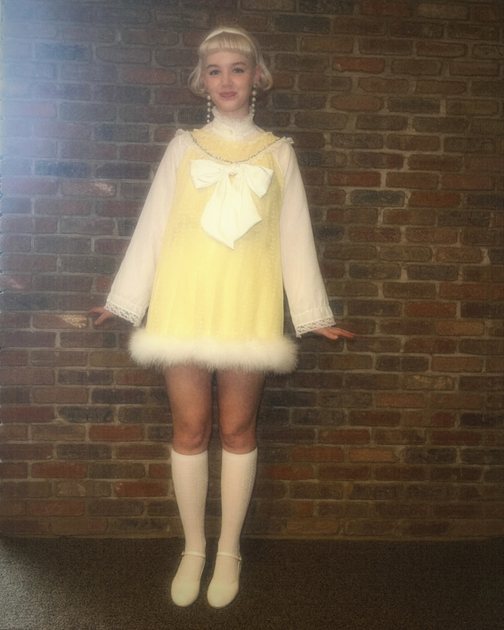 This is a dress I upcycled for my Slumber Party collection. It used to be a maxi night gown but I shortened it, added fur trim, a bow, and gems!
Slumber Party is my 10-look collection featuring a mix of upcycled nightgowns, revamped vintage dresses, handcrafted garments & accessories, all inspired by the ethereal and feminine aura of 1960s sleepwear. The AMF Foundation featured me as one of their designers for their annual showcase and that is where I was able to present it on the runway."
Follow Hannah on Instagram @hannahruthzander