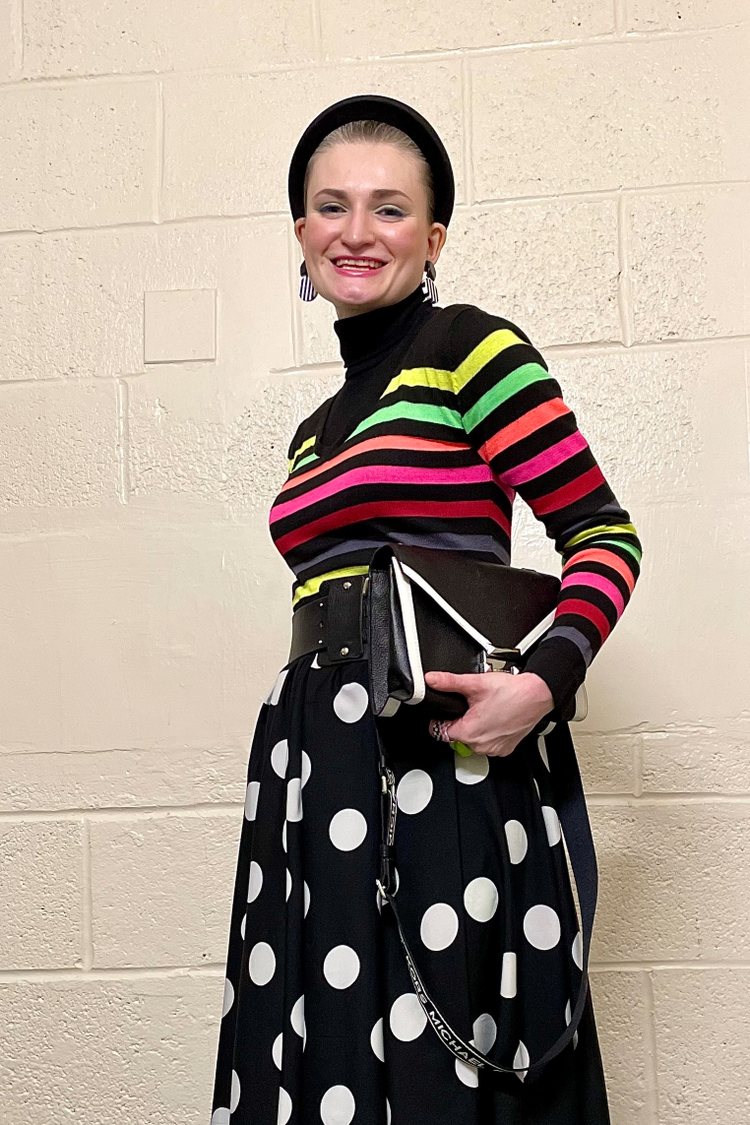 Elle Halon, 38, works as a buyer for a luxury menswear company. On her Instagram, she documents her bold and brave outfits. We reached out to learn more about where her fearless style comes from.
"Thrifting is a part of some of my earliest childhood memories. I was born in Poland. My dad came to the US in the late 80s seeking employment opportunities. My mom and I joined him in 1992 to settle permanently. I was eight years old.
When we emigrated to America, there was very little money for fancy clothes. Back then, my mom and I would go to this huge warehouse where I would literally dive into hampers. We would sift through piles of clothes and load the good finds into big plastic bags. The clothes were charged by weight. At the time, it was actually a shameful experience, as my classmates always seemed to have cool clothes, and I was desperately trying to play catch up.
Many, many years later, my mom and I discovered a nicer form of thrifting, where the clothing actually hung on racks.
Back in Poland we did not thrift. Even before I was born, my dad used to work outside of my home country, for example, Ukraine, Russia, and later America. He would always send goodies from wherever he worked: food, toys, clothes, etc. One of the best presents I received was receiving a pair of Russian seal skin boots. I loved them so much even though they were a size too big! My mom and I were very lucky in that sense.
In all transparency, only a small part of my current wardrobe is secondhand. I have always been a bargain hunter so my wardrobe consists of thrifted, off-price, as well as, fast fashion pieces. I am making a concentrated effort to move away from fast fashion.
At the moment, I am on a "shopping diet." I have compulsive shopping tendencies, which have resulted in an over-accumulation of clothing.
For some time now, I have been feeling mentally and physically cluttered by the number of fast fashion pieces that I have accumulated over the years.
As with any bad habit, an individual has to want to change of their own resolve, not because they feel like they should. Fast fashion has many temptations: the clothes often look nice and are ridiculously affordable. For me, it's about not visiting any fast fashion stores or scrolling through any websites. If I don't see it, I can't be tempted to want it.
I am also having a great time shopping my own closet. I am revisiting pieces that I haven't worn in almost ten years.
Putting my styling skills to the test to make sure none of my clothes feel dated has been giving me such a thrill.
When I am ready to shop again I would like to explore increasing my jewelry collection. Brooches and bolo ties are specifically on my wish list.
My style is maximalism. I enjoy mixing prints and pairing bold color combinations. The crazy print mash-up in this outfit was born from being inspired by the leopard print handbag that I am holding. Leopard was the starting point and then I just kept adding more patterns: stripes, polka dots, and plaid. The colors are neutral so I felt like it all worked.
My mantra is "more is more, less is a bore." I like to experiment. I am open to wearing anything except athleisure.
I consider myself a style chameleon. No one type of style defines me.
For anyone wishing to introduce more color into their wardrobe, I would say just do it! Start out small: a statement handbag or a blazer in a pop color while the rest of the outfit is neutral. At the same time, I would say, don't be afraid of color. Don't be afraid to mix colors.
I prefer thrifting in real life as compared to online shopping. Nothing beats the rush of spotting an interesting print out of the corner of your eye amidst a sea of dull or predictable garments. The adrenaline rush of possibilities. What is it? Is it my size? If it's not my size, can I still make it work? It's truly a treasure hunt.
For example, this tiered dress at my local thrift store was a little too short for my taste but I couldn't pass up the price tag ($3). Plus the flounced tiers in the sweet pink color kind of reminded me of cake layers. For its debut, I decided to style the dress as a blouse. It required some magical tucking, but the idea worked!
I currently live in Williamsburg, Brooklyn which has so many thrifting options! Sometimes I just walk in without even taking note of the name. I visit Awoke Vintage and Domsey Express frequently out of proximity and convenience. Buffalo Exchange is the best for trendy options. I also like Goodwill. There are several locations in NYC.
This outfit was inspired by photos of the Resort 2023 Christopher John Rogers runway show. There were quite a few bold-colored pieces paired with graphic black and white. I immediately knew that I wanted to recreate a similar look with my colorful stripe sweater.
I am constantly inspired by the everyday women that I follow on Instagram and some celebrity icons like Iris Apfel, stylist Patricia Field, former Gucci designer, Alessandro Michele, and street style star Emili Sindlev.
These style icons all have one thing in common: they interpret patterns and colors in a way that's different from the average person. The resulting outfits are often quirky and have this 'it goes but doesn't go' sensibility. Most of all, the outfits show the workings of the imagination and are FUN! Iris Apfel once said that she has more fun dressing up for a party than at the party itself.
I think there is some stigma associated with thrifting as being unclean or only for poor people. For many, thrifting is actually a choice and I think that this niche community on Instagram has done an amazing job of highlighting that.
I say that if you want to look like a clone, shop fast fashion. If you want standout, unique pieces go for thrifting."
Follow Elle @funky_fearless_fashionista