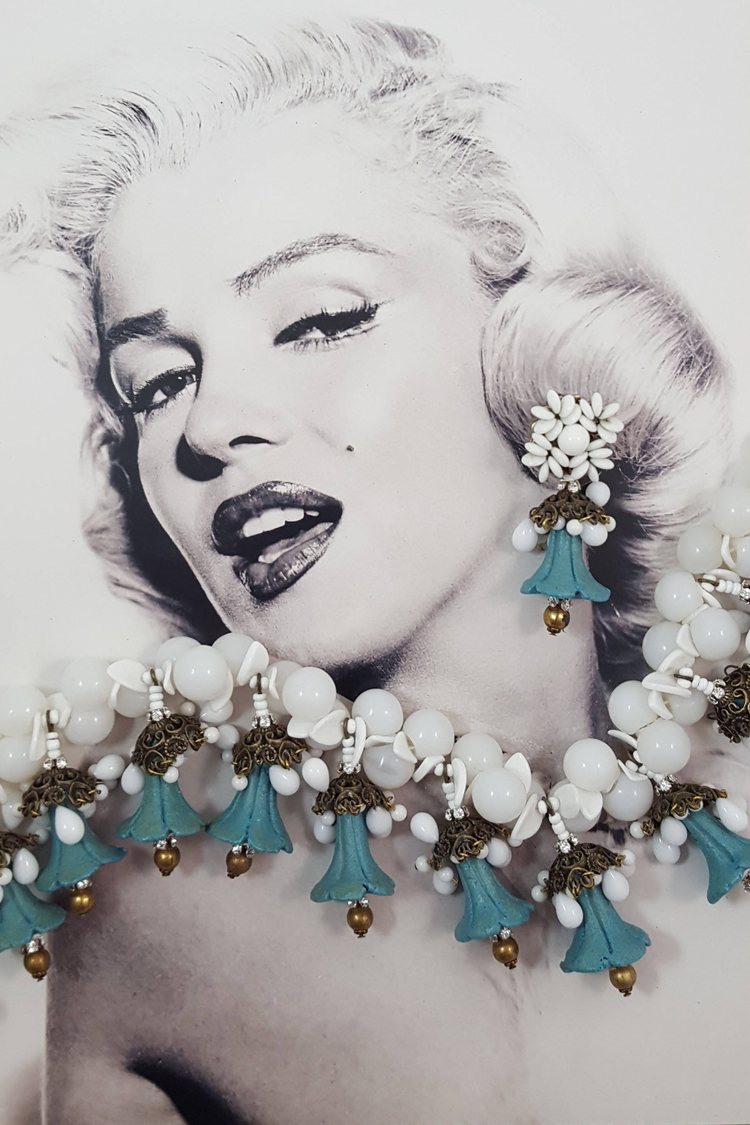 To celebrate International Women's Day, we dove into the lives of four groundbreaking ladies of jewelry design.
Up until our time, jewelry design and business were largely male-dominated fields although women have been the primary wearers of jewelry.
It was the World Wars and subsequent changes to gender diversity across industries, as well as recent artistic enlightenments, that brought about a shift that allowed women entry into the field, explains Juliet de la Rochefoucauld in her book Women Jewellery Designers.
For this post, we selected four pioneering female jewelry designers who all have distinctive styles and aesthetics and whose jewelry pieces are still affordable and easy to find.
Miriam Haskell
Miriam Haskell is known for her colorful, flower and nature-themed, abundant, maximalist jewelry pieces. Her designs were original but affordable – and therefore an instant success.
Haskell established her Miriam Haskell Company in New York City in 1926 with $500 in her pocket. The same year she hired young Frank Hess as a chief designer. There has always been controversy concerning the extent to which the jewelry designs were Haskell's or Hess's. Even so, Haskell had a final say on designs and she was the one who led and grew the groundbreaking company from scratch.
"Coming to the fore in America at a time when Coco Chanel had just launched her costume jewelry collection in Europe, Haskell was able to ride on an American obsession with French fashion and model her early jewelry on European costume jewelry, competing directly with Chanel and Italian designer Elsa Schiaparelli", writes Anna Weller. As a friend of Coco Chanel, she also created pieces for Chanel's couture collections.
From the beginning, Haskell's handcrafted costume jewelry was a hit with the stylish women of Manhattan. Movie stars Joan Crawford and Lucille Ball, as well as artist Gloria Vanderbilt and the Duchess of Windsor, were among her fans and collectors. Haskell loved gilt findings and filigree, faux pearls, Austrian crystal beads, blown glass beads from the island of Murano, and, above all, rose montées.
"It was down to her workshop of craftsmen, many of whom were European refugees who had learnt their trade in the jewellery houses of Europe, to painstakingly wire complex multi layer motifs built up of beads and strass montees on to filigree backings. This tight embroidery and careful wiring of both the components and beads, leaving little sign of the base underneath, is one of the most distinctive features of Miriam Haskell jewellery, and a testament to both the design and execution of each piece", writes Anna Weller.
Elsa Peretti
Once an Italian model in Manhattan, the poster girl for Studio 54-era decadence, and the best friend of fashion designer Halston – now an 80 old year millionaire and philanthropist living in a Spanish village which she has largely renovated herself. Elsa Peretti has certainly lived a colorful life.
Peretti was born in Italy in 1933 to a wealthy and conservative family. She has spent most of her life estranged from her family. In 1968 she moved to New York and became one of the favorite models of Halston, the so-called Halstonettes.
Peretti's first piece of jewelry was a prototype for a two-inch sterling-silver bud vase, worn around the neck on a leather thong. It was inspired by a silver vase she had spotted at a flea market. Worn by one of fashion designer Giorgio di Sant' Angelo's models, it was an instant hit.
In 1971, she began designing for Tiffany, using mostly silver which was rebellious at the time. Silver was considered too common but Peretti made it look sexy and sensual. She was always inspired by natural shapes, especially objects she would find on the beach.
According to Vanity Fair, Peretti has earned billions for Tiffany since she signed with it in 1974 – far more than any other designer in its stable.
Torun
Vivianna Torun Bülow-Hübe, known simply as Torun, was one of Sweden's most important 20th-century silversmiths and a master jeweler.
Torun was only 16 years old when she decided that working with silver was what she wanted to do. She borrowed a studio from her mother who worked as a sculptor, set up with a small blowlamp, and a tiny bit of silver. She started about her work, selling her pieces and buying more silver.
At the age of 21, Torun started studying at the Stockholm University of Arts, Crafts, and Design and staged her first exhibition. In 1948 she traveled to Paris and Cannes, where she met painters Pablo Picasso, Georges Braque and Henri Matisse. A few years later she opened her own studio, which made her the first female silversmith in Sweden with her own workshop.
Torun called her works "anti-status jewelry". She was inspired by natural shapes such as flowers, leaves, swirls, and the flow of water – she was able to shape solid materials into flexible forms, flowing like water around the wearer's neck and shoulders. She did not use valuable stones, preferring instead pebbles, granite, rock crystal, moonstone, and quartz.
One of Torun's most famous designs is the Mobius necklace, which included a lead crystal drop to be draped over the shoulder of the wearer. It has been described as a "milestone in the history of modern jewelry." In 1962, Torun designed a stainless steel bangle-style Vivianna wristwatch which became the first wristwatch to be produced by the world-renowned Danish silver company Georg Jensen.
"I wanted to free people from the slavery of time, I wanted to make a watch which reminded one that life is here and now, so I created a watch with a mirror face, no numbers and a simple second hand", she described.
Now Torun is the designer behind some of the most famous designs of Georg Jensen, alongside Georg Jensen himself.
Lea Stein
French artist and jewelry designer Léa Stein is one of the most innovative designers of plastic jewelry of the 20th century.
Stein began designing her iconic jewelry in the early 60s, pioneering a unique method of working with celluloid and plastics. Together with her husband, Fernand Steinberger who was a chemist at the time, Stein developed a technique of layering and laminating extremely thin sheets of celluloid acetate. These sandwich-like pieces were then baked for long periods, cooled, and cut into shapes – a painstaking process that could take up to six months to complete. This technique allowed Stein to insert different fabrics (such as brocades and lace), colors, and textures into the plastic.
Stein's brooches feature naivistic animals, cars, household items, celebrities and people in a distinctive style, sometimes resembling Art Deco – which leads some people to mistakenly date her work to the 1920s. Each brooch has a name, sometimes as simple as 'Fox' or more descriptive like 'Quarrelsome' the cat. Each design might come in dozens of different colors and patterns.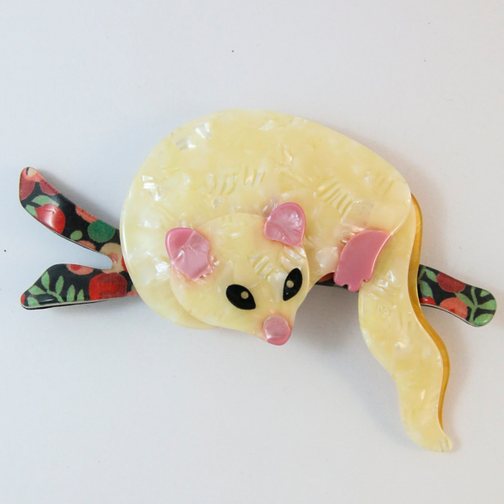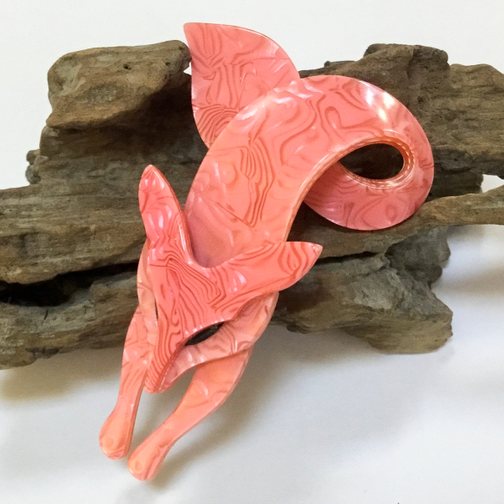 Stein's main output was initially from 1969 to 1981. Collectors usually call this her vintage period. She ceased producing jewelry for ten years but re-launched in 1991. Her pieces are still being manufactured today. Two of the most popular designs from the 'modern' period are Ric the Dog, Gomina the Cat and the Bacchus Cat.
Cover photo: Gallery Three Sixty