trends
Five Fashion Week Trends with Vintage
Make New York Fashion Week trends your own and sustainable by choosing secondhand.
Liisa Jokinen · Feb 25, 2020
Cover Photo: Alexandra Skrypchenko / Society Matron
trends
Five Fashion Week Trends with Vintage
Make New York Fashion Week trends your own and sustainable by choosing secondhand.
Liisa Jokinen · Feb 25, 2020
Cover Photo: Alexandra Skrypchenko / Society Matron
Like we all know, fashion weeks are not sustainable at all. The 10-minute shows with disposable decorations, editors flying from a city to city, events promoting new stuff just for the sake of the new. Not good, not sustainable, not cool anymore. The world for which fashion weeks were created does not exist anymore, like Alden Wicker states in The Cut.
In the future we will probably see less catwalk shows, less fashion weeks (Stockholm already canceled their own last fall), and hopefully more (truly) sustainable brands.
Luckily, we don't need to shop new just because a fashion show urges us to do so. We can get inspired by the fashion week trends and make them our own by choosing what already exists – secondhand.
I picked five fashion week trends and searched how to wear them with vintage clothing.
Orange
Bold colors were everywhere this past NYFW from the runways to street styles. Colors were seen at Wes Gordon's show for Carolina Herrera, Jason Wu, Marc Jacobs and Sally LaPointe, whose whole collection had started with the color orange. Backstage LaPointe had told the press she chose orange as the theme of her shows because it's traditionally associated with determination, success, and power. Yes!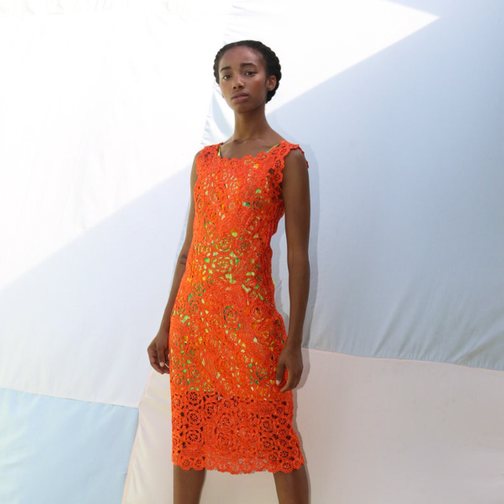 Of all the bright and bold colors orange feels the most fun and fresh. From muted to almost neon orange, we love them all.
Photos: Mad Mak Closet, Babydoll Vintage Store, The Nong Rak
Leather
Layers of leather have emerged as the new wardrobe staple, says WWD and we want to believe – we have seen this trend popping up last seasons already and what a better trend than the one just keeps growing and sticks for several seasons? The cute leather culottes and snap-front midi-skirts in vivid primary colors at the Coach show were especially lovely.
A black leather blazer is a classic but this season we are hunting more colorful vintage leather too: pastel colors, bright colors, and patchwork leather pieces.
Photos: Mirth, Easy Coast Vintage, Forget Me Not 50s
Cut-Outs
Cute and sexy at the same time, these little details add an air of lightness to a maxi dress. Among others Brandon Maxwell, Dion Lee, Khaite and Prabal Gurung showed hints of skin through cutouts on the NYFW runways.
Cut-outs on the hip level seem to be trending especially but look also for cut-outs decorating the backs and necklines of your future summer dresses.
Photos: Narro, Sarah and Ludo Vintage, Nordic Poetry.
Victorian Frills
Victorian influences are back and this might be the best news ever! Puff sleeves, ruffle trims and ribbon neck ties adorned dark-and-romantic frocks, seen at Brock Collection, Khaite, Anna Sui, and, of course, Zimmermann, wrote WWD.
Choose a real Victorian or a 80s-does-Victorian version if you are afraid of antique, delicate materials. Both are cute and look great when mixed with something contemporary like blue jeans.
Photos: Vintage Vorachon, Dusted Wonders, Miracle Eye.
Capes
"Although volume has been pumping up by way of flared legs, widening skirts and lengthening trains for several seasons now (and was very much in evidence this fashion week), this season's emphasis on the cape silhouette gave the trend a fresh and focus-pulling twist", writes of Adam Tschorn of LA Times.
Or go for a retro poncho. Gabriela Hearst showed a cutest, 70s vibes knitted poncho in all the hues of rainbow. That piece was yelling "vintage" if any.
Just remember to go big! Like Justine Carreon of Elle US says: capes "especially in oversized, floor-length silhouettes, will be the it-coat next."
Photos: Sri Louise, Some Girls Vintage, Studio Dem
Cover photo: Alexandra Skrypchenko for SocietyMatron