people
Fashion Historian Raissa Bretaña Shares Her Favorite Vintage Finds
New York-based Raissa Bretaña is a fashion historian and educator at FIT and Pratt Institute. She also hosts a video series for Glamour magazine. Now she shares her best vintage finds with us.
Liisa Jokinen · Dec 15, 2020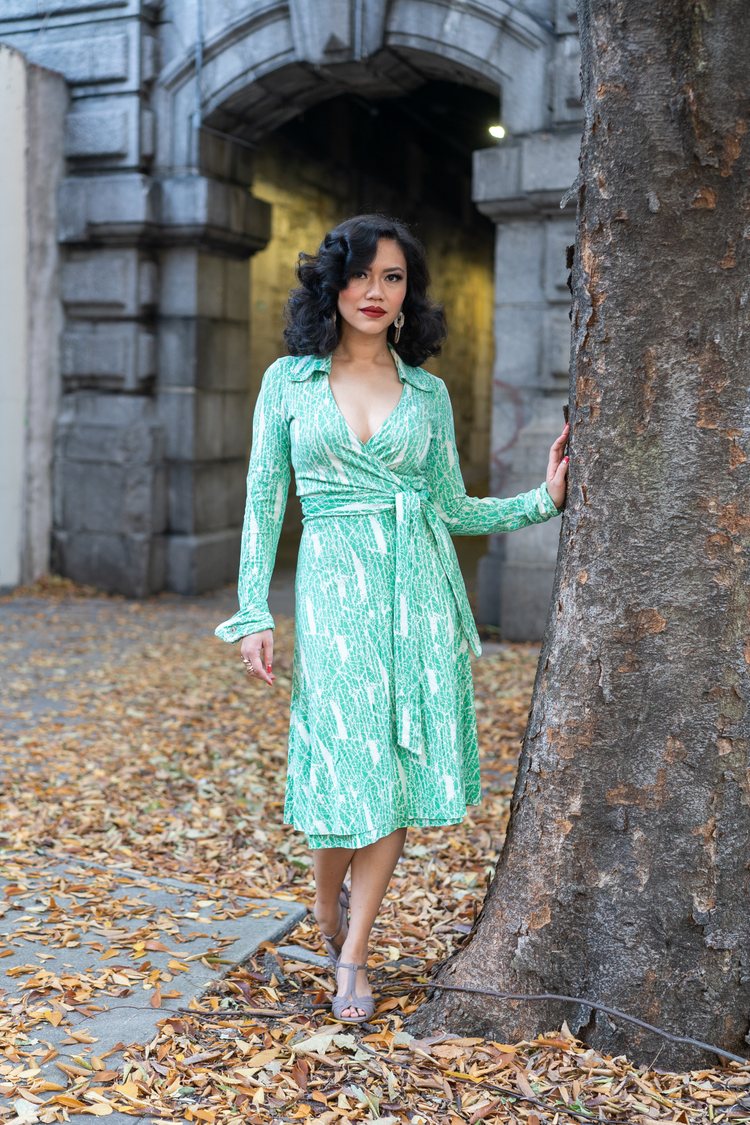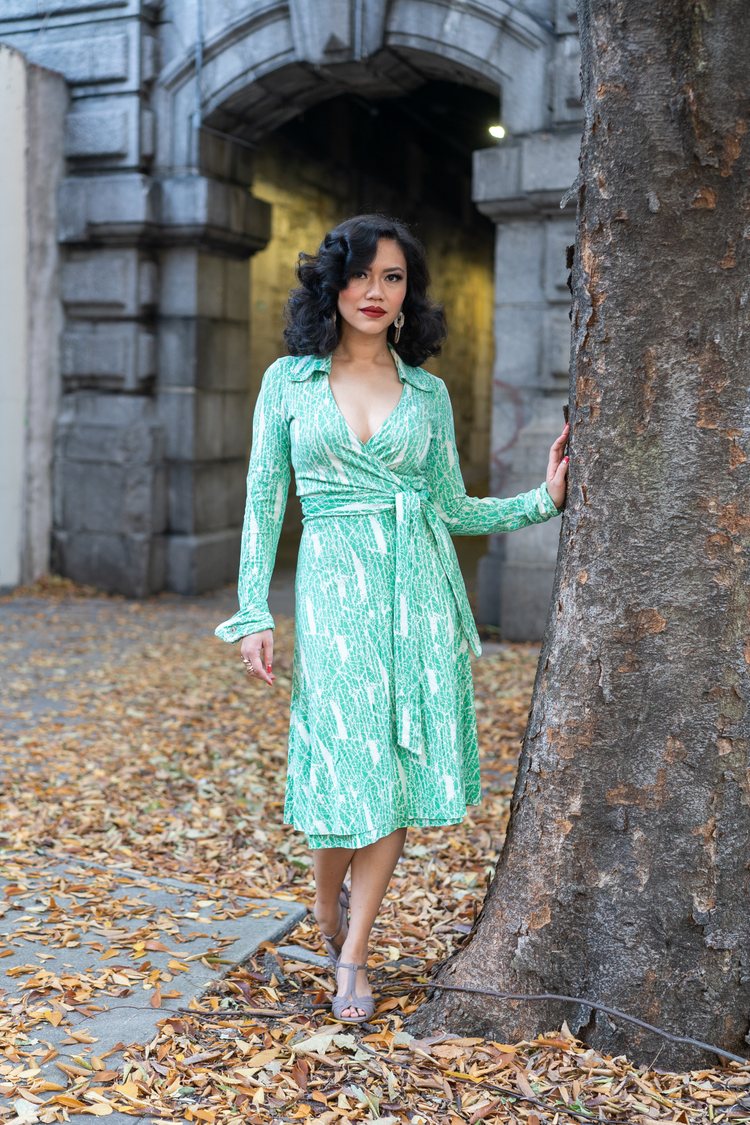 people
Fashion Historian Raissa Bretaña Shares Her Favorite Vintage Finds
New York-based Raissa Bretaña is a fashion historian and educator at FIT and Pratt Institute. She also hosts a video series for Glamour magazine. Now she shares her best vintage finds with us.
Liisa Jokinen · Dec 15, 2020

"I began wearing vintage regularly just after college. Upon completing my BFA in Costume Design, I started working professionally in theatre, opera, film, and television. I often had to shop for vintage clothing for work, and I started to really fall in love with the colors, textiles, and silhouettes of the past – and so I began to flirt with vintage reproduction-type clothing (from ModCloth and the like).
I started getting used to seeing myself in vintage styles, and figuring out which time periods aesthetically appealed to me most.
And then I made a startling realization: that all the clothes I've ever wanted to wear already existed out in the world, and nothing new needed to be made for me.
So, that's when I started shopping secondhand/vintage more exclusively.
This plaid cotton dress was purchased at the Manhattan Vintage Clothing Show from Incogneeto Vintage. I love it because it is the epitome of cute and comfortable...and it has pockets! The red felt hat is from Briony Lodge Vintage on Etsy and the bakelite bangles I have sourced over the years from eBay, Etsy, and Brimfield.
When I started wearing vintage, I first stuck to the 1940s and 1950s but eventually, I branched out, and now I regularly wear clothes in the range of 1930s to 1970s. I prefer earlier eras for formal wear – 1930s silk velvet gowns, 1940s rayon cocktail dresses – and later eras for more casual, everyday wear.
I love crisp cotton shirt dresses from the 1950s and colorful poly jumpsuits and maxi dresses from the 1960s and 1970s. For outerwear, I am all about mid-century Lilli Ann swing coats – especially in bright colors and unique textiles.
I purchased this 1950s linen dress via Ooh La La! Facebook group. I love the black handbag because it is so incredibly chic, and it fits everything. It was purchased from Malena's Vintage Boutique at the Manhattan Vintage Clothing Show.
I usually select my accessories by color and tend to stick to tight color schemes when putting together an outfit. I try not to restrict myself to a specific time period, and take delight in mixing and matching across different eras.
I am always on the lookout for bakelite bangles in the elusive "maiden" size, because I have very small wrists and standard-sized bakelite bangles usually just slide right off my arm.
I am most inspired by classic cinema, and especially love looking at old Hollywood fan magazines that feature articles on what the stars are wearing on and off-screen. I also encounter fashion publications from all eras in my work as a researcher, and I often find inspiration in back issues of Vogue, Harper's Bazaar, or WWD, based on whatever project I am working on.
Not only is secondhand shopping the most sustainable way to participate in fashion, but vintage clothing is often superior in quality of construction and materials to anything you can buy off the rack today. Investing in the right vintage pieces will give you staples in your wardrobe that will outlast even your newest garments.
I am primarily an educator and teach fashion history courses at the Fashion Institute of Technology and Pratt Institute; but I also research, write, and lecture on a freelance basis. I am often hired to work with costume designers as a historical consultant/researcher for films and television shows that have period settings. Additionally, I host a video series for Glamour in which I fact-check historical costumes in popular media.
My profession definitely figures into the way I dress, and how I think about vintage clothing. As a historian, I have gained an appreciation for certain designers and time periods that I did not have before, which has really expanded my tastes and allowed me to experiment with styles I had previously shied away from. On a deeper level, my work has come to redefine the way I interact with my own clothing. Before I shopped secondhand, I thought of everything in my closet as exclusively "mine." Due to the nature of vintage buying and selling, my philosophy has changed significantly. Now, the clothing in my closet is only "mine" for the moment, and I see myself as more of a temporary caretaker – and that I am only one part in the life of a garment.
I saw this Art Deco revival print dress by Paganne at the Manhattan Vintage Clothing Show and fell in love. It was unfortunately out of my price range, and I couldn't stop thinking about it. I set an alert on the Gem app and came across this one on eBay. It's a true "holy grail" piece for me, because the Erté-inspired print is a nod to one of my favorite eras in fashion history.
I especially love pieces that show a crossover of aesthetics from two different time periods – it's an exciting phenomenon from a historical standpoint.
I have always dreamt of owning an original Diane von Furstenberg wrap dress in a green and white print, similar to the one DvF was pictured wearing on the cover of Newsweek in 1976. (This is another acquisition made possible by my Gem app alerts!) The dress is 50% cotton/50% rayon, which is so comfortable on the skin.
The wrap dress is truly a magical garment in that it somehow manages to look amazing on every body type.
I find the silhouette so flattering – with the deep V neckline, cinched waist, and slightly A-line skirt. I've never felt sexier than I do in an original 1970s DvF wrap dress!"