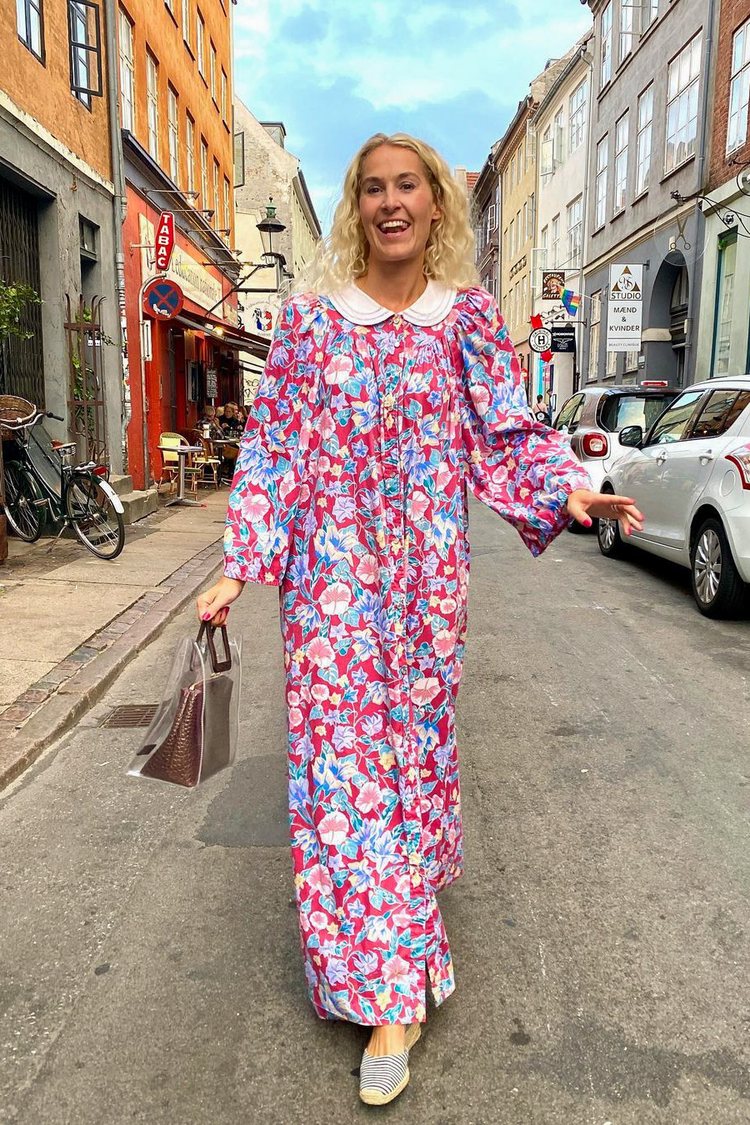 Are Danish flea markets the best kept secret in the vintage world? Copenhagener Anne-Louise Sandby-Møller has frequented them for over 25 years. Check out her amazing finds – and gasp at the prices!
"If you want to make good finds at flea markets, you have to search all the time.
I usually visit all the flea markets I possibly can and hit them every weekend. I can visit 3-4 markets in a day.
There are usually several flea markets every weekend in Copenhagen, year-round. Some outdoor markets move indoors for the winter months. There are also street markets in many neighborhoods once or twice a year. Mostly it is private people selling, but you can find professional sellers and vintage store owners at the markets, too.
I try to go as early as possible to have a better selection – but later in the day, you can have better deals. Some markets start early in the morning, some during the lunch time, so always check the opening hours before going.
People always ask me what are the best flea markets in Copenhagen. But it is hard for me to give a top three list, as even just one great find can make a place my favorite. Also, there is only one of each at the flea markets so you never know what you will find. And sometimes a market is not as good as it was the last time. So it is hard for me to choose my favorites.
I recommend learning a few words in Danish so you can google the flea markets and maybe find some smaller, hidden ones when you visit.
I have been going to the flea markets with my mom since I could walk. As a kid, visiting the flea markets was fun as I could look at toys. Later, in my early teens, I thought that secondhand and wearing other people's clothes was a bit embarrassing. When I started high school, I had my aha moment: I started developing my own style and realized I could get cheap and unique finds at flea markets.
This red dress is one of my first vintage dresses – I bought it almost 25 years ago. At that time, I was not collecting yet and was only starting to wear pieces like this. I was more insecure about my style. I remember I just liked the fabric; I was not necessarily thinking of wearing it. I paid 4 euros for the dress. It was just hanging in my closet for many years. The dress reminds me of my journey as a vintage lover and collector.
Now I have over 600 vintage dresses. I am too attached to my clothes to sell them!
When I arrive at the market, I try to get an overview of the vendors first. I am very much into colors and patterns so I first quickly scan if I can spot any. First, I overview, then I dive in.
This blue jumpsuit is from the well-known Copenhagen vintage store Time's Up. They were selling their extra stock at a flea market. I just spotted the colors and the psychedelic print through the transparent bags in-between all the people and stuff.
This 80s cardigan is one of my latest finds. I had walked around the market twice and I thought I was finished already. But then this piece was hanging at the front of the rack, among two young guys' black-and-white clothes. I could see that it was in perfect condition. They asked 20 euros, I offered 17, and it was a deal.
I think you should always haggle at flea markets! It is just part of the game.
This is one of those cardigans you can only dream of finding. When I wore the cardigan for the first time, the first person I met immediately asked where I got it from. She asked if she could take a photo so her mother could make her a similar one!
I bought this crochet vest from a younger woman last year for 10 euros and wore it to the Roskilde festival. I have been going to Roskilde for 18 years in a row, and it is a big part of my life. After I posted these pictures on my Instagram, a Danish magazine approached me and wanted to use them in their summer trend write-up. After the article was out, I got another message from the mother of the young woman at the flea market – she had made the vest and worn it to the Roskilde in the 80s! It was almost like bringing the piece home. She was so happy that the top was still used and had value.
There is often a story behind the vintage piece – always remember to ask the vendor if they know the history of the garment.
I am not that interested in fast selling commercial brands, which is how I scored this hand-made 70s patchwork jacket. I found it at an influencers' and fashion professionals' closet sale where most people sought deals on brand items. I could immediately see that the piece was something special. It had a lot of stains, and I doubted if I could get it cleaned. I hand-washed it at home and got all the stains away! Sometimes you need to take some risks when you shop at flea markets.
I have a rule: if I am in doubt, I should buy it.
I know that for most, it is the opposite. I never regret buying but I have regretted so many items I did not buy. If the garment is too damaged, I won't buy it. One little hole is ok. I also try to ask if the item adds something to my wardrobe when I am making the purchase decision.
I hear people often recommend looking up something specific at flea markets. But you never know what you will find! I don't limit myself to a specific item like coats or pants. I buy whatever makes me happy!
I love jumpsuits and the graphic print on this one. I got the jumpsuit for 8 euros. I did not know if I could fit in it, but I took a chance.
Sometimes when pieces are not styled and steamed, you don't see their full potential. You have to use your imagination when shopping at flea markets. Only after I have taken my purchase home and tried it on again I know how to style and wear it.
The first time I posted a photo of this dress a girl commented she would give her arm for it. Whenever I wear my vintage finds, people comment on them, and I love to talk about my finds.
The feeling when you find a unique piece for a good price is better than anything. That is my drug. I am addicted to it.
I am so happy when the story of the garment continues with me."
List of Copenhagen Flea Markets
Rita's Blå Lopper
Check the locations and dates on Facebook
Veras Under Buen
Bispeengen 12, 2000 Frederiksberg
Sundays 10am-3pm
Det Grønne Loppemarked
Jagtvej 16, 2200 København
Sundays 10am-4pm
Gentofte Loppemarked
Bregnegårdsvej 2, Charlottenlund Station
Sundays 8am-2pm
Islands Brygge
Islands Brygge 18, 2300 København
Sundays 10am-4pm
Frederiksberg Loppemarknad
Frederiksberg Bredegade, 2000 Frederiksberg
Saturdays 9am-3pm
Byens Lopper
Saturdays: Sankt Thomas Plads, 1820 Frederiksberg
Sundays: Trianglen, 2100 København Ø
Pink Journal
Halmtorvet 46, 1700 København V.
Sundays 12pm-5pm
Onkel Dannys
Onkel Dannys Plads 1-9 1711 København V
Sundays 10-4pm
Enghave Plads Loppemarked
Enghave Plads, Vesterbro
Sundays 10am-3pm
Follow Anne-Louise on Instagram @muggemugge