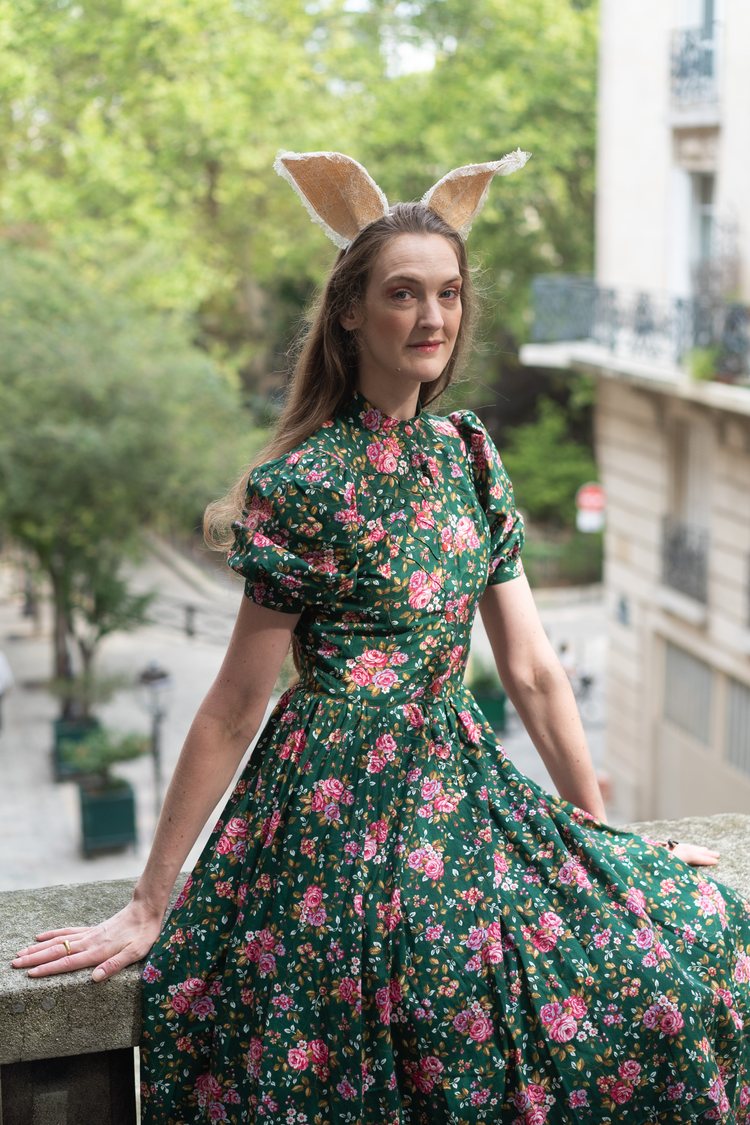 people
Collecting Vintage Jean Paul Gaultier & Vivienne Westwood
Parisian Morgane Farenq, 38, calls herself 'vintage sick'. Her biggest obsessions are Jean Paul Gaultier, Vivienne Westwood, and vintage opera costumes.
"Can I call myself a collector or do I have a collecting problem? When I find one item, I soon want another. Take the 1989 Jean Paul Gaultier leopard collection, for example. I think my first item was a t-shirt, then I found another one with long sleeves, then a jacket and trousers, another jacket, a dress, and so on. I think I am now mostly missing the accessories. The shoes are the most difficult to find as I am the size UK8 and the shoes don't last so long. The leopard shoes would be the cherry on top!
I am vintage sick. I can't help myself and I can't stop looking. It is an obsession.
It is like cloth bulimia; I don't know how and when to stop. And sometimes I cross a financial line because I can't control myself. The reason is gone and the next thing I know, I have added a new item to my collection.
Jean Paul Gaultier is my favorite brand although I am not buying it so much anymore as it is getting so expensive.
If a store gets one Gaultier piece, it will be gone in a minute. I am eagerly waiting for the prices to go down again! On the other hand, the rise in price can be an opportunity to discover new brands so guess I am not so mad about it.
I have been collecting since my 20s. As a teenager, I was more interested in dramatic and theatrical pieces like Thierry Mugler. I remember how I recorded the 1997 runway show Thierry Mugler and kept looking at it. The models looked like they were superpower alien beings. It was hypnotizing.
I wasn't a fashionable teen and actually wasn't able to choose my own clothes. When I started to work, I could finally buy the clothes I wanted. That's when my collection disease started. The thrill of buying something beautiful, unusual, and unique… the feeling that you just found a treasure. And most importantly, sharing this passion with like-minded friends.
I created this look around the skirt. It's an item I deeply cherish and love. I bought it 15 years ago in an antique shop in my grandparents' town in the south of France. I didn't have much income and had to really think whether to buy it or not. I remember the skirt felt a bit too expensive for me but I ended up buying it anyway. I have never regretted it, it is such a simple yet stunning and elegant skirt. There is something timeless about it. I'm wearing a big, fluffy vintage petticoat underneath the skirt.
I love the Moschino Cheap and Chic top because of the details on the collar: the red ribbon and the green embroidered leaves. I think the combination of the skirt and top is very balanced – the skirt with the petticoat is quite voluminous, and the collar of the top brings a focus on the neckline, so the eye is not just focused on one item or the other, right?
The shoes are men's Balenciaga that were given to me and the socks are from a cute brand called Bonne Maison.
I just bought this Ko and Co prairie dress on an afternoon trip in Mons, Belgium. I love prairie dresses, they are such statement pieces! I must confess I have a crush on Gunne Sax and Laura Ashley's old prairie dresses but the price of those is a bit out of my league at the moment.
This one was hanging on a wall of a vintage shop and directly caught my eye. There was no hesitation – the next second it was already in my hands for only 25€! These kinds of amazing and cheap finds I call miracles, even more, when the size is great. I am tall and vintage can be problematic: the waist does not sit where it should and arms can be too short and tight for me.
The next thing I know, I was on the internet looking for more information about the label. I found someone stating the dress from 1973, from the first collection of Jean Charles de Castelbaljac for Ko and Co. Later his style would dramatically change to something more modern and pop so it was very confusing to attach his name to this dress at first.
That's also something that I deeply love about old clothes: there's a bit of mystery around them and you can start to investigate them.
Becoming part of the garment's history is so invigorating.
The bunny headband is from Maison Michel, I bought it second-hand on Vinted and the shoes from Irregular Choice; bought on sale about 10 years ago. I chose to show this dress as a tribute to my love of prairie dress and "dramatic" outfit. The bunny ears add a bit of fun.
The trousers and jacket are Gaultier Junior, my favorite line among all of Jean Paul Gaultier's. I am wearing a Junior item almost daily since a few years ago.
For this outfit, the fit is "not so great" cause my legs are too long for the pants but I am ok if it is not perfect for my body type. I adapt. We don't really have the luxury to choose the good size when it comes to vintage. So I just decided imperfection would be perfection. Sometime it is not about how it fits but how it feels; and these pants made me feel happy!
The top is a Vivienne Westwood corset from last season. I like how the brand is revisiting old collections at the moment.
The shoes are Miu Miu platform ballet shoes I bought two years ago: a friend sent me a link on Vestiaire Collective because she knew I would love the style and color – and it was my size. I tried to resist them but again; resistance is futile when confronted with such an epic item.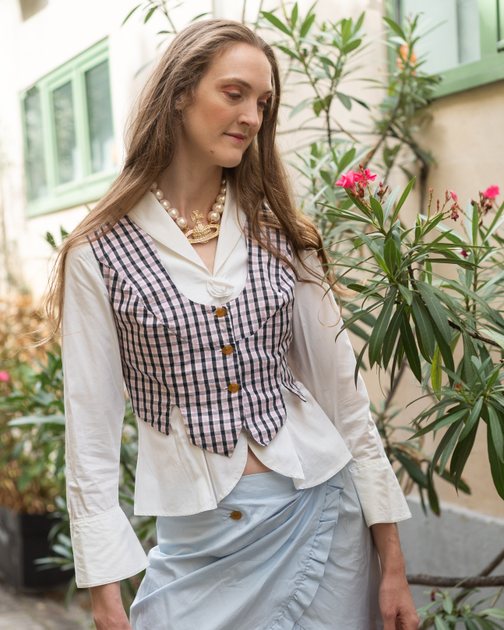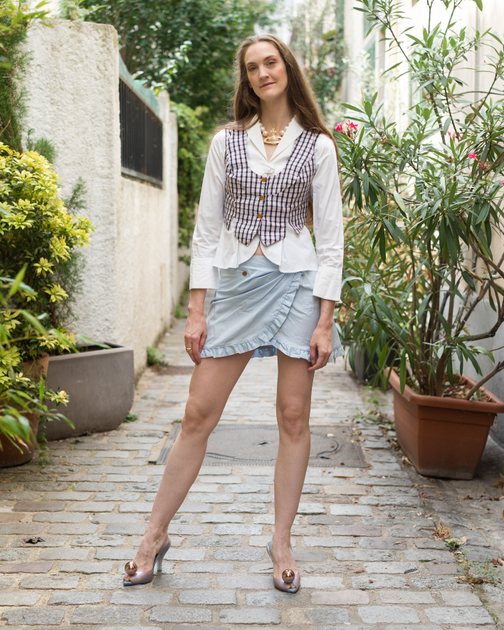 I bought the Vivienne Westwood bustier and skirt on Vinted. The bustier has a special place in my heart cause I remember seeing it in the Les 3 Suisses mail catalog when I was 12 years old. It was a collab between the brand and Les 3 Suisses that was doing only mail-order selling. Obviously, at that age, I wouldn't ask my mum for those items but I was secretly dreaming of having them. Now I know it is just a question of time and patience to make your dream wardrobe come true.
The shirt is Anne Fontaine; a neighbor from where I work gave it to me and I love it so much. The necklace is also from Vivienne Westwood. It's big, it is wow, and it fits my obsession with the brand!
Shoes are Westwood and Melissa collab from maybe 10 years ago, bought new at the time. I have worn the shoes to many parties.
I collect but the main purpose is to wear what I buy – be it for the sole purpose of a picture or to be worn at home only. I want my clothes to live.
I used to be obsessed with this polar bear pattern from Kenzo. I think I first saw a jacket on Etsy. Again, I couldn't afford it so I just waited for my time to come aaaaand, voilà. I love the material of the body; it is very soft and stretchy.
I chose the Junior Gaultier trousers because of the high waist and the matching blue color. They are missing one button so I secured them with a Vivienne Westwood brooch.
If I have something in my wardrobe, I will risk it and wear it. I want every day to be like a party and recreate myself according to my mood.
I know a lot of collectors try to be very careful with their items, to know exactly when they were made, etc. I don't care about precise dating. I am happy to have this information but I won't be disturbed not knowing it."
Follow Morgane on Instagram @momopassmo