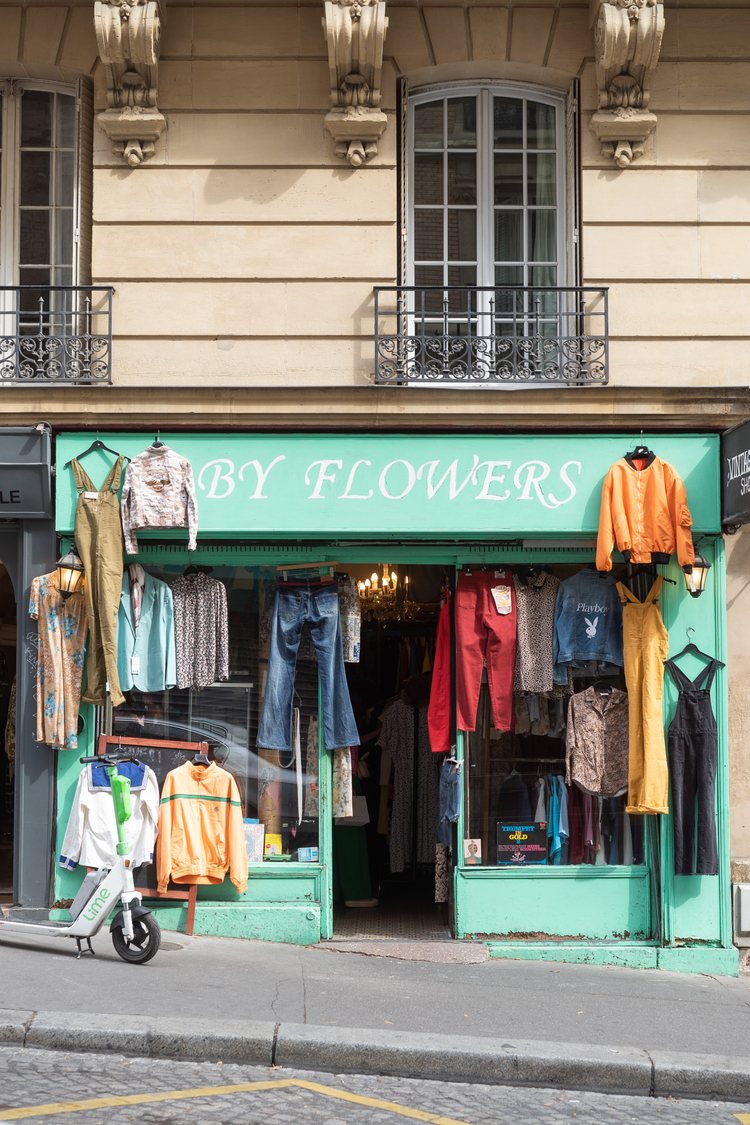 travel
Best Vintage & Thrift Stores in Paris
From high-end designer pieces to more affordable finds, Paris has it all when it comes to vintage shopping. Follow our guide to the best stores in the city.
Paris is unrivaled in vintage, says Paris-based vintage seller Kelly Miller. There is something for every budget, taste, and style. The number of stores can be overwhelming, and navigating different neighborhoods and fluctuating opening hours does not make it any easier.
We visited Paris in the early fall, asked around, walked a lot, and these are some of the best stores we found.
The more time you spend in the city, the more you will find: thrift stores further away from the city center, flea markets, hidden showrooms, and pop ups.
Find even more stores on our Google Maps list.
Department Stores
The iconic Paris department stores Printemps and Lafayette both have dedicated vintage and secondhand departments and we love it! (Hello, Saks, Bergdorf, Macy's?!)
Printemps' vintage selection is more curated and high-end, whereas Lafayette's vintage department, called Re-Store, is packed, busy, and seems to cater to a younger audience.
Printemps' vintage department can be found on the 7th floor, underneath a beautiful glass skylight dome.
The vintage department is divided into two sections: One part of the floor is a mix of more affordable vintage, reworked fashion, and other sustainable labels, and has a rotating set of vendors. On our visit, we spotted designer vintage from Jeannette Vintage, menswear-focused Demain Retro, and 60s-70s-inspired Pristini.
The other section is full of rare high-end designer vintage, curated by Vestiaire Collective's former head of vintage, Marie Blanchet. Although the prices are relatively high, we recommend taking a tour here. The collection is like French fashion history condensed: everything from iconic 70s YSL blouses to Thierry Mugler blazers, JPG denim, and modern Balenciaga. Not forgetting bags, shoes, and jewelry.
Printemps Haussmann
64 Bd Haussmann, 75009 Paris
+33142825000
Mon-Sat 10am-8pm
Sun 11am-8pm
Galeries Lafayette's vintage is on the 3rd floor and can be tricky to find – just head towards the west end of the building and look for the black-and-white signs saying Re-Store.
You can find multiple sellers here from more high-end Personal Seller to wildly popular, more affordable Crush On. Crush On is well-known in France as they also have their online store and they organize vintage markets in Middle European countries.
Galeries Lafayette Haussmann
40 Bd Haussmann, 75009 Paris, France
+33142823456
Mon-Sat 10am-8.30pm
Sun 11-8.30pm
French Vintage
Plaisir Palace
If you are on the hunt for vintage Courreges vinyl jackets or knitwear, check out this store! We loved the pastel-colored interior and fresh curation on classic French vintage items by the owner Didier Barroso. The vibe is very much Emily in Paris – you can actually spot several pieces from Plaisir Palace on Emily!
Plaisir Palace
3 rue Paul Dubois, 75003 Paris
Wed-Sat 1pm to 7pm
www.plaisirpalace.fr
@plaisirpalace
Retro Chic
Chanel bags and jackets, YSL blouses, Guy Laroche dresses, Emmanuel Kahn gems. Great selection of French vintage in a fun retro setting. Owner Yan Durand started wearing vintage when he was 12 years old and growing up in Montpellier. After moving to Paris, he first worked for E. Zegna and launched his store in 2012.
Retro Chic
57 Rue Condorcet, 75009 Paris
+33617930364
Tue-Wed 12-7pm
Thu 2-8pm
Fri-Sat 12-7pm
@retrochicparis
Thanx God I'm A Vip Paris
This name pops us everywhere when you ask for vintage shopping recommendations in Paris. And we are not surprised.
Thanx God I'm VIP is actually not one, but three stores in a row: women's, men's, and Bazar which is only open on Saturdays and sells home decor and vintage clothing priced from 10 to 50 euros.
Alaïa, Burberry's, Chanel, Hermès, Lanvin, YSL.. The color-coordinated racks, helpful staff, and organized store layout won't disappoint you. No wonder the store is also designer teams' favorite.
Thanx God I'm a V.I.P.
12 & 14 Rue de Lancry, 75010 Paris
+33142030209
Tue-Sat 2-8pm
@thanxgodimavip
Clara Vintage
Silk heaven. Lots of great jewelry, bags, and accessories from brands like YSL, Jean-Louis Scherrer, Guy Laroche, and Louis Ferraud. Sympathetic owner Clara learned the tricks of trade selling and sourcing at French flea markets for 15 years before she opened her store.
Clara Vintage
2 Rue Jean-Pierre Timbaud, 75011 Paris
+33630604383
Tue-Sat 11-7pm
@claravintages
See also
Rose Market Vintage
19 rue Milton, 75009 Paris
@rosemarketvintage
20s to 60s Vintage
Débardeuse
This tiny popular store is packed with older vintage gems. You can find something from all decades here but the emphasis is on 70s and older vintage. The owners Pierre Zannier and David Girardieu moved from Nizza to Paris three years ago. The best thing is you can find their most fabulous and rarest items also on Etsy!
Débardeuse
16 Rue la Bruyère, 75009 Paris
+630604383
Tue-Sat 11-7pm
Sun 2.30-7pm
@debardeuse.shop
Mamie Blue
This two-story store is packed and requires some patience and time but the selection of older vintage is from the 20s to the 60s for both men and women is great. Golf pants, wooden heel shoes, 50s sunglasses. Also some reproductions, and styling & alteration service. Bohemian vibes & bubbly, characterful owner who knows her stuff.
Mamie Blue
69 Rue Marguerite de Rochechouart, 75009 Paris
+33142811042
Mon 2.30-7.30pm
Tue-Sat 11.30-1.30 & 2.30-7pm
@mamieblue_paris
60s to 90s Vintage
Lapin Boutique Vintage
Great selection of 60s and 70s vintage by Argentinian founder Florencia Oriot. Mini and maxi dresses, plaid pants, poly shirts. For the love of "60s and 70s, rock and roll music, strong vibrant colors, la nouvelle vague, Parisian cafés, miniskirts".
Lapin Boutique Vintage
9 Rue Oberkampf, 75011 Paris
Tue-Sat 1-7pm
Sun 2-6pm
@lapin.vintage
Antirouille
This welcoming store has vintage from all ages but we liked their 60s, 70s categories best. Well-kept, clean, and pleasant to browse. Also some cute treasures for little kids.
Antirouille
2 Rue Gérando, 75009 Paris
+33156922817
Tue-Sat 11.30-2pm & 3-7.30pm
@antirouille_vintage
See also
Love & Dress
45 rue d'Hauteville, 75010 Paris
@loveanddress
Merguiller Paris
57 Rue Marguerite de Rochechouart, 75009 Paris
@merguiller_paris_
90s & Y2K
Headless St Denis
Not surprisingly, y2k is huge in Paris, too. Of all the stores we visited, the ones catering to Gen Zs and carrying newer vintage were the busiest.
Colors, prints, cargo skrts, crop tops! Altering and mending service. As fun as 90s and y2k vintage can get. Airy, welcoming space.
Headless St Denis
30 Rue Henry Monnier, 75009 Paris
+33668862300
Tue-Fri 12-7pm
Sat 1-7.30pm
@headlessparis
Acid Violet
This store is like real-life Depop. A tiny space with young shoppers going in and out looking for Tik Tok trendy fashion items. 90s and y2k vintage staples like corset tops, mini skirts, and Guess bags. Affordable finds: the price range is from 10€ to 35€ – not including the luxury pieces like Louis Vuitton bags and Chanel coats that you can also find here. The founder of the store is a 21-year-old fashion school dropout Margaux Jeanjean.
Acid Violet
29 Rue Notre Dame de Nazareth, 75003 Paris
Tue-Sun 11-7.30pm
@acidviolettevintage
See also
Chez Snow Bunny
12 Rue Dupetit-Thouars, 75003 Paris
@chezsnowbunny
Men's Vintage
Brut Archives
Is this store the reason why Parisian guys are so effortlessly stylish and cool? Brut is your go-to place for workwear, army surplus, denim, outdoor garments, and more. Founded by Paul Ben Chemhoun. Also, a namesake vintage-inspired menswear label so not everything is used & vintage here.
Brut Archives
3 Rue Réaumur, 75003 Paris
+33143705232
Mon-Sat 11-7pm
Sun 2-7pm
@brut_archives
Gaijin Paris
A concept store dedicated to Japanese culture and fashion. Established labels and designers like Yohji Yamamoto, Comme des Garcons, Issey Miyake, Kenzo, and Tsumori Chisato; new-comers like Sacai, Zucca, Kosuke Tsumura, and 45R. Lots of men's items, but also womenswear. Emphasis is on newer secondhand.
Gaijin Paris
20 Rue du Pont aux Choux, 75003 Paris
+33171277709
Mon-Sun 11-7.30pm
@gaijinparis
See also
Plus Que Parfait
23 Rue des Blancs Manteaux, 75004 Paris
@plus_que_parfait
Thrifting
Kilo Shop France
If a traditional thrift store is too much digging for you and you still want to find affordable items, Kilo Shops are for you. Find several locations around the city. Organized by item type and print – denim jackets, flannels, slip dresses, sweaters, polka dots, all neatly organized on their own racks. Young crowd, hip staff, and on-trend items. Tip: Check the prize on a scale before you head to the counter to avoid surprises!
Kilo Shop France
@kiloshopfrance
Guerrisol
"Guerrisol is cool for a smaller budget, plus they have large selections", says a long-thrifter, model, and mom, Emma, 25.
Like Kilo Shop, Guerrisol has multiple locations all over the city. Step inside if you have time to scan racks and racks and you are afraid of the thrift store smell!
Guerrisol
@guerrisolfrance
See also
Free'P'Star thrift stores @freepstar_officiel