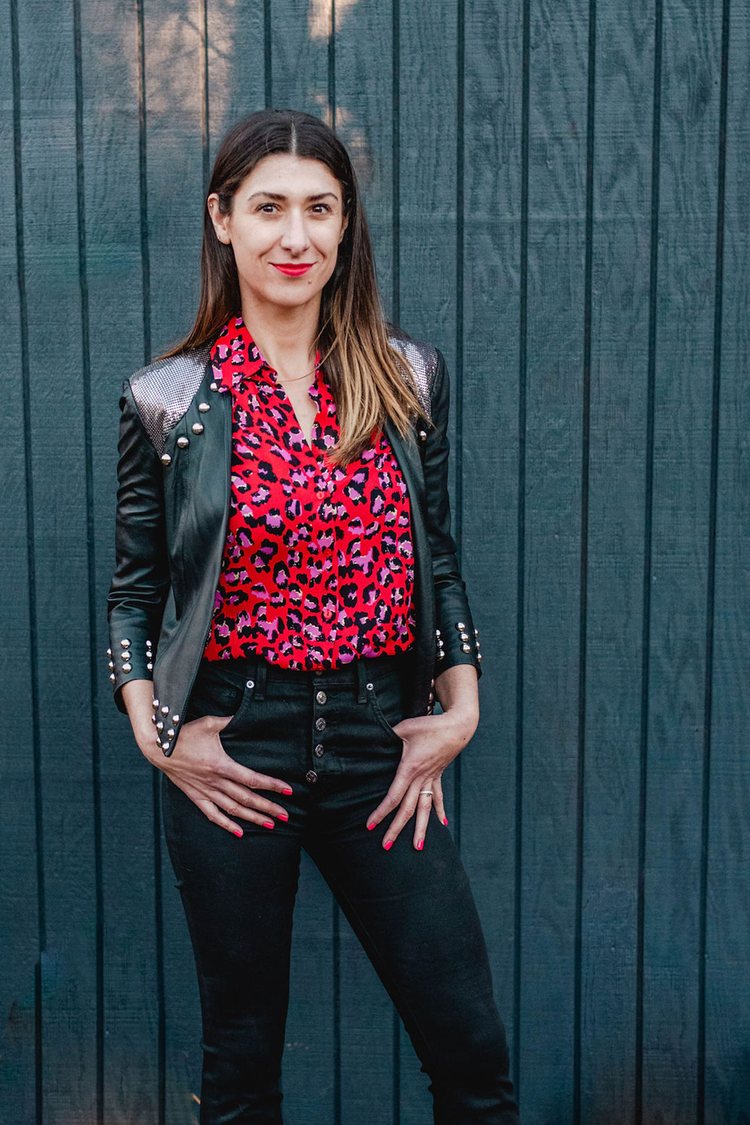 For style-lovers who buy and sell pre-loved pieces fashion resale expert Emily K. Schwartz shares her best advice: which resale platform to choose, what to list, and how to avoid common mistakes.
Emily K. Schwartz fell in love with the circular economy when searching for officewear early in her career.
"I hated dressing like everyone else in the office in cookie-cutter workwear, and discovering consignment stores and resale platforms really opened up a world of unique, high-quality pieces that were still financially accessible, while really boosting my confidence and supporting my professional ambitions."
Schwartz became known for her knowledge of the space at work. After helping countless friends, family, and colleagues navigate shopping resale and selling the pieces in their closets that they were no longer wearing, she decided to refocus her career and launch The Resale Stylist, a service-based business that helps consumers shop and sell fashion resale.
How would you advise a reseller to choose their selling platform?
For the everyday person who is really just trying to keep their wardrobe up-to-date and declutter, there are a few key things to consider:
1. What are you trying to resell? For example, if you have a lot of luxury and investment pieces, outlets like Fashionphile, The RealReal, and Rebag are great options. They authenticate everything and take care of the hard marketing work for you. Or, let's say you have a bunch of kids' clothing. Marketplaces like thredUP, Poshmark, Hanna-Me-Downs, and Kidizen would be smart options for the children's category.
2. How much effort do you want to put into this? Reselling takes as much or as little effort as you want. If you're willing to put in the time and effort to add photos, detailed descriptions, measurements, etc. to your listings – and then in parallel engage on the platform to actually grow your audience and promote your listings – peer-to-peer marketplaces like Poshmark, Depop, eBay, Vestiaire Collective, and Grailed are going to be your best friends. But if you're really just trying to clear out your wardrobe quickly and don't care as much about your earnings, I'd recommend reselling via the consignment model and looking into options like thredUP, The RealReal, or local consignment options in your area.
3. Are you a label loyalist? Increasingly, brand-owned resale programs are becoming really popular – in fact, there are over 120 brand-owned resale programs live today! Most of these are peer-to-peer marketplaces but are supplemented with professional stock photos and details, and the brands take care of the marketing and promotion for you to help your item sell. Labels like Diane von Furstenberg, Sam Edelman, Mara Hoffman, lululemon, Carhartt, Hanna Anderson, and even Oscar de la Renta all have their own resale programs. If there's a brand you particularly love or frequent, I'd recommend looking into seeing if they have a program you can participate in. This way, you can earn credit for future purchases with your favorite brands and designers, too!
4. Do you have lots of a specific category? We're seeing niche marketplaces that cater to categories like luxury, men, activewear, golf, weddings, kids, plus-size, etc. Consumers may feel more trust with a marketplace that understands and specializes in a particular category.
For more tips, my Cheat Sheets organizes different reputable resale platforms by specialty and target audience.
Should a casual reseller list on multiple platforms?
It gets overwhelming quickly when you're trying to manage listings across multiple platforms, and you're much more prone to costly errors and mistakes when juggling several peer-to-peer reselling platforms. When something sells on one, you've got to update it across all. Answering questions. Updating photos. Managing offers and earnings. I'd personally opt to focus on building followings on just one or two platforms for overall ease and simplicity.
If the thought of creating listings makes your cortisol levels spike, consider a consignment platform or local consignment store. Sometimes I like to list on a peer-to-peer marketplace, and if a piece doesn't sell and I want it out of my closet, I'll then bring it to a local consignment store or send to The RealReal.
What are new resellers' most common mistakes, and how can they be avoided?
When selling on peer-to-peer platforms, I see a lot of resellers who do not include measurements in their listing descriptions. This kills me. When I shop for both myself and clients, measurements are absolutely essential for gauging whether an item is likely to fit. If, as a buyer, I have to ask about measurements, that's one more hurdle for me to have to clear before I make a purchase. A measuring tape is inexpensive and does wonders for increasing a quick, efficient sale and positive buyer experience.
Other than that, there are basic things like making sure you're taking clear photos in good lighting, detailing flaws, etc.
It's really important to be honest with yourself about why you're reselling. I don't resell my personal wardrobe to make money – I sell to provide items that I'm not wearing a new, appreciative home. Sometimes it's just because a piece isn't my style anymore; other times I'm trying to declutter. I care much more about finding my pieces good homes than recouping the most money I possibly can.
Any other tips for resellers?
To help keep things sustainable, reuse packaging as much as possible. As someone who sells pieces from my personal closet, I always reuse cardboard boxes (hello, Amazon packages!), bubble wrap, brown paper, etc, as long as it's clean and sturdy.
Speaking of bubble wrap, etc. – please, please, please ship your items protectively! I once received a luxury designer blazer that had been shoved into a damaged box without any protective layer. If the package had been out in the rain before I brought it inside, this really valuable item would have been totally ruined. It's not just high-end pieces that need to be protected – think about whites, leathers, silks, etc.
Many pro resellers I know scour "the bins" at thrift stores like Goodwill, Arc, Desert Industries, etc. to find inventory to resell. That's a popular option for a reason, but it takes significant time and energy. Beyond that, professional resellers need to have sophisticated knowledge of labels, brands, and designers that hold resale value. Lots of the mid-tier brands – I'm thinking brands like J. Crew, Banana Republic, even Theory – that kind of thing – don't hold much secondhand value. So do your research, know your stuff, and always be transparent about an item's condition and authenticity. If you're not absolutely positive that a luxury, investment, or collectible piece is authentic, don't represent it as such. Get it independently authenticated – I recommend Rebag's authentication service – before reselling it, and be sure to provide evidence of authenticity in your listing.
Lastly, be realistic about reselling financial goals and expectations. Unless you're moving *a lot* of high-value inventory, resellers are likely to earn extra pocket change, not a living.
What items or brands have you seen trending on the resale market lately?
The quiet luxury boom is still very real! We can thank Succession, obviously. The Row, Khaite, Toteme, anything luxe and neutral is still really desirable. The nice thing about these pieces is they hold resale value really well. They're smart investment pieces.
If you spend any time on TikTok or pay attention to high fashion and fashion shows, you might have heard cherry red anything and everything is about to be everywhere for Fall 2023. Resale is a great way to embrace trends without spending a fortune on a passing fad. In my opinion, red will forever be a classic and I'm personally very excited to pick up some new cherry red for my wardrobe.
I'd be remiss if I didn't mention Barbie pink. This is so fun, and I'm here for it, even if it's a microtrend that'll come and go relatively quickly. But it's more than just pink – it's really anything that complements the Barbie aesthetic. Think about fun sparkly shoes, bold and colorful accessories (sunglasses, scarves, etc.), and textured pieces to mix and match with your Barbiecore.
Investment bags, accessories, and shoes that are in Fair or Good condition rather than Excellent or Like New are also on the up-and-up across resale marketplaces and brick-and-mortar consignment stores. I think consumers are realizing investment pieces hold their resale value and are true assets – resale just happens to make them more economically accessible. Clothes, bags, shoes, and accessories are made to be worn, lived in, and appreciated – so I really like this trend. Just because a bag or a shoe has a scuff or two or three shouldn't make it undesirable.
What items are no longer selling so well?
Interestingly, since skinny jeans aren't very "in" right now, I've noticed a glut of skinny jeans hitting the resale marketplaces as people refresh their wardrobes to reflect the latest trends. If you're a skinny jean lover – which I happen to be – now is a great time to find savvy deals on skinny jeans across the board. People are really just trying to get rid of them and make space in their closets for trendier styles. I'm seeing skinny jeans from premium brands like Frame, Mother, and Favorite Daughter selling for under $100, sometimes under $50.
Related, people are tiring of super high rise inseams; I'm seeing a lot of super high rise inventory available across different pant types (jeans, pleats, wide leg, etc.). If you're a high-rise lover, now's the time to check out resale for some chic finds!
Follow Emily:
The Resale Stylist
@theresalestylist