people
Amanda of Butch Wax Vintage Shares Some of Her Most Eclectic Vintage Finds
Amanda Suter, 39, is known for her head-turning looks and quality vintage collection. Now she shares some of her most eclectic garments with us.
Liisa Jokinen · Apr 21, 2020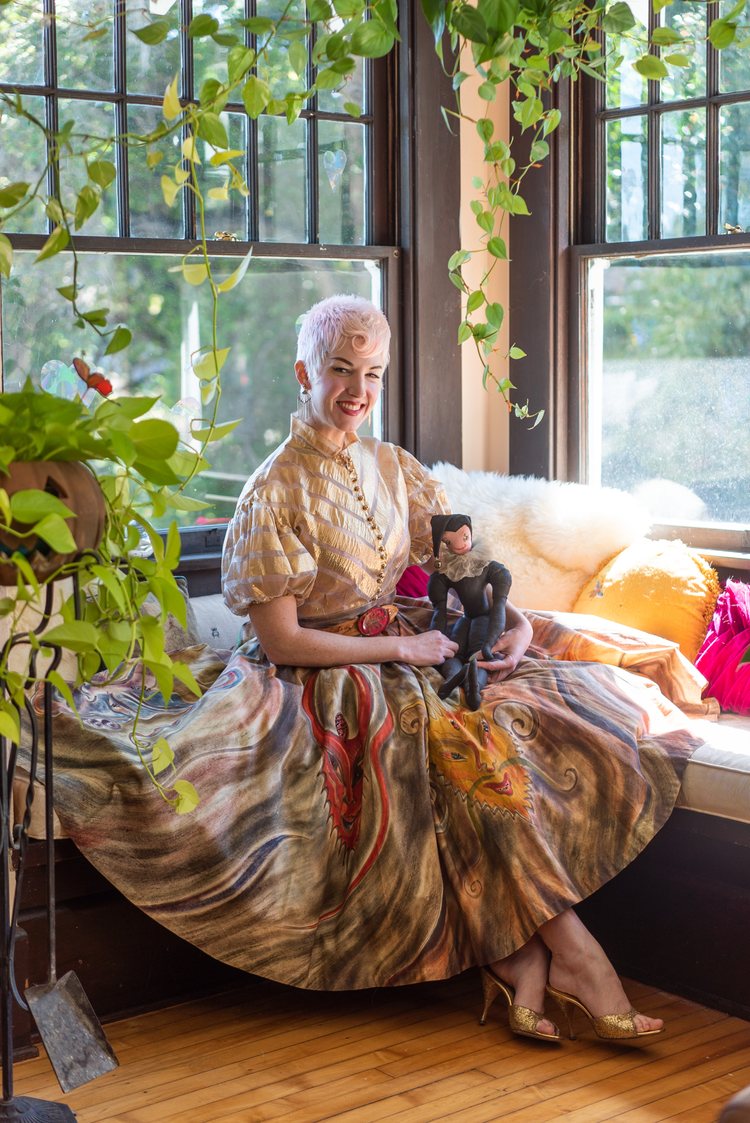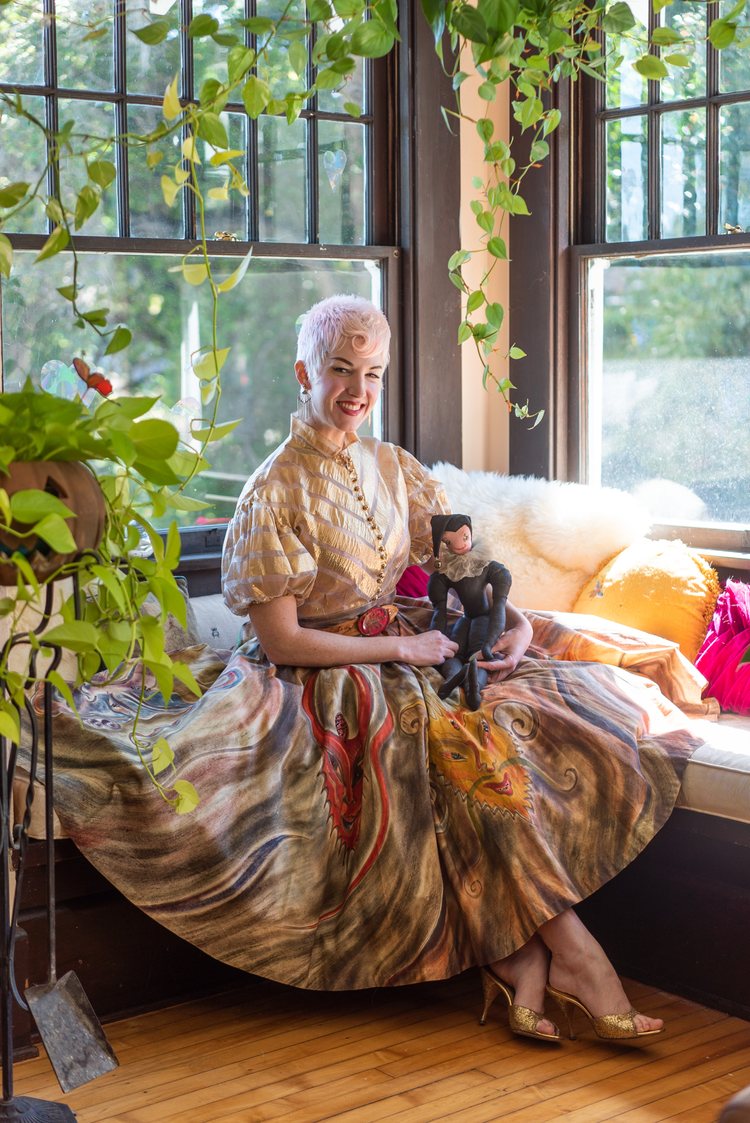 people
Amanda of Butch Wax Vintage Shares Some of Her Most Eclectic Vintage Finds
Amanda Suter, 39, is known for her head-turning looks and quality vintage collection. Now she shares some of her most eclectic garments with us.
Liisa Jokinen · Apr 21, 2020

"I started shopping at thrift stores when I was around 13 years old. I didn't realize these things were "vintage", I was just attracted to certain silhouettes and styles. When I got a few years older I found out that these items were considered vintage.
In high school, the other kids thought my 1950s pencil skirts were "grandma clothes". Haha! My first job was at a vintage store, Shake Rag in downtown San Diego, and the rest is history.
Now my style is extremely eclectic. I tend to lean towards pieces that are handmade and dramatic. I love bright rich colors and texture. Iridescence is my most favorite color, so any clothing item in that color is a plus.
I love huge dramatic full cotton skirts, HUGE sleeves, trapeze dresses and huge swing coats.
My favorite eras to wear are 1940s and 1950s, but I also throw in some 1930s and 1980s often. I also am heavily inspired by 1930s Schiaparelli, surrealism, and 1950s fetish book art by John Willie and Gene Bilbrew.
I wear and appreciate all the different eras. From the 1920s, I love the decadent cocoon coat silhouette. From the 1930s, I love Elsa Schiaparelli and the slinky bias-cut designs. I love 1920s and 1930s Japanese style. From the 1940s, I love the structure and drama, evening gowns, Gilbert Adrian designs, and high waisted gabardine slacks.
1950s I love the classic new look, 1950s Dior, Pucci, Charles James, Jacques Fath, wiggle dresses, and how the silhouette really flattered the ideal hourglass figure. I also love the 1950s Frederick's of Hollywood.
From the 1960s, I love Marimekko tent dresses, itty bitty mod minidresses. And from the 1980s, I love Thierry Mugler, Donna Karan, Norma Kamali, and Tadashi. And trashy jumpsuits.
The handmade harlequin style polished cotton blouse might be from the 1940s or even earlier. The age is unknown because it is such an unusual piece, but the construction appears as if a corset would have been worn under it. I purchased it from a friend of mine who owns a vintage boutique here in San Diego called La Loupe.
I am wearing it with a 1940s traditional Seminole Indian skirt. The skirt is also polished cotton and completely handmade. This type of quilting is very specific for the Seminole tribe. I purchased this skirt at the Inspiration trade show in Los Angeles, from a friend of mine who owns a vintage store in Long Beach called Meow Vintage. I am wearing traditional handmade Sicilian style earrings I got in Florence, Italy. The artist boutique is called Sikuliana Firenze.
The sheer 1940s silk organza blouse with gold lurex threading was purchased on Instagram. The skirt is a traditional 1950s hand-painted Mexican cotton circle skirt with the matching shawl. They both feature Tlacololero masks from Guerrero, Mexico.
These skirts were sold as souvenir items in Mexico in the 1950s. They were painted by street vendors on huge wooden discs. I bought the skirt from a vendor who was selling at the Palm Springs Vintage Fleamarket.
The belt is 1940s tooled leather with a silver and lucite belt buckle with an inlaid real scorpion inside. The shoes are 1950s gold leather Springolators. I purchased them from a friend of mine.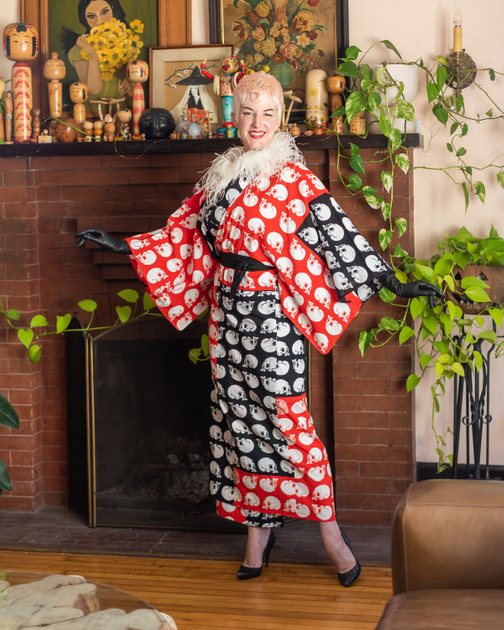 I love to travel, so I love finding vintage from areas that I travel to as well. I bought the traditional Japanese yukata kimono in polished cotton in Kyoto, Japan. The skull motif is a very rare and old motif. Yukata is a cotton kimono that you usually wear in the summer. The belt is based upon an 1980s wrap belt from my collection and was made by my seamstress. I am wearing it with an ostrich feather boa from the 1930s and 1980s Spanish leather pumps.
The handmade psychedelic 1960s jumpsuit is purchased from an Instagram follower of mine in the UK. The 80s cropped leather jacket is by Norma Kamali.
My style rules: Try to avoid synthetic fabrics. Never buy modern fur. Don't buy into trends. Wear what makes YOU feel good. Life is too short to dress boring.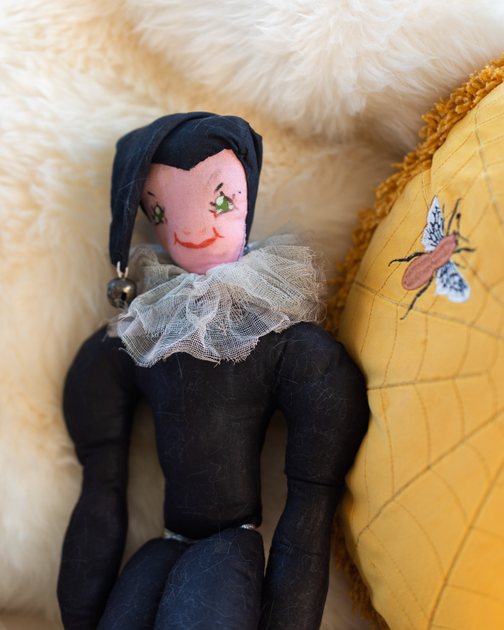 I collect vintage spiderweb apparel and accessories. Vintage high heels and Springolators. Vintage showgirl pieces. Vintage fetish items. Vintage Japanese items. Vintage insect themed jewelry.
For myself, I love shopping vintage shows the best: Pickwick, A Current Affair, Rosebowl.
Shows give you so much variety. Other than that, I literally shop everywhere. It's the name of the game for my business. Resale shops, thrift stores, vintage boutiques, flea markets, online, Etsy, eBay, Instagram... No rock is unturned."
Follow and shop Butch Wax Vintage on Instagram @butchwaxvintage